Lebanese army given ultimatum to hand in killers
Senior official Abdelraham Diab of the Arab Democratic Party, supportive of the Syrian regime, was killed
Residents in the northern city of Tripoli gave the Lebanese army an ultimatum on Thursday, an Al Arabiya correspondent reported.
Giving them a one hour time frame, they are demanding soldiers arrest the killers of a senior official of a Lebanese Alawite party, supportive of Syrian President Bashar al-Assad.
If the soldiers are not successful, the residents warn clashes, which have already killed one person and wounded eight others, will intensify.
Abdelrahman Diab is a senior official in a Lebanese Alawite party was shot dead in the northern Lebanese city of Tripoli Thursday.

"Masked gunmen opened fire at 7:00 am (0500 GMT) on Abdelrahman Diab," said a senior official in the Arab Democratic Party.
A party official said Diab was in charge of "military" affairs.
Diab, in his 50s, is the father of Youssef Diab, who has been detained by Lebanese authorities on suspicion of involvement in the twin bombings of a Tripoli mosque in August that killed 45 people.
As news of the attack spread, one person was killed and eight wounded in clashes between Alawites and Sunnis in the Bab al-Tebbaneh district of the port city, closing local schools and shops, security sources said.
The almost three-year Syrian conflict has accentuated sectarian differences in Lebanon.
Tripoli has witnessed a rise in clashes between Sunnis who support Syrian rebels battling the Assad regime and Alawites who back the Alawite-dominated Syrian government.
The assassination of the official comes after six people were killed and more than 129 others were wounded in two explosions that hit a southern area of the Lebanese capital on Wednesday.
Infographic: Suicide bombs hit Beirut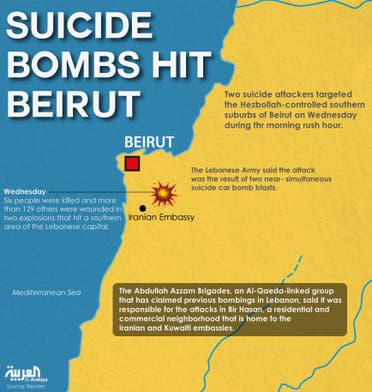 The Abdullah Azzam Brigades, an Al-qaeda-linked group that has claimed previous bombings in Lebanon, said it was responsible for the attacks in Bir Hasan, a residential and commercial neighborhood that is home to the Iranian and Kuwaiti embassies.
Beirut's southern suburbs, a stronghold of the Lebanese militant movement Hezbollah, have also been hit by seven bomb attacks since July, the most recent of which occurred on Feb. 3.
Iran is a major backer of Hezbollah. Both are allies with Syrian President Assad.