STL adjourns Hariri trial until May for defense to prepare
Judges at the Special Tribunal for Lebanon adjourned the trial of the five Hezbollah members
The trial of five Hezbollah members accused in the 2005 assassination of former Lebanese Prime Minister Rafiq Hariri has been adjourned until mid-May, according to a court document.
Judges at the Special Tribunal for Lebanon (STL) ordered the delay in order to allow lawyers for the fifth suspect, Hasan Habib Merhi, to prepare further after their client's case was merged with the other suspects who were indicted in 2011, reported Daily Star Lebanon.
The other suspects are: Mustafa Badreddine, 52, Salim Ayyash, 50, Hussein Oneissi, 39, and Assad Sabra, 37.
The investigation into the Feb. 14, 2005 truck bombing that killed Hariri and 22 others has lasted for years and first trial session opened in The Hague in January.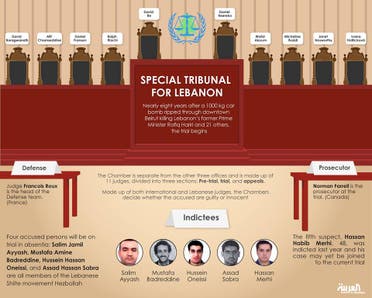 The STL is unique in international justice as it was set up to try the perpetrators of a terrorist attack and because it can try the suspects in absentia.
Chief Prosecutor Farrell said in his indictment that Badreddine and Ayyash "kept Hariri under surveillance" before the Valentine's Day suicide bombing, while Oneissi and Sabra allegedly issued a false claim of responsibility to mislead investigators.
Hariri, Lebanon's Sunni prime minister until his resignation in October 2004, was on his way home for lunch when a suicide bomber detonated a van full of explosives equivalent to three tons of TNT as his armored convoy passed.