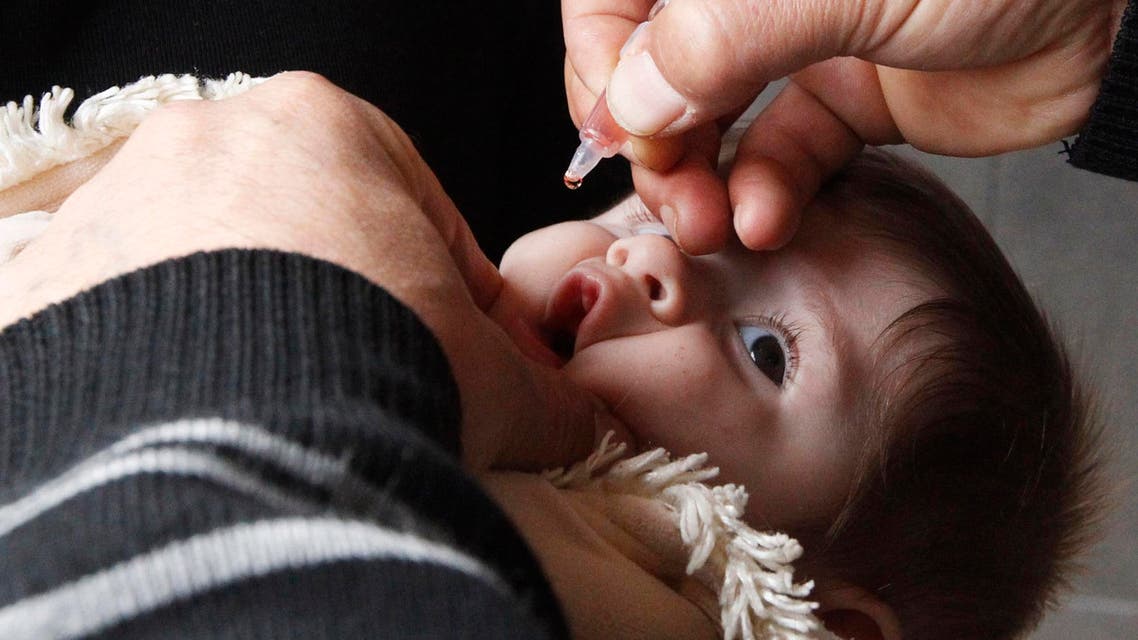 UNICEF to vaccinate 10 mln against polio
A campaign to reach children across the Middle East will begin this month in efforts to eradicate the uncurable disease
Children from Egypt, Iraq, Jordan and Syria will begin receiving a dose of polio vaccine this month as part of a mass vaccination campaign, UNICEF announced in a statement released Saturday.
The campaign will reach over 10 million children and will be followed by a similar one in Lebanon starting from March 9.
Kouhaza al-Rasheed, a medical worker at a health center in Qudssaya in rural Damascus, Syria, said that regardless of immunization history all children must receive a vaccine.
"We need to get two drops of polio vaccine into the mouth of every child under the age of five, regardless of their previous immunization history, every time there is a campaign," said Khouzama al-Rasheed, a medical worker at a health center in Qudssaya, rural Damascus, Syria. "If we can do that, the virus won't be able to find a single child to infect, and we can put a stop to this disease."
In the region's largest-ever coordinated immunization plan, seven countries across the Middle East are planning to vaccinate more than 22 million children multiple times over a period of six months.
The region wide campaign is part of a regional response to the re-importation of the wild poliovirus that came into Syria from Pakistan. The same strain has been found in sewage samples in Egypt, Israel and the West Bank and Gaza strip.
"Polio doesn't respect borders," said Dr. Ala Alwan the World Health Organization's Regional Director for the Eastern Mediterranean. "The detection of polio in Syria is not Syria's problem alone, but one requiring a regional response. The safety of children across the Middle East relies on us being able to put a stop to polio in Syria."
On Oct. 28 2013, the Syrian Ministry of Health announced that polio had returned to the country for the first time in almost 15 years. The vaccination round this month will be Syria's fourth since it was detected last October. Similar rounds in January and February successfully reached all governorates.
"To vaccinate so many children in different countries is a huge undertaking," said Maria Calivis, UNICEF Regional Director for the Middle East and North Africa. "Each country faces its own set of challenges in order to make the campaign effective – above all in Syria – but this is the only way we can ensure children across the region are properly protected against this terrible disease."
One of the challenges facing the campaign is the skepticism associated with vaccinations. Islamic groups met on Wednesday to halt fatwas, or religious edicts, that have ruled that polio vaccines cause interfility, Al Arabiya News Channel reported.
The fatwas were observed in Pakistan, Afghanistan, Nigera and Somlia with many health experts worried the edicts will influence areas UNICEF is trying to target.
Polio, which has no cure, mainly affects children under five years of age. However, a polio vaccine administered multiple times can prevent a child from contracting the disease for life.