Video: Los Angeles gang members fighting in Syria
The two men boast about being on the front line and label enemy forces as 'enemygos'
Two gang members from Los Angeles appear to have joined the civil war in Syria, fighting alongside President Bashar al-Assad's forces, according to the Washington Post.
The two men appeared in a video posted on social media, linking arms and fighting against what they call the "enemygos."
One man identified himself as "Creeper" form the Surenos, a southern California gang with suspected links to a Mexican mafia group.
The other identified himself as "Wino," from Westside Armenian Power gang. He appeared smoking and in military garb, pointing out the "enemygos."
"Still puro Surenos putting it down, homie," Creeper says. "In Middle East, homie, in Syria, still gangbanging, not giving a (explicit) homie."
He then rolls up his sleeves to show his tattoos and greets his fellow gang members; Surenos Capone-E, Mr. Criminal from Silver Lakeand and Crazy Loco from Pasadena, California.
"We still got love for all you homies, all the Surenos," Creeper continues. "All you vatos."
The men then started to fire at the "enemygos."
"That's for all the Surenos, homie, not giving a (explicit)," Creeper continues. "That's right, I'm gangbanging, homie."
Although neither man revealed his objectives, they boasted about being on the "front line."
The Washington-based, largely pro-Israel, Middle East Media Research Institute (MEMRI), which monitors media reports in the region, said it identified Wino as Nerses Kilajyan. According to his Facebook profile, Kilajyan is in the northern city of Aleppo. He has apparently been in Syria since December 2012.
His Facebook page features photos of him in military uniforms, including Hezbollah regalia. In one picture, he appeared standing next to a Hezbollah fighter. "Me and my boi he has my back, I have his in a front line," Wino commented on the picture.
"I'm pretty sure that they're in Syria; I have no reason to believe they're lying," said Rafael Green, a researcher at the MEMRI, in comments to FoxNews.com.
"The pictures show [Wino] with guns and grenades and he's even photographed in the Hezbollah uniform. It seems as authentic as it gets," he added.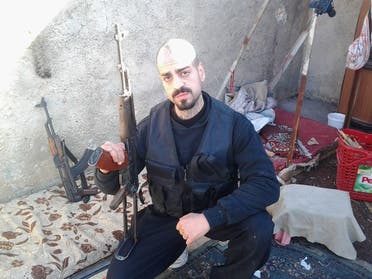 In a Facebook post he said he would "DO ANYTHINK TO PORTECT MY PPL ONLY MY PPL ALL ARMENIANS AND READY TO DIE FOR MY PPL."
The minority Christian Armenians in Syria have largely supported the Syrian government.
"I was pretty amazed," Green told FoxNews.com regarding the video. "The association between gang members in the U.S. and militants in the Middle East … There's no obvious connection to them. What would bring these guys to a war that's not theirs?"
U.S. intelligence officials estimate that 50 U.S. citizens have joined the Syrian civil war. Director of National Intelligence James Clapper told the House Intelligence Committee last month that "7,500 or so" foreigners from 50 countries are fighting in Syria.