Aid groups demand humanitarian access in Syria
Nearly 130 organizations made the appeal including United Nations agencies and relief organizations from around the world
Nearly 130 organizations have called for immediate and permanent humanitarian access to civilians throughout Syria to help relieve the immense suffering caused by the country's civil war.

The 128 groups making the appeal include United Nations agencies and relief organizations from around the world.

In a statement released Sunday, the groups urge all sides in Syria's conflict to listen to the voice of the international community as expressed unanimously through the Security Council.
Infographic: Syrian children in crisis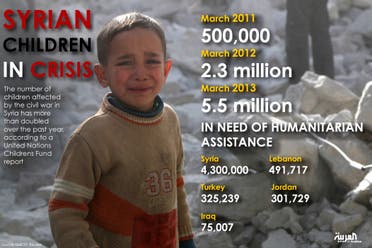 A U.N. Security Council resolution last month called on Syria's warring sides to facilitate aid deliveries. The U.N. says more than 9 million Syrians are in need of humanitarian assistance.

Many of those most in need live in areas under government-imposed blockades, while others are in territory under the nominal control of rebel groups.