Two Hezbollah members killed in Bekaa Valley blast
An earlier toll on Sunday said four people were killed but it was revised downwards
The suicide car bomb attack in a Hezbollah-dominated area of eastern Lebanon, near the Syrian border, left two people dead, according to a new toll released Monday.

A security source said the Lebanese army detected and detonated another car bomb in the Fakiha area, five kilometres (three miles) from Al-Nabi Othman village, the scene of Sunday's attack.
Infographic: Bomb attack hit Lebanon's Bekaa Valley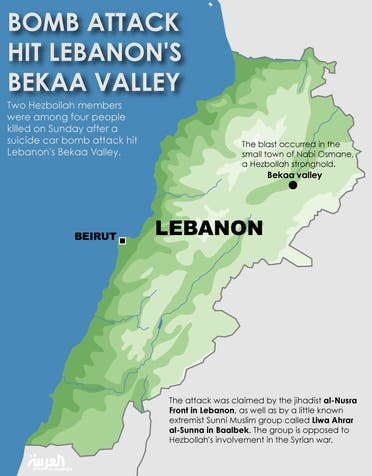 According to the official National News Agency, Sunday's blast killed two people and wounded another 14.
Two Hezbollah members were among four people killed on Sunday after a suicide car bomb attack hit Lebanon's Bekaa Valley.
The two killed were members of Hezbollah, including a local official of the Shiite militant group which has sent thousands of fighters into neighboring Syria to support President Bashar al-Assad's army.
An earlier toll on Sunday said four people were killed but it was revised downwards.

The attack was claimed by the jihadist al-Nusra Front in Lebanon, as well as by little known extremist Sunni Muslim group, Liwa Ahrar al-Sunna in Baalbek, who are group opposed to Hezbollah's involvement in the Syrian war.
The blast occurred in the small town of Nabi Osmane, a Hezbollah stronghold.
Footage aired on the Hezbollah-owned al-Manar TV channel showed police cordoning off the area of the explosion and the twisted metal of a burnt-out car.
Hezbollah-dominated areas in eastern Lebanon and southern Beirut have witnessed a series of deadly attacks, many of them suicide car blasts.
The attacks have been linked Hezbollah's involvement in the Syrian war to support President Bashar al-Assad's troops in his war against opposition fighters.

The latest attack comes hours after the Syrian army backed by Hezbollah fighters captured Yabrud, a former rebel bastion in Syria near the Lebanese border.

Hezbollah and Lebanese security forces have said many of the car bombs used in previous suicide car bombings originated in Yabrud.
Immediately after news of the attack broke, a radical Sunni Islamist group claimed responsibility for the blast via Twitter.

"Liwa Ahrar al-Sunna in Baalbek officially takes responsibility for the heroic martyrdom (suicide) operation 'revenge for Yabrud' in the village of Al-Nabi Othman," the group said.

It also warned Hezbollah and the Lebanese army -- which radical Sunni groups in Lebanon say has sided with the Shiite movement: "Prepare for the transfer of the battle of Yabrud into Lebanese territory."

Lebanon is deeply divided over the war in neighboring Syria. While Hezbollah and its allies back Assad, many of the country's Sunnis support the three-year revolt.
[with Reuters and AFP]