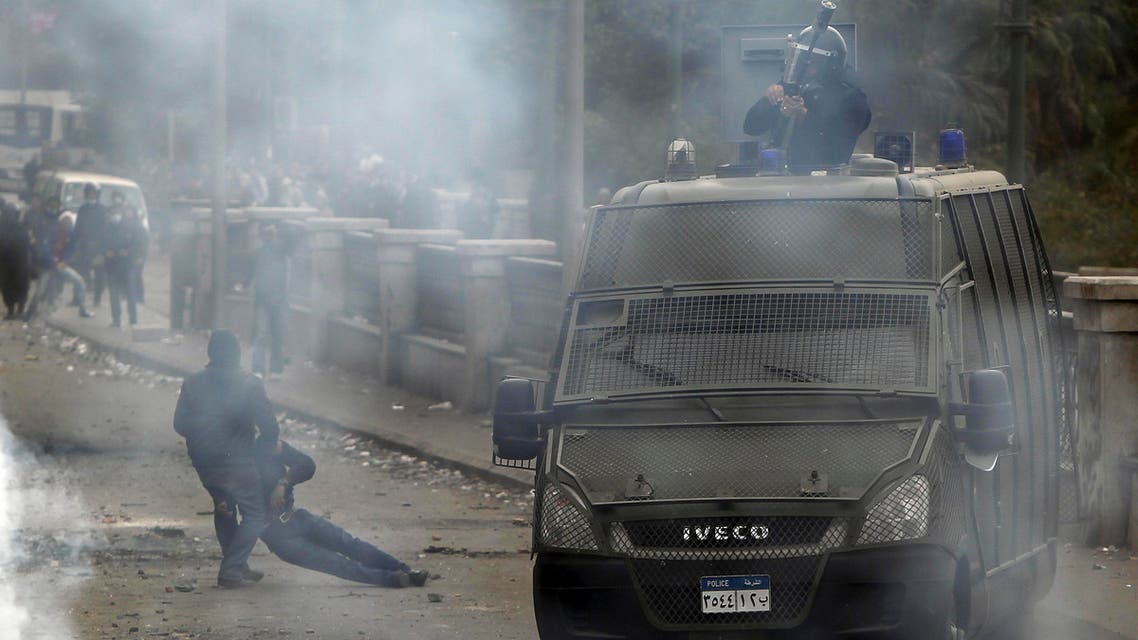 Egypt court jails policeman linked to Islamist deaths
A legal source said the men had died from asphyxiation in the back of a crammed police van last year
An Egyptian police officer was sentenced to 10 years in prison with labor on Tuesday in connection with the deaths of 36 Muslim Brotherhood members and supporters last year, judicial sources said.
The men had died in the back of a crammed police van when they were being transported to a prison near Cairo on Aug. 18. A legal source said the men had died from asphyxiation in the van, according to Reuters news agency.
The prisoners were killed when tear gas was fired into a truck taking them from a police station to a prison near Cairo on August 18, at the peak of the crackdown.

The officer given 10 years was deputy head of the police station who oversaw the transfer.

The four officers were convicted of manslaughter after the court accepted prosecution evidence that they had acted recklessly towards the victims.

The interior ministry said at the time of the incident that police fired tear gas when the inmates rioted as they were being transferred to Abu Zaabal prison in Cairo.

Tuesday's verdict was handed down after the court heard testimony from seven wounded prisoners. It can be appealed.

The court also heard from a justice ministry expert who testified that the truck was designed to carry just 24 people, but was packed with 45 on the day of the tear-gassing.

The deaths came four days after security forces stormed two Cairo protest camps set up by Mursi's supporters, triggering clashes that killed hundreds.

Egypt's official National Council for Human Rights said in a report this week that both police and armed protesters were responsible for the deaths of more than 600 people in the August 14 violence.

Amnesty International says more than 1,400 people have been killed since Mursi's overthrow, and thousands more arrested. It has repeatedly accused the security forces of using "excessive" force against Islamist protesters.

Mursi himself and top Muslim Brotherhood leaders have been put on trial on charges that could be punishable by death.

On Tuesday, police prevented the pro-Mursi Anti-Coup Alliance from holding a press conference, asking journalists to leave.

An AFP correspondent who went to attend found police deployed outside the venue.

Militant attacks targeting police and troops have increased since Mursi's ouster.

A new Islamist group claimed responsibility for a spate of attacks on policemen in the Nile Delta.

Ansar al-Shariah, a name used by jihadist groups in other countries, had recently announced its formation in Egypt, before issuing another statement on Monday saying it targeted 28 "treasonous" security men.

More than 200 policemen and soldiers have been killed by militants based in the restive Sinai Peninsula since Mursi's ouster.

The statement, posted on Facebook and circulated on militant Islamist forums, said the attacks in the Nile Delta over the past few months were to avenge abuses against "our sisters," a possible reference to detained Islamist women.

The statement's authenticity could not be verified.
(With Reuters and AFP)