Syrian troops seize Crusades-era citadel
The citadel, one of the world's best-preserved castles from the era of the Crusades, had been held by rebels since 2012
Syrian troops captured a famous Crusades-era citadel near the border with Lebanon on Thursday following days of intense fighting against opposition fighters, state television reported.
"The Syrian Arab Army raises the flag of the nation over the Krak des Chevaliers castle in Homs province, after crushing the terrorists who were holed up there," the TV report stated.
Footage aired by Al-Mayadeen TV, a Lebanese private broadcaster affiliated with the Syrian regime, showed Syrian soldiers atop one of the castle's towers.
The citadel, one of the world's best-preserved castles from the era of the Crusades, had been held by rebels since 2012.
Troops loyal to President Bashar al-Assad captured the castle after fierce clashes in the nearby village of Al-Hosn, which a pro-regime militia chief said had left at least 40 rebels dead, according to Agence France-Presse.
Among those killed was the leader of the jihadist Jund al-Sham, Khaled al-Mahmud. He was better known by his nom de guerre Abu Suleiman al-Muhajer, the National Defense Forces commander was quoted by AFP as saying.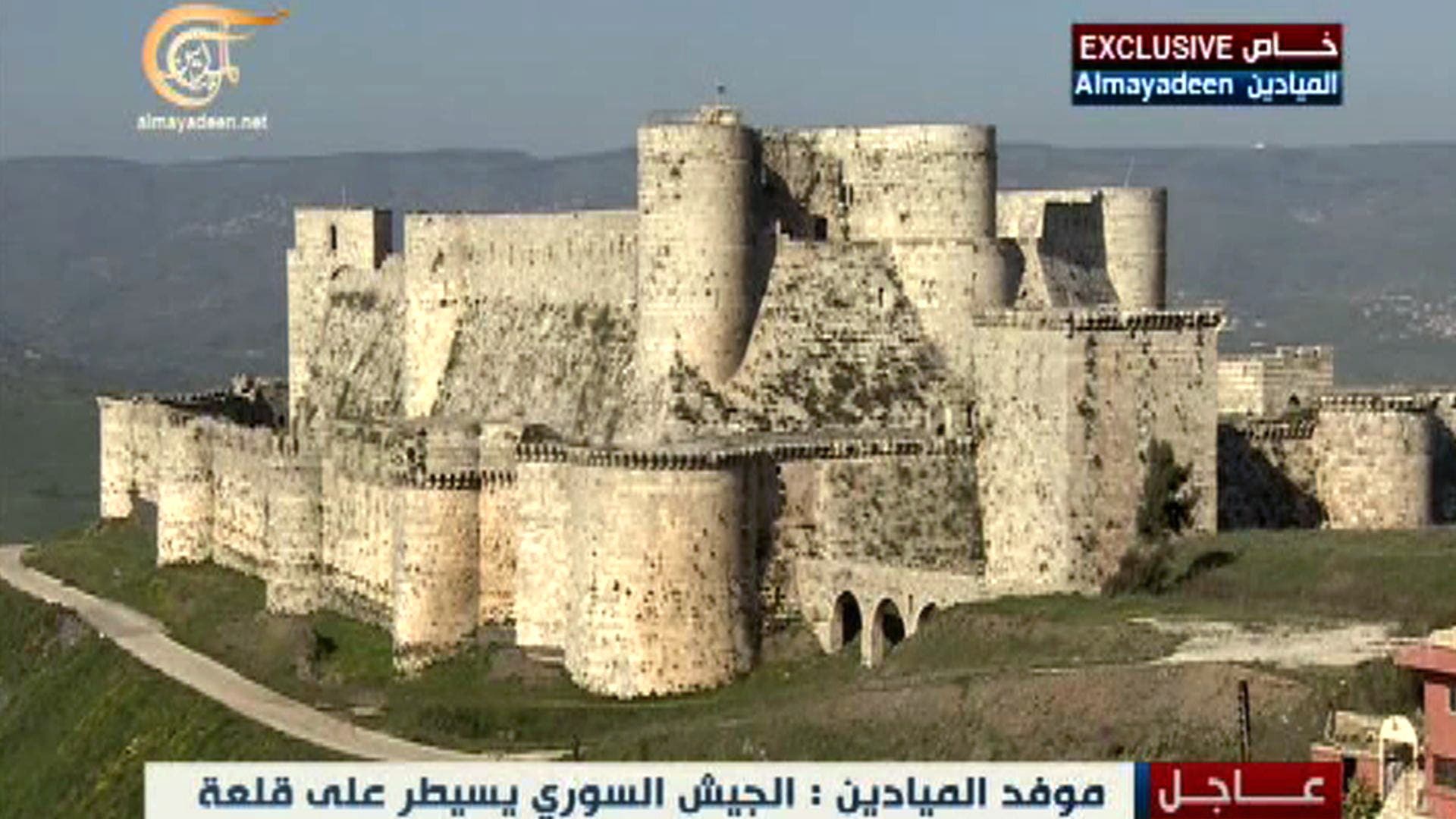 Rebels retreat under fire
Earlier, 41 wounded Syrian rebels crossed a river into Lebanon after Assad's army ambushed the fighters as they tried to flee a besieged area, two Lebanese medical sources in the area told Reuters.
As the army shelled the area around Al-Hosn, dozens of people tried to escape to neighboring Lebanon.

The Syrian Observatory for Human Rights reported 60 people "killed or injured" as they fled to the border.

Some 60 people were wounded by army fire as they crossed the river that divides the two countries, a Lebanese security source said.

The Britain-based group was unable to confirm a precise death toll, but said both civilians and fighters were among the casualties.

Syrian army tanks also shelled the border area, causing at least one house in northern Lebanon's Wadi Khaled district to burn down.

"The situation is very bad," Tareq Dandashi, a doctor from Wadi Khaled, told AFP.

"The whole of Al-Hosn has fled to Lebanon, and the Syrian army has been targeting them as they crossed over," he said.

The Al-Hosn offensive is one of two major operations by the Syrian army close to the border aimed at denying rebels supply routes for weapons.
Troops and Shiite militants of Hezbollah have also been engaged in a major offensive since November in the Qalamun mountains north of Damascus, where they recaptured the last major rebel stronghold Yabrud on Sunday.
The advances brought the Syrian government forces right up to Lebanon's eastern border, where air raids hit the mainly-Sunni Arsal area late on Wednesday, a security official said.
(With AFP and AP)