Pro-Assad gunmen clash with rivals in Beirut
At least one person was killed in the violence, Al Arabiya News Channel correspondent reports
One person was killed and at least 11 were wounded on Sunday in clashes between armed groups near the Sports City neighborhood in the Lebanese capital of Beirut, an Al Arabiya News Channel correspondent reported.
The violence had erupted at around 3 a.m. between gunmen loyal to Syrian President Bashar al-Assad and a group of Salafists loyal to fugitive Lebanese Sheikh Ahmad al-Assir.
More specifically, the state news agency said the fighting was between members of the pro-Assad Arab Movement Party headed by Shaker Berjawi and armed supporters of fugitive Sheikh Assir.
Assir is a a staunch critic of Hezbollah and the Syrian regime.
Infographic: Pro-Assad gunmen clash with rivals in Beirut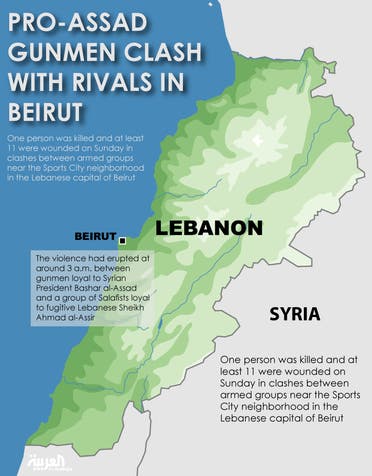 "The Lebanese army deployed in the area in a bid to contain the clashes as the sound of heavy gunfire and rocket-propelled grenades resonated in nearby Beirut suburbs," the Daily Star Lebanon reported.
Witnesses told Agence France-Presse that an argument between members of the rival factions escalated into a gun battle.

The fighting came after nine days of clashes between pro- and anti-Assad groups rocked Lebanon's second city Tripoli, killing 24 people and wounding 128.

The northern city has been the scene of chronic sectarian fighting since the war in Syria erupted three years ago, with gunmen from the Sunni district of Bab al-Tebbaneh battling fighters from neighboring Jabal Mohsen, whose residents belong to Assad's Alawite sect.
(With AFP)