Saudi Arabia calls for SNC seat at Arab summit
The oppositional Syrian National Coalition has not yet filled the Syrian regime's vacant seat at the summit
Saudi Arabia's Crown Prince Salman Bin Abdulaziz on Tuesday called on the Arab League to grant the Syrian National Coalition, Syria's main opposition group, a seat at the summit.
The Syrian National Coalition will not fill the Syrian regime's vacant seat at the summit because it has yet to meet the legal requirements, Arab League chief Nabil al-Arabi had earlier said.
Salman called for "changing the balance of forces" on the ground in Syria's civil war, saying the crisis there had reached catastrophic proportions.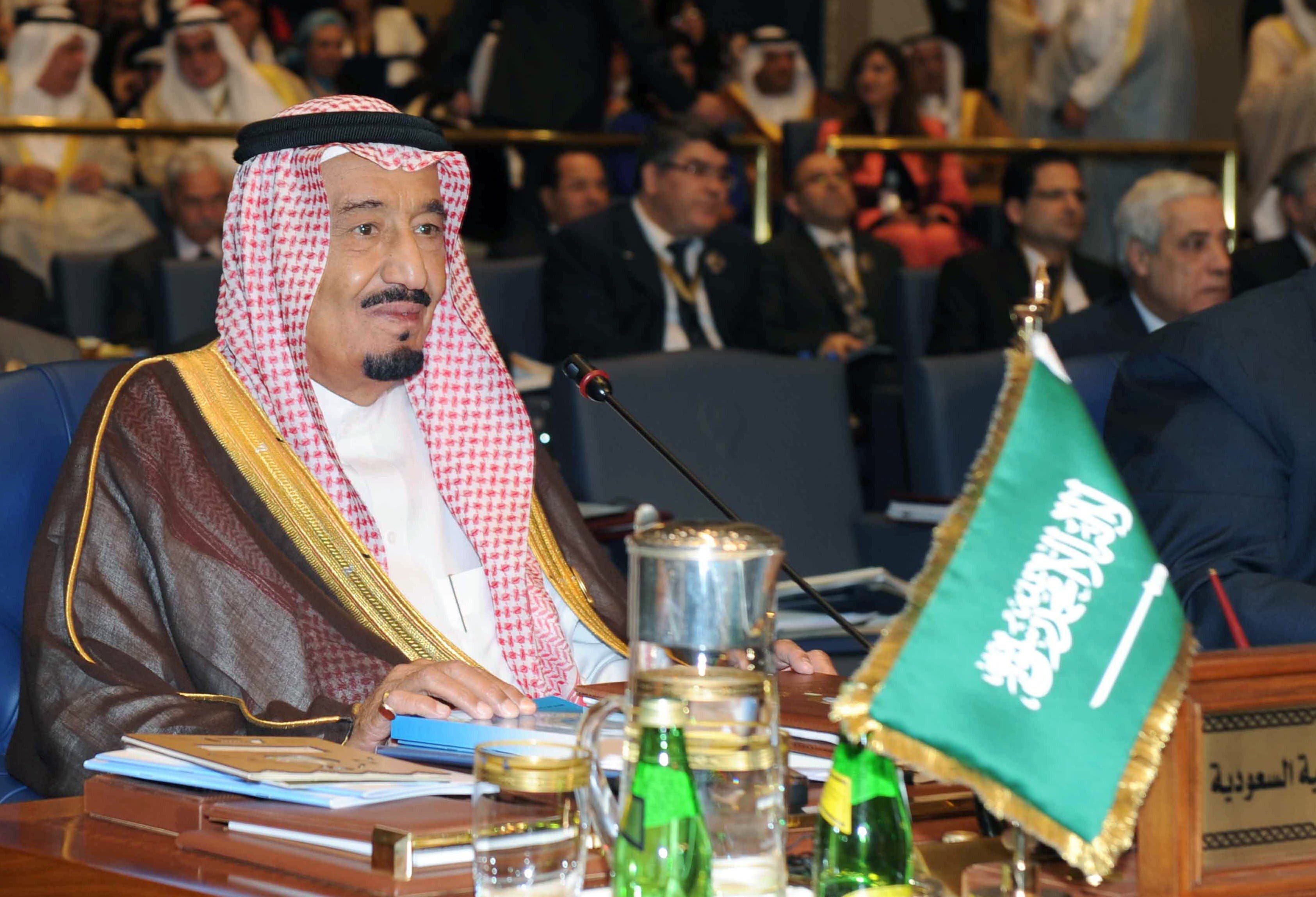 "Exiting from the Syrian crisis requires changing the balance of forces on the ground," Prince Salman told the opening session of an annual Arab summit in Kuwait, stressing the need for more support for rebels fighting to overthrow Syrian President Bashar al-Assad.
The Arab League summit in Kuwait is prioritizing the Syrian conflict in its agenda, while discussions between the Arab states are expected to steer clear of a regional rift over Egypt's Muslim Brotherhood.
In the run up to the summit, the dispute pitted Qatar against Egypt, Saudi Arabia, Bahrain and the United Arab Emirates.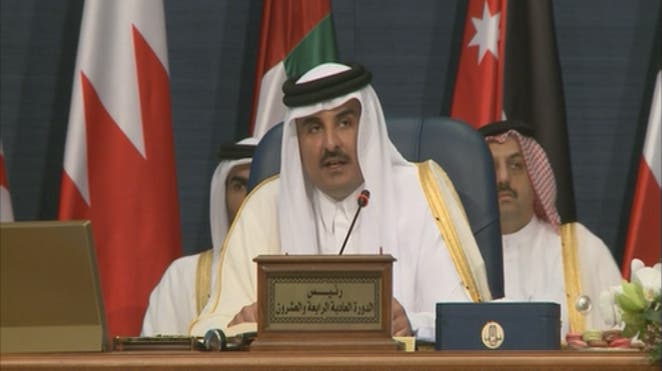 In his opening address, Qatari ruler Sheikh Tamim bin Hamad bin Khalifa al-Thani criticized his fellow Arab leaders for not following through on a Qatari proposal to set up a $1 billion fund to help the Arab residents of eastern Jerusalem, saying his nation will go ahead with the $250 million it has pledged.

Without naming Iraqi Prime Minister Nouri al-Maliki, he criticized what he says were attempts to sideline entire segments of that Arab nation, a reference to Iraq's Sunni minority.

Sheik Tamim also called on Egypt to start a "political dialogue." Qatar has been previously criticized the crackdown there against the Muslim Brotherhood.
Egypt calls for anti-terror treaty
Egypt's military-installed interim president Adly Mansour called Tuesday for Arab ministers to meet before the end of June to discuss implementation of an Arab counter-terrorism treaty.

Mansour made no specific mention of the Muslim Brotherhood of his ousted predecessor Mohamed Mursi, which Cairo designated a terrorist organization in December.

But he said that it was vital that League members extradite and not give shelter to "terrorists" wanted by fellow member states.

Egypt has repeatedly invoked the 1998 counter-terrorism treaty, ratified by 18 of the Arab League's 22 member states, in its efforts to put pressure on Qatar to stop giving shelter to fugitive Brotherhood leaders.

"Within the framework of implementing the Arab counter-terrorism treaty, we call for the Arab interior and justice ministers to hold a joint meeting before the end of June," Mansour told the Arab summit in Kuwait.

"We call on all Arab countries to stand united in confronting terrorism."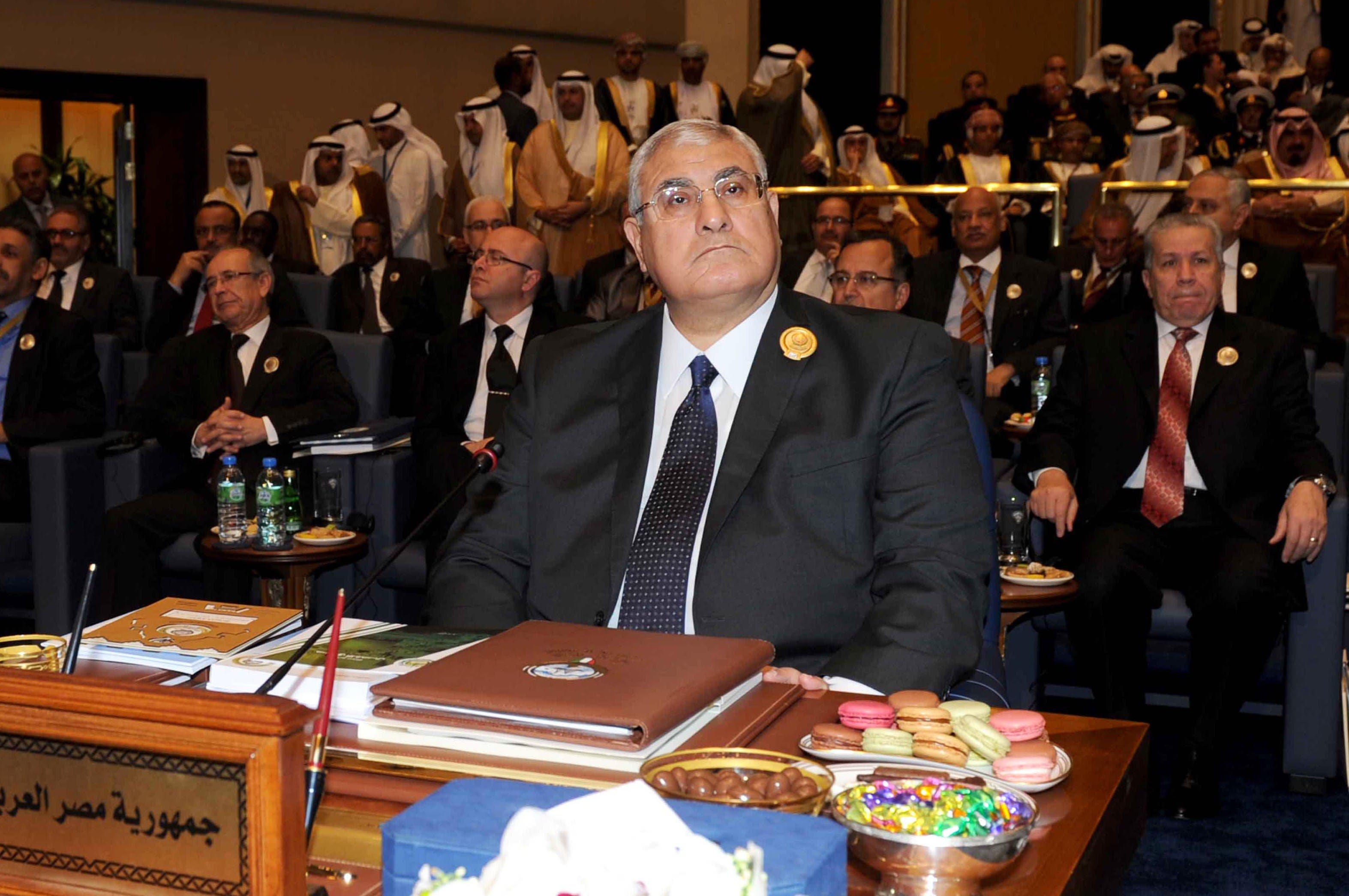 As the focus was be on the Syrian crisis, which has just entered its fourth year, the head of Syria's main opposition bloc, Ahmad Jarba, addressed Arab leaders at the opening session.
Syrian opposition leader Ahmad Jarba urged Arab leaders to grant Syria's vacant Arab League seat to his National Coalition and let it take over Syria's embassies abroad.

"Leaving Syria's seat empty sends a message to (President Bashar) al-Assad...'Kill, kill the seat is waiting for you once the battle is settled'," Jarba told the opening session of the Arab League summit.
The conflict in Syria, which in mid-March entered a fourth year, has killed more than 140,000 people and displaced millions.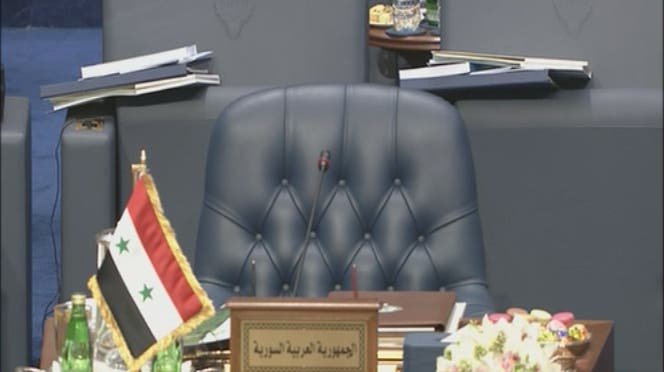 Low-profile delegations from the Gulf
The rift among Arab countries has apparently affected the level of representation at the summit, which is being held in Kuwait for the first time.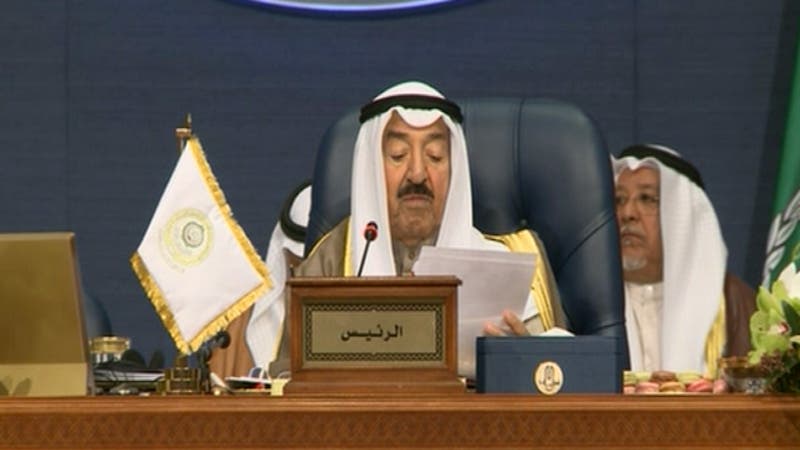 Kuwait said 13 heads of state had confirmed their attendance, with low-profile representation from Kuwait's Gulf partners.
The UAE, whose President Sheikh Khalifa bin Zayed al-Nahyan has not made a public appearance since he underwent an operation following a stroke in January, has sent the ruler of the small emirate of Fujairah.
Saudi Arabia's ailing King Abdullah was represented by Crown Prince Salman bin Abdulaziz.
Oman, whose leader Sultan Qaboos normally stays away from summits, has dispatched his special envoy, while Bahrain sent the crown prince, Salman bin Hamad al-Khalifa.
Apart from Kuwait, only Qatar among the Gulf states was represented at the level of head of state.
Palestinian leader Mahmoud Abbas, fresh from talks with U.S. President Barack Obama in Washington last week, urged for a Palestinian state according to the '67 borders with Jerusalem as its capital.
Abbas also called for resolving the refugee crisis based on United Nations resolution 194.
Lingering rift
Earlier this month, Saudi Arabia, the UAE and Bahrain recalled their ambassadors from fellow Gulf Cooperation Council member Qatar in protest at Doha's perceived support for the Muslim Brotherhood, branded a terrorist organization by Cairo and Riyadh.
Efforts to settle the inter-Arab rift appear to have been placed on the back burner, with officials ruling out any compromise being struck in Kuwait.
Egyptian Foreign Minister Nabil Fahmi told reporters it was not possible to forge a compromise with Qatar during the summit because "the wound is too deep."
Kuwait's foreign ministry undersecretary Khaled al-Jarallah also said the dispute between Qatar and its neighbors would "be resolved within the Gulf house", not at the Arab summit.
(With AFP)