Obama defends not using military force in Syria
On his Riyadh visit, the president sought to allay criticisms of his decision to pull back from strikes against the Syrian regime
In defense of his administration's decision not to use military force in Syria as the civil war heated up last year, President Barack Obama on Friday said the United States has its limits.
The comments came in an interview taped ahead of his visit to Saudi Arabia, according to Agence France Presse. The Gulf kingdom had been angered by Obama's last-minute decision last year to pull back from strikes against the Syrian regime over its use of chemical weapons in the country's civil war.
"It is, I think, a false notion that somehow we were in a position to, through a few selective strikes, prevent the kind of hardship we've seen in Syria," Obama told broadcaster CBS in Rome.

"It's not that it's not worth it," he added. "It's that after a decade of war, the United States has limits."

Obama went on to suggest that the US military would not have been able to have much impact without committing itself long-term.

"Our troops who have been on these rotations and their families and the costs, and the capacity to actually shape in a sustained way an outcome that was viable without us having a further commitment of perhaps another decade, those are things that the United States would have a hard time executing," he said.

"And it's not clear whether the outcome, in fact, would have turned out significantly better."

Now in its fourth year, the bloody civil war has claimed more than 140,000 lives and displaced many others, causing a refugee crisis in the region.

"To look at a country like Syria and see how it's been torn apart, to see the humanitarian crisis that's taking place, surely, that is not consistent with any reasonable interpretation of what Islam is all about, to see children starving or murdered, to see families having to abandon their homes," Obama said.

Obama seeks to reassure Riyadh
Obama sought to allay Riyadh's criticism of his Syria policy in his visit to Saudi Arabia on Saturday.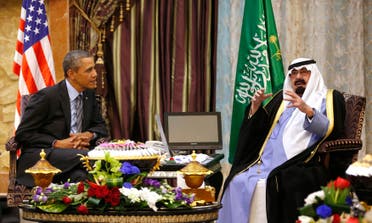 Saudi Arabia is a major backer of the Syrian rebellion, and has been pushing for a stronger international stance against President Bashar al-Assad.
While the two leaders discussed "tactical differences", they both agreed their strategic interests were aligned, a U.S. official told reporters after the meeting.
"I think it was important to have the chance to come look him (King Abdullah) in the eye and explain how determined the president is to stop Iran from getting a nuclear weapon," the official said.
The meeting was a chance to assure the king that "we won't accept a bad deal and that the focus on the nuclear issue doesn't mean we are not concerned about, or very much focused on, Iran's other destabilizing activities in the region."

(With AFP and Reuters)