Jihadist group Ajnad Misr claims Cairo bombings
Three bombings targeted riot police deployed outside Cairo University, killing a police general and wounding five people
A little-known jihadist group, Ajnad Misr, claimed responsibility for bomb attacks near Cairo University on Wednesday that killed an Egyptian police general and wounded five other policemen, Agence France-Presse reported.

Two bombs targeting security posts near the university exploded in quick succession, killing Brigadier General Tarek al-Mergawi, followed by a third blast as police and journalists gathered at the scene.

Ajnad Misr (Soldiers of Egypt) said on its Facebook and Twitter accounts that it carried out the bombings in response to an "arrest campaign (targeting)... our women and our girls."

It did not elaborate on the motive, but explained that the last bomb was detonated later than planned to avoid civilian casualties.

"We previously cancelled many of our operations because of the possibility that shrapnel could reach civilians," the group said.

Ajnad Misr previously claimed one of four bombings that rocked Cairo on January 24, the day before the third anniversary of an uprising that toppled strongman Hosni Mubarak.

Those attacks killed six people.
Three blasts
The third blast struck near police deployed outside Cairo University close to where an earlier twin bombing killed the police general.
The explosion appeared to be much smaller than two bombings that struck at the same location, less than two hours earlier.
Among the wounded was Maj. Gen. Abdel-Raouf El-Sirafy who is the deputy chief of police in the Giza province, parts of which are located in the Greater Cairo area.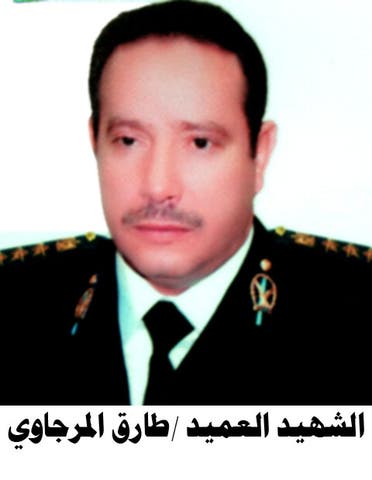 Cairo's University main campus is in Giza.
Officials say the bombs went off seconds apart, targeting the police deployed in the area in anticipation of students loyal to ousted Islamist President Mohammad Mursi.
Egyptian state TV says the bombs were crude and homemade.
The officials spoke on condition of anonymity because they were not authorized to speak to the media.
Wednesday's attack takes to a new level the violence which has come to define protests by students in the nearly nine months since the military ousted Mursi. While the attacks have usually taken place in the restive Sinai Peninsula, they have recently spread to Cairo.
The government announced this week that nearly 500 people, most of them soldiers and police, have died from such attacks.
A video obtained by privately-owned Egyptian daily Youm 7 shows the first moments of the two blasts that took off outside the university.
(With AFP, AP and Reuters)