Jordan's ambassador to Libya kidnapped
The ambassador was kidnapped along with his entourage, and his driver was wounded in the incident
Jordan's ambassador to Libya was kidnapped Tuesday morning after masked gunmen attacked his car and shot his driver, a spokesman for Libya's foreign ministry said.
An Al Arabiya source said negotiations were ongoing between Jordan and the kidnappers to secure the release of Fawaz Aytan.
The source said the kidnappers are demanding the release of a Libyan prisoner who is being held in Jordan. The detainee is accused of attempting to set off an explosion at Alia Airport in Jordan in 2006, the source said.
According to Reuters news agency, Essam Baitelmel, a member of the Libyan team investigating the abduction, said the kidnappers had demanded the release of Mohamed Dersi and said the diplomat was not harmed and in good health.
The abduction of Aytan is the latest incident in which Libyan leaders and foreign diplomats have been targeted in the increasingly lawless North African country, three years after NATO-backed rebels ousted autocratic leader Muammer Qaddafi.
"The Jordanian ambassador was kidnapped this morning. His convoy was attacked by a group of hooded men on board two civilian cars," ministry spokesman Said Lassoued told Agence France Presse.
The driver survived the attack and was in hospital, Lassoued said. He suffered gunshot wounds during the kidnapping.
The government in Amman confirmed the kidnapping.
"Jordan has initial information that the Jordanian ambassador in Libya, Fawaz Aytan, was kidnapped," foreign ministry spokeswoman Sabah Rafie said, adding that it was investigating.
Aytan's abduction comes two days after Libya's prime minister Abdullah al-Thani stepped down, saying he and his family had been the victims of a "traitorous" armed attack the previous day.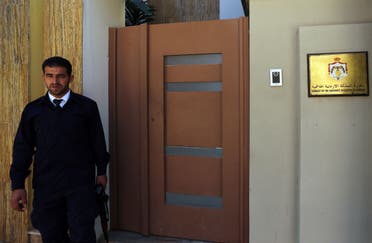 In another incident in the Libyan capital Tuesday, The U.S. embassy said a female Libyan security guard stationed at the mission had gone missing and was "likely" kidnapped.
"Local employed security guard likely abducted late last night," Joe Mellott, the mission's spokesman, was quoted by AFP as saying in a statement.
Mellott did not name the employee but said "she was off hours."
"We are working with her family and authorities to help."
(With AFP and Reuters)