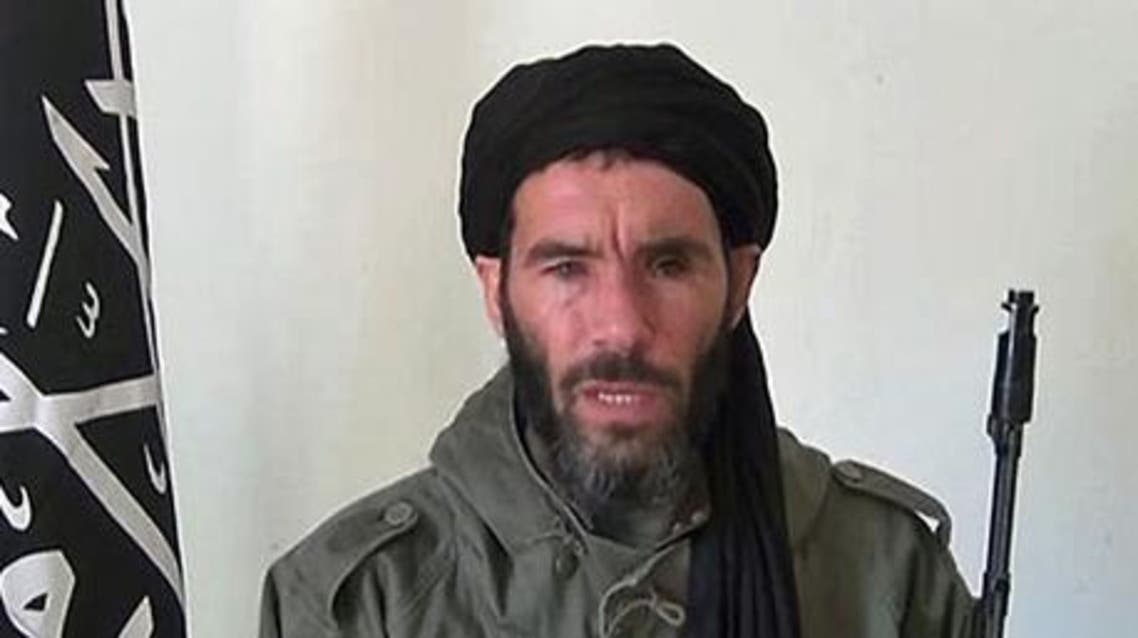 Malian leader: one-eyed jihadist a 'threat' to peace
Mokhtar Belmokhtar was a leader of al-Qaeda in the Islamic Maghreb (AQIM)
Mali's president warned Monday jihadist commander Mokhtar Belmokhtar was a "threat" to regional security after it emerged the international fugitive is still alive and hiding out in Libya.
The elusive Islamist, who staged the deadly siege of an Algerian gas plant last year, was thought to have been killed in Mali, but security sources told AFP on Sunday they had proof he had moved into Libya and remained active.
"If this were true, it is obvious that he would be a threat. I believe that he is a pretty well-known figure and not for good reasons," President Ibrahim Boubacar Keita told a joint news conference with Senegal's counterpart Macky Sall in Dakar.
Belmokhtar was a leader of al-Qaeda in the Islamic Maghreb (AQIM), which, along with other armed Islamist groups, took advantage of a military coup in 2012 to occupy northern Mali before being driven out by French and African troops.
He split from AQIM last year and launched the Signatories in Blood, masterminding a raid of Algeria's In Amenas gas plant in which 38 hostages were killed in a four-day siege.
The attack was said to have been carried out in retaliation for the French-led military intervention in Mali.
One-eyed Islamist
Branded "The Uncatchable", the one-eyed Islamist -- who cut his teeth fighting the Soviets in Afghanistan in the 1980s -- is also believed to be behind twin car bombings in Niger in May 2013 that left at least 20 people dead.
The United States designated Belmokhtar's group as a terrorist organisation in December, and the State Department is offering a $5 million reward for information leading to the Algerian's capture.
Belmokhtar was involved in fighting against Chadian forces in Mali's northeastern Ifoghas mountains and was reported to have been killed in action in March last year.
The reports, however, were never confirmed and the commander of the U.S. Africa Command, General David Rodriguez, told journalists in January Belmokhtar was "in the middle of the Sahel", exploiting the porous borders between southwest Libya and northeast Mali.
"If this individual... whose disappearance was announced and which no one regretted, showed up somewhere, it would not be for peace unfortunately," Keita said, towards the end of a two-day tour of Senegal.
"You never wish the death of a man but he is not very desirable company."
Shattered
The French-led military intervention against the Islamists shattered their organizational infrastructure, but various jihadist units are believed to be regrouping and carry out frequent guerrilla-style attacks from their desert bolt holes in northern Mali.
The country is also battling the latest separatist uprising launched by the Tuareg, traditionally a federation of nomad tribes who rebelled in Mali and Niger in the 1960s and the 1990s and are seeking self-determination for the country's north, a swathe of desert the size of Texas they call Azawad.
Keita said Mali was ready to enter into talks with the National Movement for the Liberation of Azawad (MNLA) and other separatist groups which have broken down and tentatively restarted several times.
"Negotiation was a goal yesterday and remains even more so today. I renew my appeal to rebel groups and northern communities, that we talk and that we build Mali together," he said.
He reiterated that any talks with armed groups would, however, be in the context of "total and unequivocal preservation of our territorial integrity."