U.S. to reconsider aid if Hamas-PLO form govt
If the Palestinian authorities officially include the Islamist group Hamas, then Washington will reconsider its $500 million annual aid
The United States would have to reconsider its annual $500 million assistance to the Palestinians if Islamist group Hamas and the Palestinian Liberation Organization (PLO) form a government together, Reuters reported a senior U.S. administration official as saying on Thursday.

"Any Palestinian government must unambiguously and explicitly commit to nonviolence, recognition of the state of Israel, and acceptance of previous agreements and obligations between the parties," the official said, speaking to Reuters on condition of anonymity.

"If a new Palestinian government is formed, we will assess it based on its adherence to the stipulations above, its policies and actions, and will determine any implications for our assistance based on U.S. law," the official said.

The United States, Israel and the European Union view Hamas as a terrorist organization.
Meanwhile, Washington warned of re-thinking its aid to the Palestinians after it expressed its disappointment over the pact.

"The timing was troubling, and we were certainly disappointed in the announcement," Reuters quoted State Department spokeswoman Jen Psaki as telling a regular news briefing.
"This could seriously complicate our efforts - not just our efforts but the efforts of the parties to extend their negotiations."
Oversees foreign aid
The leaders of a U.S. House of Representatives appropriations subcommittee that oversees foreign aid said the Palestinians' agreement with Hamas could jeopardize funds they receive from the U.S. government.
Frustrated members of the U.S. Congress, who are generally strong supporters of Israel, said that money could be cut off.
"Not only does this action potentially derail any hope of a peace agreement between Israel and the Palestinians, it puts in jeopardy future U.S. assistance to the Palestinian Authority," Republican U.S. Representative Kay Granger, the subcommittee chair, said in a statement.
Psaki said U.S. officials had expressed their concerns to the Palestinians.
"It's hard to see how Israel can be expected to negotiate with a government that does not believe in its right to exist," she said.
Hamas has battled Israel, which it refuses to recognize, while Abbas' Fatah party has remained in control of the Palestinian Authority in the occupied West Bank and pursued years of fruitless talks with Israel.
You can read Avi Jorish's piece "Richard Falk and reexamining the Palestinian genocide."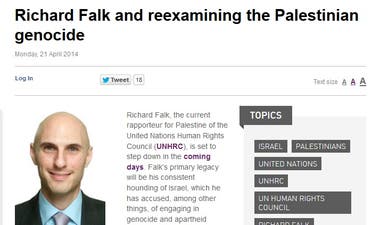 (With Reuters)