Feeling deceived by preachers, Saudi jihadist returns home from Syria
Misfer, a 17-year-old Saudi boy who trekked to Syria earlier this year, commented on his experience
A young man who has just returned from fighting in Syria told a popular Saudi talk show on Monday he was deceived by some religious figures into travelling to the war-torn country.
Misfer, a 17-year-old Saudi boy who trekked to Syria earlier this year, said influential online Muslim preachers have used religious texts to convince youth that fighting in Syria is a religious duty.
Talking about his experience on the daily talk show "al-Thamina ma Dawood," hosted by prominent Saudi host Dawood al-Shirian, Misfer said those statements persuaded him to go to Syria.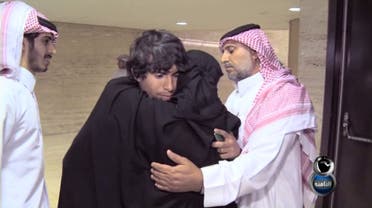 "My travel to Syria came after I was surfing the internet and found some using Sheikh Arour's statements on the need to go to Syria. [The statements had an] impact on me and made me decide to go to Syria," Misfer said.
Without the approval of his parents, Misfer said he booked a flight from Jeddah to Antakya and then paid money to cross the Turkish-Syria borders into Latakia, where he joined Syrian and Saudi fighters.
The rebel group Misfer joined assigned him to help with transporting the wounded.
Some of those fighters drank alcohol, he added.
Misfer said he decided to return home after coincidentally hearing an interview his mother did with the TV show al-Shiriran shortly after he had left home.
In the interview, she wept asked authorities to interfere in punishing those who misguided her son and others like him going to Syria.
Misfer wanted to leave after hearing his mother's interview, but feared punishment from the Saudi authorities if he returned.
"There are lots of Saudis who wish to return, but they are afraid of being tortured in Saudi Arabia, I almost believed the rumor, but I was shocked when a medical team welcomed me at the airport and I was taken to a hotel," he said.
"All of those calling for jihad in Syria are liars. The Free Syrian Army brings in women and liquor, Al-Nusra Front pretends to be honest, but I felt otherwise and left them."
The call by Misfer's mother
Earlier in January, Al-Shirian hosted Misfer's mother, who cried and expressed her distress over her son's involvement in the Syrian conflict. The mother claimed anonymous individuals persuaded Misfer to join radical fighters there.
Al-Shirian slammed religious figures using social media to recruit Saudi youth into fighting alongside jihadists.
The call by Misfer's mother moved many Saudis, but also apparently angered some religious preachers.
Sheikh Mohammed al-Arifi, an influential Saudi preacher, rejected the criticism.
Arifi claimed that the interview with Misfer's mother had been set up, adding that the Saudi society is not "naive" enough to be "deceived" by attempts to taint the image of Muslim preachers.
Arifi is one of the many scholars who call for jihad in Syria.
He stirred controversy in June of last year when he called for jihad in Syria "in every possible way" during a high-level meeting of Muslim scholars in Cairo.
But the Saudi preacher, instead of translating his words into action, traveled to London a week later, an act the prompted criticism against him. He claimed he was on a business trip to London to shoot a new television program.
Arifi has also infamously called for daughters not to seduce their fathers by wearing revealing clothes at home.