Salam: Saudi Arabia backs Lebanon election efforts
Prime Minister Tammam Salam praises Saudi Arabia for supporting Lebanon
Saudi Arabia backs Lebanon's attempts at electing a new president, Prime Minister Tammam Salam said from Riyadh Tuesday at the end of his official visit to the kingdom.
"We heard from [Saudi] officials clear statements that this is a Lebanese matter and that you [the Lebanese] need to work on but of course with [their] hopes that this election will take place and that a new president is elected," Salam told reporters at a news conference in coastal city of Jeddah.
Politicians in the Hezbollah-led March 8 camp have repeatedly boycotted parliament sessions to elect a replacement for President Michel Sleiman whose term ends on May 25.
On Monday, Salam held talks in Jeddah with former Prime Minister Saad Hariri, the leader of the Western-backed March 14 movement.
The Lebanese prime minister said he "felt Hariri was serious about reaching a solution for the presidential election to take place."
Salam also downplayed the effect of a presidential vacuum in Lebanon.
"In case of a presidential vacuum, there is no fear that power will be in the wrong hands, for it is at the heart of the government's executive authority," he said.
Salam, who arrived in the kingdom Monday, also expressed hope that the presidential election would take place on time, describing it as an inter-Lebanese matter.
"It is a Lebanese-Lebanese matter and an election we hope will succeed and [we] are working and putting all our efforts to ensure it is [made] in Lebanon and not outside it," he said.
Salam held talks with both Saudi King Abdullah and Crown Prince Salman bin Abdulaziz. The official Saudi Press Agency said Salam met King Abdullah at Jeddah airport.
Salam praised Riyadh for its support to Lebanon, saying a recent Saudi initiative to fund military aid to the Lebanese army had helped with restoring security in Lebanon which has been affected by the ongoing crisis in Syrian both at the humanitarian and security levels.
"No doubt this [Saudi aid] has had a big impact and I must praise … Sleiman who worked with the Saudi leadership to secure this aid for the army in line with his and our belief that Lebanon is best served when the legitimate authority and state in Lebanon are supported," he said.
He said many items were brought up during his talks with Saudi officials, including the growing number of Syrian refugees in the tiny country.
"The biggest [item] the Lebanese are facing today is the situation of the Syrian refugees who are now more than 1 million and are expected to increase to 2 million by the end of this year," he said.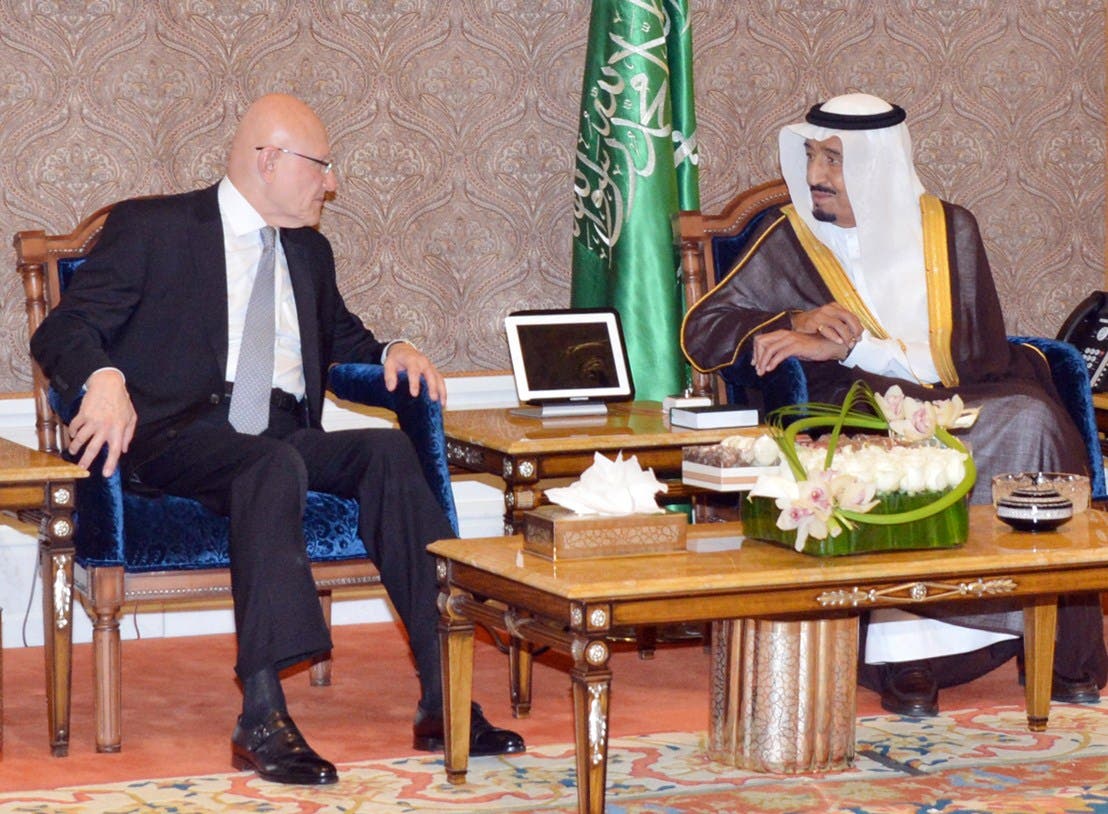 "This is a big concern we have in Lebanon … and no doubt the Saudi leadership …will be at the forefront of supporting and helping resolve this issue in Lebanon," he said.
Asked about Hezbollah's role in Syria, Salam said the "party is a political component in Lebanon and represents a big number of Lebanese and is a partner in the national interest government."
"We in the government have a clear position on what is occurring in Syria and have said we rely on the policy of disassociation and Hezbollah agreed to this [doctrine]," he added.
Salam was referring to the Lebanon's official policy of remaining neutral from developments in Syria.
In 2013, Hezbollah confirmed it was fighting alongside forces loyal to President Bashar Assad against rebels seeking to topple the embattled leader, violating the government's policy and a pact known as the "Baabda Declaration" to distance Lebanon from regional developments, particularly in its neighbor.