Libyan rebels slam rogue General Haftar as a 'loser'
Haftar's anti-Islamist military alliance has expanded to include the military intelligence and a police force
A Libyan rebel group on Wednesday slammed rogue General Khalifa Haftar as a "loser," calling on "true rebels" to defect from his army.
The statement came after Haftar's anti-Islamist military alliance on Tuesday expanded to include the military intelligence and a police force in the capital Tripoli.
"(We) call on Libya's true rebels who joined the army ranks to immediately and temporarily withdraw from the army and to confront their commanders and demand them to declare the names of terrorists fighting them and accusing them of murder and assassination operations," the group, which goes by the name of Libyan Revolutionaries' Operations Room, said in a statement.
Also read: Libya's Haftar calls for crisis government
Libya's General Khalifa Haftar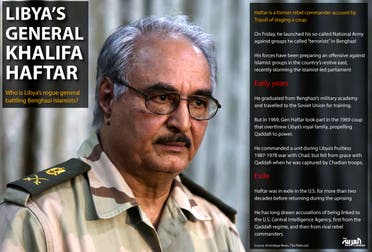 "We (also) call on them to specify the names of their armed groups and to demand the attorney general's office to publish the investigation results which include irrefutable evidence of their involvement in crimes," the statement also said.

The Libyan revolutionaries' operations room added they will spearhead the confrontation of crimes and will deter criminals if evidence is provided, adding that they will not need the "heroic acts of loser General Khalifa Haftar."
"Other than that, (we) consider all current military operations as a military coup that aims to dominate power and restore dictatorship by fighting rebels and aborting the February 17 revolution. Libya's rebels will not engage in domestic fighting, will not participate in shedding the Libyans' blood and will not contribute to engaging Libya in civil wars whom no one emerges victorious from," the statement added.
Haftar is a former rebel commander accused by Tripoli of staging a coup. On Friday, he launched his so-called National Army against groups he called "terrorists" in Benghazi
His forces have been preparing an offensive against Islamist groups in the country's restive east, recently storming the Islamist-led parliament.
Various units of the Libyan army have pledged support for "operation dignity" which he declared against Islamist militants.
The air force and the military intelligence are the latest government organs that announced their support for the general.
Acting Interior Minister Saleh Mazeg said on Wednesday that his ministry stood with "the Libyan people," not with renegade General Khalifa Haftar.

Mazeg, speaking on the local television station al-Nabaa, said a ministry statement carried by earlier by the state news agency LANA saying the ministry had joined Haftar was wrong.
Navy chief survives assassination
On Wednesday, the navy's chief of staff, his driver and two guards were wounded when gunmen attacked his convoy in Tripoli, the navy spokesman said.

Rear Admiral Hassan Abu Shnak was on his way to work when gunmen blocked his convoy in a western district of the capital and opened fire, Colonel Ayub Kassem told AFP.

"He was lightly wounded in the head. A driver and two guards were also wounded, but their injuries are not life threatening."
A naval base in Benghazi had declared support for General Haftar on Monday. It was not clear whether the navy's chief was supporting the rogue general or if he remained loyal the Islamist-dominated government.


[With AFP and Reuters]