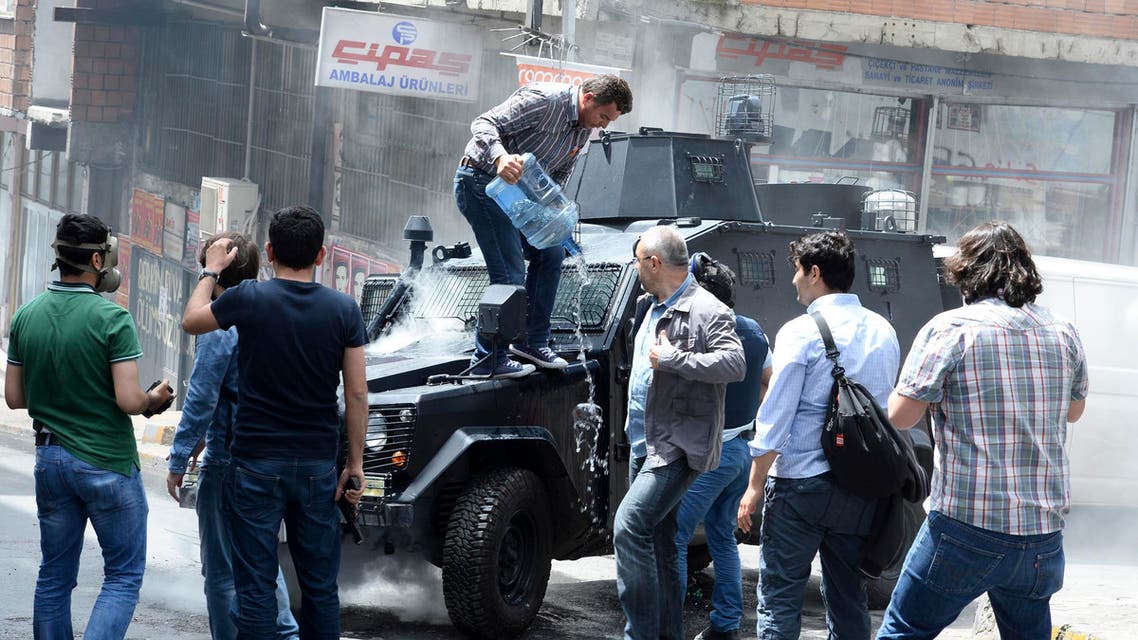 Second person dies from injuries in Istanbul protest
Eight other people were injured during the clashes, but none of them was in critical condition
A second person died from injuries sustained during protests in Istanbul overnight following the fatal shooting of a bystander the day before, the provincial governor said on Friday, according to Reuters news agency.

"Two citizens were seriously injured last night from a fragmentation grenade. Unfortunately, one of them died today," Governor Huseyin Avni Mutlu told reporters.

Mutlu also said security forces were working on identifying the deceased. Eight other people were injured during the clashes, but none of them was in critical condition.
On Thursday, another man was shot and killed when the Turkish police clashed with protesters throwing petrol bombs and stones in the district of Okmeydani.

The incident occurred nearly one year to the day after protests in central Istanbul triggered a summer of nationwide anti-government demonstrations that challenged the decade-long rule of Prime Minister Tayyip Erdogan.

Thursday's disturbances began when a group of some 10 to 15 people began chanting slogans about a youth who had died in previous clashes with police and a mine disaster last week in which 301 people died.

Ugur Kurt, 30, died of his wounds at the Okmeydani Research Hospital in central Istanbul after doctors performed surgery in an effort to save his life, an official in the hospital's chief physician's office told Reuters.

Kurt was not part of the protest but was attending a funeral when he was shot, Deputy Prime Minister Bulent Arinc told parliament before Kurt's death. Arinc said prosecutors would investigate the incident.

Mutlu said earlier in the day that police had come under attack by petrol bombs and a weapon had been fired.

Television channels showed security-camera footage of Kurt inside the complex of a cemevi, the house of worship for Turkey's Alevi religious minority, when he suddenly collapsed to the ground in a pool of blood.

At the time of the shooting, police were firing tear gas and water cannons at protesters. Two police officers were hurt as a petrol bomb struck their armoured vehicle and set it alight, video footage showed.

Separate footage showed an officer firing a pistol into the air beside an armored vehicle as youths with red scarves covering their faces hurled petrol bombs.
Police and protesters continued to clash late on Thursday in Okmeydani, a working-class district in central Istanbul that is home to many Alevis and often attracts left-wing protests.

A 15-year-old boy, Berkin Elvan, died in March after nine months in a coma after sustaining a head wound during an anti-government protest in Okmeydani. Thousands clashed with police in Istanbul when he was buried.