Egypt's two-day voter turnout 'about 37' percent
Voting was extended for a third day in a bid to boost voter turnout seen as a crucial show of support for the political process
Voter turnout after two days of Egypt's presidential elections is about 37 percent, an electoral official said Tuesday, after polling was extended for a third day.

That was well below the almost 52 percent who voted when Islamist Mohammad Mursi was elected in 2012.

The electoral commission decided to extend the voting for a third day after reports of low turnout, citing a "heat wave" during the day.

Judge Abdel Aziz Salman, the commission's secretary general, said "the percentage of voters was about 37 percent," the official MENA news agency reported.

He added that the number was not an official tally.

Sisi's sole rival, leftist Hamdeen Sabbahi, criticized the decision to extend voting, saying it called the elections into doubt. His campaign said he went into a meeting to consider his response.

Sisi's campaign also criticized the extension.
Infographic: Sisi's election program?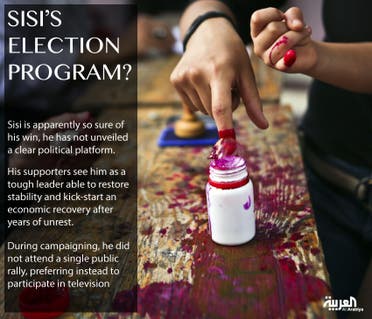 Three years after the historic uprising against Hosni Mubarak, the vote is set to restore a pattern of rule by men from the military after Sisi toppled Egypt's first freely elected leader: Mohammad Mursi, a member of the now banned Muslim Brotherhood.
Also read: Egypt heads to polls to pick president

Voters lined up to cast ballots at polling stations guarded by soldiers in face masks and armed with assault rifles.
Infographic: Who is Hamdeen Sabbahi?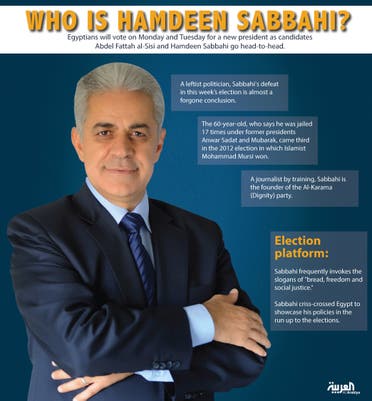 "We see Sisi as a real man. Egypt likes a strong man," said 64-year-old Saber Habib, clenching his fist to make his point as he waited to vote in the city of Suez, east of Cairo.

"We want the country to move forward and for the people to have bread," said Habib, a contractor.

Widely regarded as Egypt's de facto leader since he toppled Mursi after mass protests, Sisi, 59, faces manifold challenges including an economy in crisis and a campaign of Islamist violence that has spiraled since he overthrew Mursi.
Infographic: Who is Abdel Fattah al-Sisi?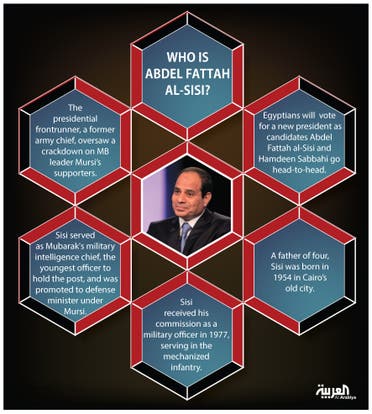 To the Islamists, he is the mastermind of a bloody coup that led to a crackdown that has killed hundreds of Mursi supporters and landed thousands more in jail. Secular dissidents who led the 2011 uprising against Mubarak have also been imprisoned.

"It is like a wedding day. It is a new beginning." Hoda Takla, a 65-year-old Coptic Christian woman, who walked out after voting with a big smile on her face, told Associated Press.

But Mohammed Heiba, a 37-year-old tailor who said he won't vote because el-Sisi is sure to win in a landslide, said: "This is a poor movie. The days of Mubarak are back ... The iron state is coming back, and frankly speaking, I am not against it. I am a simple man with four children looking to earn my living."
"No one cared for us, the poor who live in misery and sleep on empty stomachs. There are people in this country so rich that they feed chicken to their dogs and get doctors for their pets while most of Egypt's people barely eat and can't find proper health care," said Rashad Megawer, a 65-year-old school guard with 10 children who makes less than $50 a month.
Prime Minister Ibrahim Mahlab, in a phone interview with the private CBC network, after a man was gunned down in the Islamist-stronghold of Kerdassa in southern Cairo, said: "Egypt is reborn ... Be strong, come on down, there's no worry and I assure a full control of the situation."

Speaking to journalists after casting his ballot, Sisi said: "Tomorrow will be good for all of us - all of us together."
Power monopoly
An Egyptian liberal politician jailed after he mounted a challenge for the presidency in 2005 said a presidential election that got underway in Egypt on Monday is more one-sided than the one he lost to Hosni Mubarak.

Ayman Nour, a liberal who came a distant second to Mubarak in that election, told Reuters that the vote was taking place in a "power monopoly" without any real competition.

"Even in Mubarak's time we didn't see this obvious level monopoly in the election process," Nour said.

"Although there was a high level of corruption then, now we are seeing a huge pressure being put on the media to change people's view," he added.