Filipino 'spies' held in Qatar allegedly tortured
The Philippines' ambassador to Qatar said torture allegations were relayed to Qatari authorities
The ambassador of the Philippines to Qatar told Al Arabiya News on Friday that there are allegations of torture against three Filipinos being held in the Gulf state on espionage charges.
One man was sentenced to death and two to life in in prison this week after they were indicted of leaking information that could threaten the tiny rich state's national security.
Ambassador Crescente R. Relacion told Al Arabiya News in a statement that "the principle accused was arrested, together with 10 more Filipinos, from March to May 2010 due to allegations of multi-million corruption at Qatar Petroleum."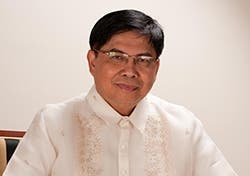 "Despite our earlier requests for access to the detained Filipinos, embassy officials were only allowed to visit them in November 2010 as Qatari officials reasoned out that the case was a national security concern and non-access to them was justified," he said.
"Before that, our officials had only seen them during court hearings on the extension of their detention and we had not been allowed to talk to them," the ambassador added.
He said when the others were released in July 2010, they reported being subjected to "physical and psychological torture during interrogations."
"During our first visit to the 3 in November, they also complained of torture," he said.
"All allegations of torture were relayed to Qatari officials, such as the Minister of Interior, the Attorney General and the Chairman of the National Human Rights Committee, all of whom promised to look into the matter," the ambassador said.
He noted that the torture allegations were also raised in the lower court by the defense lawyer, "who argued that, in view of torture, their confessions were obtained involuntarily."
"However, the court did not appreciate said fact," Ambassador Relacion said.
A report by ABS-CBN television revealed that the detained "spies" are pastors from a "born-again church." Some Filipino media had said the case could be linked to religion, but Ambassador Relacion said: "I think religion is a non-issue."
"In Qatar, Christians and other non-Muslim groups are free to worship provided that they have the necessary permits," he added.
The local television station quoted three former detainees as saying the crackdown began following an administrative change within the government-owned Qatar Petroleum.
The change reportedly involved the sacking of a senior Qatari executive. The three Filipinos convicted this week were reportedly close to him.
Ambassador Relacion said "there are rumors" about the link to a Qatari national. "However, the espionage charge sheet against the 3 Filipinos does not mention any other individuals, only the 3 of them."
He said the embassy "continues to closely monitor the developments" as the case is being heard in the Court of Appeal. "We also coordinate with the next-of-kin of the 3 and with their lawyer."