Saudi health minister says working with WHO to fight MERS
Fakieh's comments were in response to a Reuters Special Report on Saudi Arabia's handling of Middle East Respiratory Syndrome
Saudi Arabia is working with international scientific organizations to improve its response to a deadly new virus that has killed 186 people in the kingdom, its acting health minister Adel Fakieh told Reuters on Wednesday.
Fakieh's comments, in a written statement, were in response to a Reuters Special Report last week that quoted international scientists expressing frustration at Saudi Arabia's handling of Middle East Respiratory Syndrome (MERS).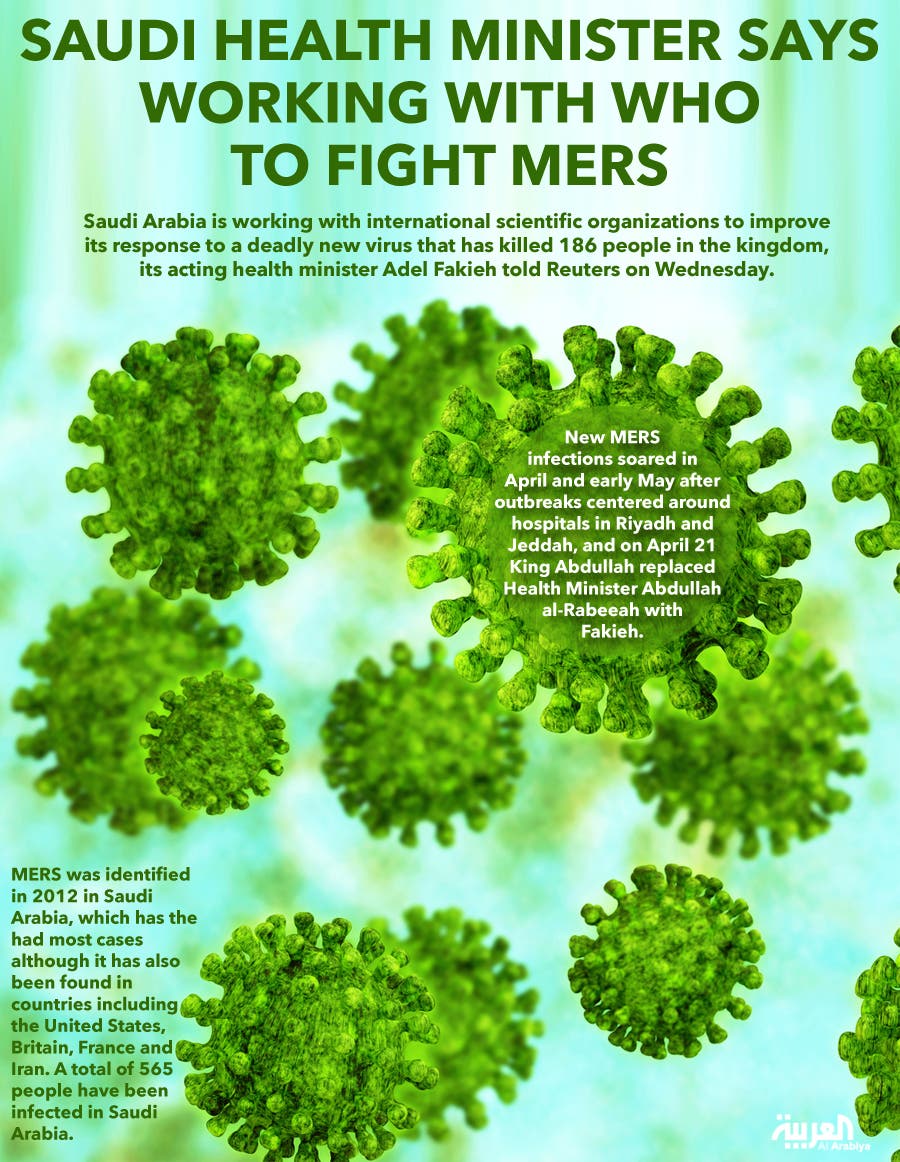 "We have been working with respected international organizations such as the World Health Organization (WHO) and Center for Disease Control (CDC) to develop policies and put in place the necessary arrangements, such as case definition and guidelines specifically for MERS, that are on par with international standards," he wrote.
"Our commitment is to continue this international collaboration past this current global challenge," he added. It has killed around 30 percent of sufferers and has caused fever, coughing and sometimes fatal pneumonia.
MERS was identified in 2012 in Saudi Arabia, which has had most cases although it has also been found in countries including the United States, Britain, France and Iran. A total of 565 people have been infected in Saudi Arabia.
Fakieh did not directly address in his statement allegations by scientists quoted by Reuters that Saudi authorities had rejected offers of help by international organizations.
However, deputy health minister Ziad Memish last week told Reuters by email he was "surprised" at the allegations, said the kingdom's response had been "nothing but collaborative", and pledged to continue involving more international partners.
New MERS infections soared in April and early May after outbreaks centered around hospitals in Riyadh and Jeddah, and on April 21 King Abdullah replaced former minister Abdullah al-Rabeeah with Fakieh.
However, the rate of infection has slowed since mid-May. After two days with no new confirmed cases, there were three on Wednesday, the Health Ministry said.
"The country has been strengthening infection control measures and other measures related to MERS and this may be an explanation to the recent lull in cases," WHO spokesman Glenn Thomas told Reuters.