US: American carried out suicide attack in Syria
Abu Hurayra al-Amriki carried out a suicide truck bombing in the Syrian town of Idlib
The U.S. State Department confirmed on Friday that an American carried out a suicide bombing in Syria, as had been claimed by the al-Qaeda-linked al-Nusra Front.
U.S. State Department spokeswoman Jen Psaki did not provide any details about the suspect, who had been identified in a New York Times report as a man in his 20s from Florida and of Middle Eastern descent.

"I can confirm that this individual was a U.S. citizen," Psaki said, adding that he was "involved in a suicide bombing inside Syria."
According to a video released by supporters of the rebel al-Nusra Front, the American -- fighting under the name Abu Hurayra al-Amriki -- carried out a suicide truck bombing in the Syrian town of Idlib.
Watch a video showing the operation carried out by the U.S. citizen here.
The video depicts a huge explosion as well as footage of a young, bearded man cradling a cat and identified as the attacker.

The New York Times quoted a senior U.S. law enforcement official as saying that the truck attack might have occurred during Abu Huraira's second visit to Syria.
One al-Nusra Front militant told the New York Times that Abu Huraira was an Arab American who spoke limited Arabic but who was dedicated to Jihadism.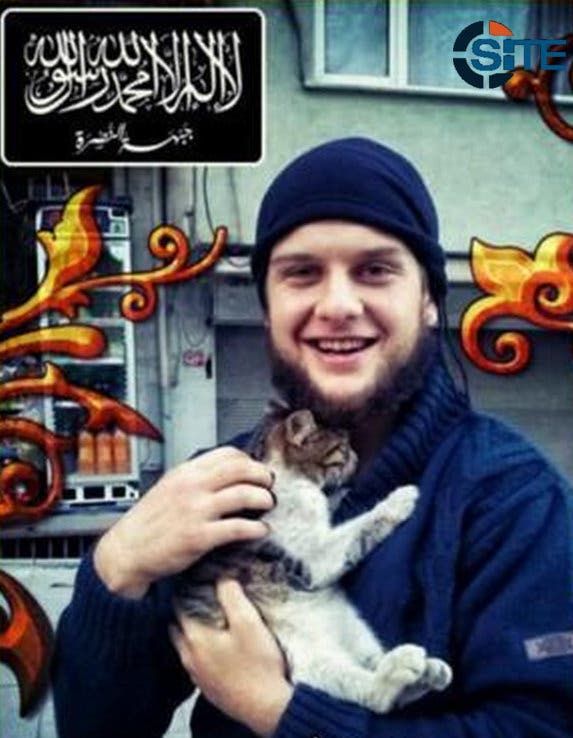 "He was a generous, brave, tough man, always on the front lines in battles," said militant, who identified himself by Abu Abdulrahman.
"When his turn came up … [Abu Huraira] was very happy, because he will meet his God after that," Abu Abdulrahman said via Facebook.
Western powers have expressed concern that some of their citizens have traveled to fight in the civil war in Syria, some of them joining extremist groups that might one day seek to strike their home countries.

The British-based Syrian Observatory for Human Rights, a monitoring group with ties to the Syrian opposition, said dozens of Syrian soldiers were killed in four suicide bombings in the Idlib region on Sunday.