Egypt criminalizes sexual harassment
Sexual offenders face up to five years in prison under a new decree issued by outgoing President Adly Mansour
Egypt's outgoing interim President Adly Mansour on Thursday issued a decree criminalizing sexual harassment as a crime punishable by up to five years in prison.
The anti-sexual abuse decree amended existing laws that only vaguely referred to sexual harassment offences as "indecent assaults."
The decree defines a sexual harasser as a person seeking to achieve "an interest of a sexual nature," the Associated Press quoted presidential spokesman Ehab Badawi as saying.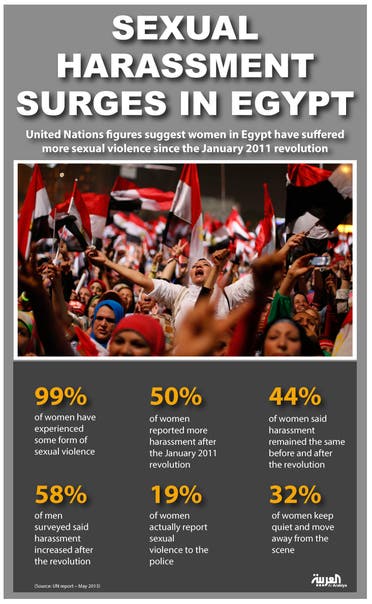 Any sexual hints via words, signs or acts can now result in at least six months in jail, and could carry fines between 3,000 – 5, 000 Egyptian pounds. ($420-$700).
Under the new law, offenders would be prosecuted whether they commit harassment in public or in private. Penalties will double for repeat offenders, Badawi added.

The punishment can be harsher if the harasser holds power over the victim, such as being at a higher working status, or being armed with a weapon. Such acts can result in imprisonment periods ranging between two to five years and a fine of 20,000-50,000 pounds. ($2,800-$7,000)
Not enough?
More than 99 percent of Egyptian women are subjected to some form of abuse, according to a 2013 report by the United Nations.
Although sexual harassment was long seen as a problem in the Arab world's most populous nation, the security deterioration in recent years is believed to have escalated it.
A sexual harassment case that took place last March at a top university triggered outrage on domestic and international levels.
Some activists say the problem is too big that the latest decree by President Mansour is insufficient.
Janet Abdel el-Aleim, member of I Saw Harassment, an anti-sexual violence group in Egypt, told Al Arabiya News the amended laws remain "vague" and the punishments are still "insufficient."
"The law does not explain how authorities are going to hold a harasser accountable. To report a harassment incident, police requires the victim to present the harasser and two witnesses," she said.
"If no witnesses were available, police do not take such reports seriously," Abdel el-Aleim added.
The activist also criticized the laws for not addressing cases involving "group sexual assaults."
Mervat Tellawy, head of Egypt's National Council for Women (NCW), told Al Arabiya News that more needs to be done to eliminate sexual harassment but welcomed Mansour's decree as a "positive step."
"The amended legislation broadens the definition of sexual harassment and we needed a swift law to combat it at the time being," she said.
Mansour's decree was one of several last decisions taken by President Mansour before he hands over power on Sunday to president-elect Abdel-Fattal al-Sisi.
He also issued a decree on legislative elections, guaranteeing at least 12 percent of seats to women and four percent to Egypt's minority Christians.
Under the new election law, the parliament will be made up to 567 members, of whom 540 will be elected and the rest named by the president.
Coptic Christians will have 24 seats and women 70 seats.