Official: U.S. mulls drone strikes in Iraq
The White House has vowed support to Iraqi leaders, with Washington expected to give Iraq aid to combat militants
While the United States vowed support to Iraqi leaders on Wednesday, as they combat a militant offensive that has seized a large swathe of northern and north-central Iraq, a Western official said Washington is mulling the use of drone strikes to help the beleaguered country.
The request for air strikes has been turned down in the past, but Washington is now weighing several possibilities for more military assistance to Baghdad, including drone strikes, a Western official told Agence France-Presse on condition of anonymity.

Resorting to such aircraft -- which remain highly controversial in Afghanistan and Pakistan -- would mark a dramatic shift in the U.S. engagement in Iraq, after the last American troops pulled out in late 2011.

But State Department spokeswoman Jen Psaki stressed there were no current plans to send U.S. troops back to Iraq, where around 4,500 Americans died in the eight-year conflict.

She also denied the offensive, in which the militants seized northern Mosul and then Tikrit, had caught Washington by surprise or marked a failure of U.S. policy in the country it invaded in 2003.
On Wednesday, The New York Times reported that Iraqi Prime Minister Nuri al-Maliki secretly asked the Obama administration to consider airstrikes against militant staging areas as the threat from Sunni insurgents mounted last month.
But an Iraqi official told Reuters that Iraq wanted U.S. air strikes but believed the Obama administration was not interested in getting involved.
"While the national security team always looks at a range of options, the current focus of our discussions with the government of Iraq and our policy considerations is to build the capacity of the Iraqis to successfully confront and deal with the threat posed by ISIS," White House national security council spokeswoman Bernadette Meehan said in an emailed comment to Reuters.
The Obama administration official who spoke to Reuters on condition of anonymity declined to provide details on what the United States might do to help Iraq, saying only that it was "considering [a] range of requests."
The Wall Street Journal, quoting senior U.S. officials, first reported that Iraq had signaled it would let the United States strike al-Qaeda militant targets in Iraq with manned aircraft or drones.

An Obama administration official who spoke on condition of anonymity said Iraq had previously made clear its interest in drone strikes or bombing by manned U.S. aircraft to help it beat back the militant onslaught.
Militants eye Baghdad
Sunni rebels from an al-Qaeda splinter group overran the Iraqi city of Tikrit on Wednesday and closed in on the biggest oil refinery in the country, making further gains in their rapid military advance against the Shiite-led government in Baghdad.

The threat to the Baiji refinery came after militants from the Islamic State in Iraq and Syria (ISIS) group which also seized the northern city of Mosul, advancing their aim of creating a Sunni Caliphate straddling the border between Iraq and Syria.
On Thursday, Al Arabiya's correspondent said ISIS militants were calling on its supporters to join forces to head to Baghdad.
While U.S. lawmakers openly questioned whether Maliki should remain in power, White House spokesman Jay Carney said in a statement Wednesday that Washington stands by Iraqi leaders.
"The United States will stand with Iraqi leaders across the political spectrum as they forge the national unity necessary to succeed in the fight against ISIS," AFP quoted him as saying.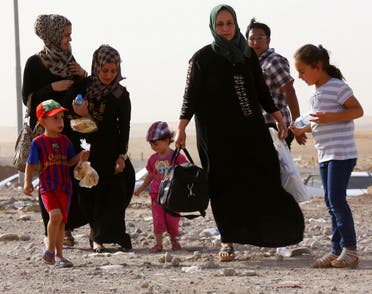 U.S. readies new aid
The United States is also preparing to send new aid to Iraq to help slow a violent insurgent march that is threatening to take over its northern provinces, officials said Wednesday.
Psaki said it's expected that the U.S. will give Iraq new assistance to combat insurgents but declined to comment further.
Beyond the missiles, tanks, fighter jets and ammunition that the U.S. has already either given or plans to send to Iraq, Baghdad has sought American surveillance drones to root out insurgents.

"The situation is certainly very grave on the ground," Psaki said Wednesday. She said the U.S. is encouraged by Baghdad's recent promise for a national unity effort but "there's more that Prime Minister Maliki can do."

"We agree that all Iraqi leaders, including Prime Minister Maliki, can do more to address unresolved issues there, to better meet the needs of the Iraqi people," Psaki said.
Doubting Maliki
Meanwhile, U.S. lawmakers are increasingly doubting Maliki.
With no obvious replacement for Maliki - and no apparent intent on his part to step down - Washington is largely resigned to continue working with his Shiite-led government that has targeted Sunni political opponents and, in turn, has inflamed sectarian tensions across Iraq.

"He's obviously not been a good prime minister," Sen. Bob Corker, top Republican on the Senate Foreign Relations Committee, told the Associated Press. "He has not done a good job of reaching out to the Sunni population, which has caused them to be more receptive to al-Qaeda efforts."

The panel's chairman, Sen. Bob Menendez, a Democrat, noted only lukewarm support for Maliki, both in Iraq and among U.S. officials. "I don't know whether or not he will actually be the prime minister again," Menendez said. "I guess by many accounts, he may very well ultimately put [together] the coalition necessary to do that."
Maliki's party won the most seats in the most recent elections held in April, but it failed to capture a clear majority. That has spawned a rash of political bargaining in Baghdad as officials build a new power-sharing government.
Maliki's opponents have for years been unable or unwilling to work together to unseat the prime minister and, in the meantime, there are few people in Iraq's current government who could replace him.

(With Reuters, AFP and the Associated Press)