Cyclone set to strike Oman's coast on Sunday
Hundreds have begun to evacuate Oman's Masirah Island, which lies in the storm's path
Tropical cyclone Nanauk is expected to hit Oman's coast in the next few days, UAE-based daily Gulf News reported on Thursday.
Going by the U.S. Joint Typhoon Warning Center's given name of 02A, the cyclone is currently lingering in the Arabian Sea, with an estimated speed of 70 to 90km/h.
The UAE's National Center of Meteorology and Seismology said that by Wednesday afternoon, the storm was around 960km south-east of Oman's Masirah Island.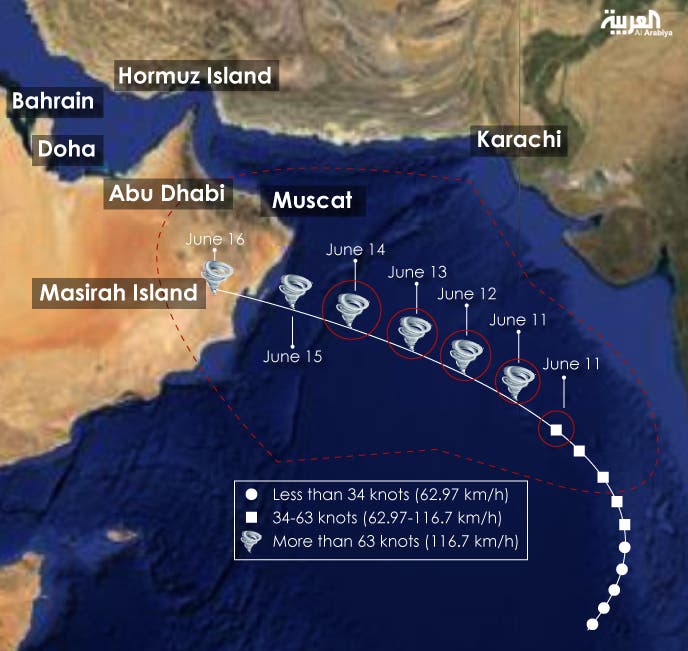 In response, many of the Island's residents - which number around 12,000 – have begun to evacuate.
"The storm takes time to form and gather intensity and strength," a spokesman for the center said on Wednesday, in comments carried by UAE-based daily The National. "The warm water is its main energy, like fuel for an engine, so once it forms, it moves west and twists around itself like a cyclone."
The cyclone is expected to bring in 100-300mm rainfall in 24 hours all over the country, a senior official for Oman's Directorate General of Meteorology and Air Navigation said, adding that sea waves may reach up to four meters in height, the Times of Oman reported.
Shoring up
In preparation for the storm, Omani authorities have begun to release water from a large dam in the country's Qurayat province in order to prevent possible flooding. Fishermen have also been warned against venturing off the coast.
While posing a threat, the cyclone's force is being interfered by a large current of dry air from the peninsula's deserts, according to U.S.-based metrological site Weather Underground.
While cyclones seldom hit the Arabian Peninsula, in recent decades, some have reached Oman's shores.
In 2007, cyclone Gonu struck Oman's coast, causing extensive damage and leaving behind a death toll of 50.