'See you in New York,' ISIS chief told U.S. captors
ISIS leader Abu Bakr al-Baghdadi was not seen as one of the 'super-bad guys' at Camp Bucca detention facility in Iraq
Abu Bakr al-Baghdadi issued a chilling final words to his U.S. captors in 2009 upon his release from a detention camp in Iraq, saying he would see them in "New York," a former member of the prison has told The Daily Beast.
"He said, 'I'll see you guys in New York,'" U.S. army Col. Kenneth King, referring to the leader of the Islamic State of Iraq and Greater Syria militant group.
King, then the commanding officer of Camp Bucca, said he didn't regard al-Baghdadi's remarks as a threat as the Iraqi had known many of his captors were from New York, reservists with the 306 Military Police Battalion, a unit based on Long Island, according to the report published Saturday.
King, according to the report, believed the remark was al-Baghdadi's way of saying he had "known all along that it was all essentially a joke, that he had only to wait and he would be freed to go back to what he had been doing."
"Like, 'This is no big thing, I'll see you on the block,'" King was quoted as saying.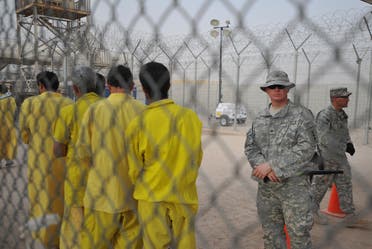 King said he had not imagined that in such a short space of time he would be seeing news reports that al-Baghdadi was the leader of ISIS, a militant group that has gained swathes of Iraqi territory in recent days which is also threatening to storm the capital Baghdad.
"I'm not surprised that it was someone who spent time in [Camp] Bucca but I'm a little surprised it was him," King says. "He was a bad dude, but he wasn't the worst of the worst."
During his stay at Camp Bucca, al-Baghdadi was apparently not regarded as one of the most virulently extremist Sunnis in the detention camp and had not presided over Sharia courts that had sought to enforce fundamentalist Islamic law among the prison population.
According to the report, King seemed confident that he and his guards would have known if al-Baghdadi had in fact been prominent among the "super-bad guys" when he was at Camp Bucca.
Al-Baghdadi left Camp Bucca not long after it was closed, departing with a group of others on C-17 cargo-plane flights that ferried them to a smaller facility near the Iraqi capital, Baghdad.
King expressed frustration that al-Baghdadi had been released.
"We spent how many missions and how many soldiers were put at risk when we caught this guy and we just released him," King said.