Saudi king makes landmark visit to Egypt
King Abdullah is the first foreign leader to visit Egypt since President Sisi took office
King Abdullah bin Abdulaziz, of Saudi Arabia, arrived in Egypt on Friday in a landmark visit aimed at showing support for newly-elected President Abdel-Fattah al-Sisi.
President Sisi greeted King Abdullah and both leader held a meeting inside the airplane carrying the Saudi monarch. The visit is King Abdullah's first to Cairo since the 2011 ouster of Hosni Mubarak.
King Abdullah is the first foreign leader to visit Sisi since he took office less than two weeks ago.
His delegation included the Saudi ministers of foreign affairs and finance as well as security officials and former intelligence chief Prince Bandar bin Sultan, Al Arabiya News Channel reported.

The Egyptian presidency said earlier on Friday that a bilateral meeting would be followed by a private discussion between the two leaders.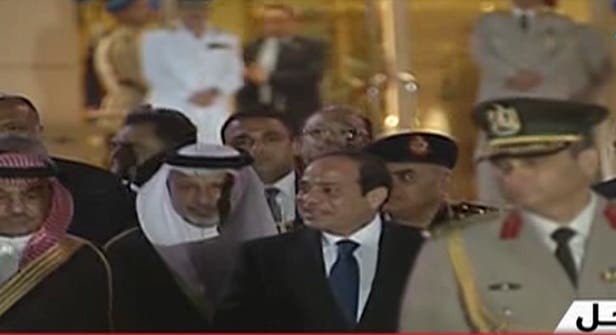 Saudi Arabia and other Gulf nations showered Egypt with billions of dollars in aid after Sisi, then the army's top general, overthrew Islamist President Mohammad Mursi amid massive protests last summer.
Shortly after President Sisi was officially declared president earlier this month, King Abdullah issued warm congratulations and called for a donor conference to help Egypt "overcome its economic difficulties."
He urged Egyptians to disown the "strange chaos" of the Arab uprisings, saying Egypt "needs us today more than ever."
The monarch was the only foreign leader President Sisi mentioned by name in his first speech as president, when he thanked the king for organizing the funding conference, according to Reuters.
President Sisi served as defense attaché in Riyadh during Mubarak's rule before eventually rising to the post of head of military intelligence, his last job under Mubarak.
[With Reuters]