Qatar labor rights hit headlines as Ramadan looms
Questions are being raised over whether workers' rights in Qatar are being met following recent unrest
With the month of Ramadan beginning on Sunday, questions are being raised over whether workers' rights in Qatar are being met following recent unrest involving laborers in Doha allegedly angered over Ramadan working hours.
On Wednesday, Qatari riot troops and emergency forces responded to a "fight" between construction workers and security guards at the Sheraton Doha hotel which is currently being renovated, according to Doha News.
Some suffered minor injuries during the brawl, the report added.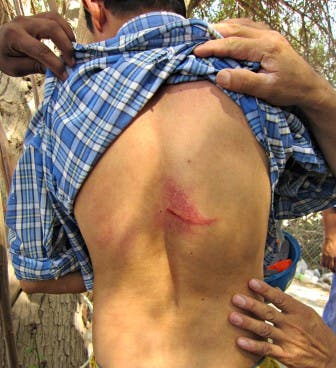 An employee at UrbaCon Contracting and Trading (UCC), the main consultant on the Sheraton's renovation project, told Doha News that the workers were also displeased with their new schedule for Ramadan: "Their hours for Ramadan are now 6am to 5pm. They're protesting their new hours of work."
Despite this, the workers told Doha News that they were unaware of a new schedule and that they were initially working from 6am to 9pm, with a one-hour break. UCC were not available for immediate comment when contacted by Al Arabiya News on Saturday.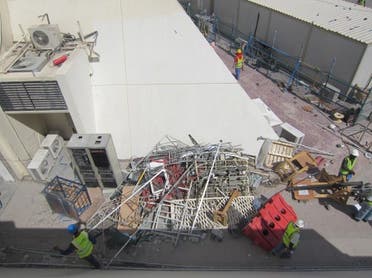 A supervisor stated to Doha News that the dispute began when security guards prevented workers to leave for their break, which eventually led to verbal and then physical altercation.
The construction workers said that the security guards would not permit them to step out of line for their lunch/toilet breaks. They continued to add that the guards attacked them with steel rods and stones.
However, others told Doha News that the workers also participated in the throwing of stones at the guards.
A Lebanese expat who works as an architect at UCC told the news site: "At around 12pm we suddenly started hearing shouting. Everything just went crazy. The workers starting fighting and screaming. They started throwing rocks at the windows of our office and broke the door…
"Everyone was shocked. We were trapped inside the office and couldn't do anything, waiting for transportation for us to arrive so we could escape. When we were escaping there were police and ambulances on site."

Clearing up
By 2p.m., a few hours after the fight started, Doha News reported that the construction site was being cleared and the riot police remained in their vehicles.
The arrival of the police stirred concern among local residents, causing them to post tweets on what happened: "Heard of a protest/tussle between laborers and Security Personal along corniche. Anyone can confirm?" one user posted.
News of the fight also generated conversations online about the treatment of workers in Qatar, which has come under increased scrutiny since the country began building stadiums and infrastructure after it won the bid to host the 2022 World Cup.
Qatar has been particularly subject to criticisms by human rights groups for its "slave labor."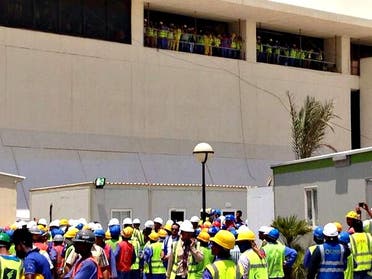 Dozens of Nepalese migrant laborers have died since September, with thousands more suffering from extremely bad labor abuses in Qatar's preparation to host the 2022 World Cup, according to British newspaper The Guardian.
In the summer of 2013, Nepalese workers have died at a rate of almost one a day in Qatar. An investigation underwent by The Guardian found evidence that suggests that thousands of Nepalese, who make up the single largest group of laborers in Qatar face abuses and ill-treatment.
In May 2014, Qatar promised to scrap key elements of its controversial labor laws due to international outcries over conditions for migrant workers before the 2022 World Cup.
Officials said they would replace the country's current "kafala" sponsorship system, which ties workers to a single employer, who can thus treat his workforce with liberty, pending the approval of a draft law.
Currently, with Ramadan just around the corner, concerns have risen in Qatar on whether the workers will have their rights met, or whether they will be exploited for their labor.
During Ramadan, Muslims fast from food from dawn to dusk and strive to be more pious and charitable. They are also required to abstain from drinking liquids, smoking and having sex.