Israeli military masses troops along Gaza border
Hamas's armed wing, al-Qassam Brigades, was able 'for the first time' to target Israel with long-range missiles from the Gaza strip
As the Islamist movement Hamas unleashed salvos with long-range missiles on cities including Jerusalem and Tel Aviv on Tuesday, Israel mobilized forces along the border for a possible ground invasion, the Associated Press reported.
In a nationally televised statement, Prime Minister Benjamin Netanyahu said continued rocket attacks on Israeli communities would not be tolerated.

"Therefore I have ordered the military to significantly broaden its operation against Hamas terrorists and against the other terrorist groups inside Gaza," the Associated Press quoted him as saying.
"I call on you to display patience because this operation could take time."
Earlier, the Israeli military said a ground invasion of the enclave was possible, though not imminent, and urged citizens within a range of 40 km (24 miles) of the coastal territory to stay close to bomb shelters, according to Reuters.
Some 1,500 Israeli reservists had been mobilized and more could be called up, the Israeli military has said.
"Operation Protective Edge: As Hamas continues to fire rockets, the IDF [Israeli Defense Forces] will respond forcefully to protect Israeli citizens," the Israeli army said on its Twitter account.
"Hamas will not be safe as long as it continues to threaten the lives of Israeli civilians," the army added.

Israel and Hamas are bitter enemies that have engaged in numerous rounds of fighting over the years. But until recently, they had been observing a truce that ended the previous hostilities in 2012.
Palestinian Minister of Public Works and Housing Mufeel al-Hasayneh said 50 houses were destroyed on Tuesday and 1,700 were partially damaged.
Palestinian medics reported at least 28 dead, including six killed in an airstrike that flattened an apartment building in southern Gaza and set off widespread panic. They added that more than 150 were wounded in the deadliest day of violence in the coastal strip since 2012.
Another airstrike flattened the home of one of Hamas's leaders in the southern Gaza town of Khan Younis, reducing the concrete structure into a smoldering pile of rubble.
The earlier death toll was four Palestinians killed when an airstrike targeted their car in Gaza city and at least seven others were killed when a house was bombed in Khan Younis, a southern area in the Gaza Strip.
Emergency services earlier said that a man named Ashraf Yassin was also killed when Israeli fighter planes targeted an area west of Nusseirat refugee camp in central Gaza.
The man is reportedly a member of Hamas's armed wing, Ezzedine al-Qassam Brigades.
Long-range missiles
Meanwhile, al-Qassam Brigades announced that it targeted Haifa, Jerusalem and Tel Aviv cities with long-range missiles in deepest such attack from the Gaza strip.
"For the first time, the al-Qassam Brigades strike Haifa with an R160 rocket, and strike occupied Jerusalem with four M75 rockets and Tel Aviv with four M75 rockets," a statement said.
In response, Israeli military said there was no indication of casualties from the long-range Gaza rocket salvo on cities.
Al Arabiya News Channel's correspondent also reported that Israel's "Iron Dome" defense system launched eight rockets to intercept a missile heading toward its direction.
Three loud explosions rocked Jerusalem shortly after air raid sirens wailed across the city Tuesday night, Agence France-Presse correspondents said.
The sirens sounded at around 1900 GMT, with at least four bright flashes lighting the sky southwest of the city, the correspondent added.
Meanwhile, Israeli television stations said a rocket has targeted Tel Aviv but was intercepted.
Air raid sirens went off in the city, which is Israel's commercial capital and about 70 kilometers (45 miles) north of the Gaza Strip.
The Israeli military said on its Twitter account (@IDFSpokesperson) that the rocket was intercepted by the "Iron Dome."
The apparent rocket attack would be the deepest strike by Palestinian militants since Israel launched an offensive in the Gaza Strip earlier Tuesday.
The escalation came as Israel stepped up what it said might become a long-term military operation against Hamas, which has launched a wave of rockets on Israeli towns.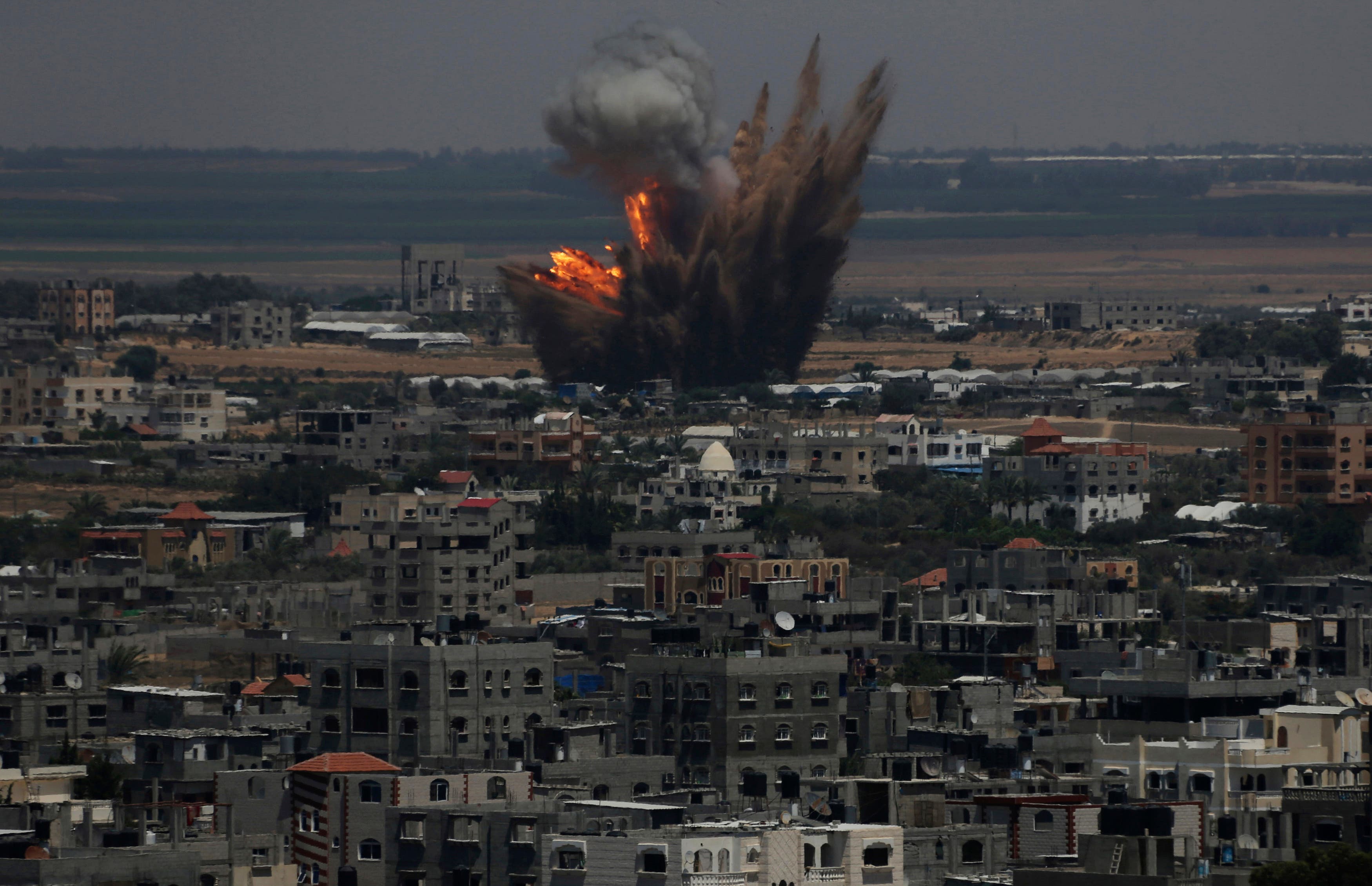 The Israel-Gaza border heated up last month after Israel's arrest of hundreds of Hamas activists in the occupied West Bank, where three Israeli youths went missing on June 12.

More than 200 rockets have been launched at Israel from the Gaza Strip, the military said, since Israel mounted the dragnet while searching for the teens, who were found dead last week.

Israel has accused Hamas militants of killing them. In a suspected revenge attack, a Palestinian teen was abducted in East Jerusalem last Wednesday. His charred body was found in a forest and six Israeli suspects have been arrested.
Racing for cover
Explosions echoed across the Gaza Strip on Tuesday, shaking buildings and sending smoke rising from targets hit by Israeli fire. In residential areas, the sounds of crying children could be heard as ambulance sirens wailed. Some people took to rooftops to watch for Israeli aircraft and rockets streaking toward Israel.

In the Israeli port city of Ashdod, motorists scrambled out of their vehicles and raced for the relative safety of apartment house entrances as a siren sounded. The scene was repeated in other towns near the Gaza Strip.

Hamas' armed wing, the dominant force in the enclave, threatened an "earthquake" in response to Israel's attacks. But a Palestinian source close to the group said it was ready to restore calm if Israel met conditions, including a prisoner release.

The Israeli military, announcing it had launched "Operation Protective Edge", said it targeted about 50 sites in aerial and naval assaults overnight and resumed air strikes on Tuesday morning after rockets were fired at southern Israeli towns.

Warning sirens, which police described as false alarms, sounding as far away as Tel Aviv and Jerusalem, some 70 km (40 miles) from Gaza.

The heavy barrage followed the deaths, in disputed circumstances on Monday, of six Hamas men in a tunnel which the Israeli military said the militant group had built under the border to carry out an attack in Israel.

In one Israeli attack overnight that destroyed a Gaza home, the Palestinian Interior Ministry said the family received a telephone call from an Israeli officer telling them to leave. But the ministry said nine neighbors were wounded.

At least one of the targeted homes belonged to a Hamas militant, according to a neighbor.

Setting out terms for a truce, the source close to Hamas said Israel had to "stop all forms of aggression", recommit to a 2012 Egyptian-brokered ceasefire and release prisoners it detained in the occupied West Bank last month.

Hamas has been reeling over an Egyptian crackdown on most of the estimated 1,200 cross-border smuggling tunnels run by the group, which Egypt says are used to take weapons into the Sinai
Peninsula.

A further weakening of Hamas could lead to more radical Islamist groups in Gaza becoming stronger, a scenario that could alarm Israel.
[With Associated Press, Reuters and AFP]