Iraq parliament postpones meeting on new government to Tuesday
Deputies had gathered in parliament for talks intended to agree a prime minister, president and speaker of parliament
Iraq's parliament postponed until Tuesday a meeting aimed at agreeing on the formation of a new government because of a lack of consensus, parliamentary officials and a lawmaker said on Sunday, a political impasse that has given added urgency by the Islamist-led insurgency.
Deputies had gathered in parliament for talks intended to agree a prime minister, president and speaker of parliament, three months after Iraq's parliamentary election, Reuters reported.
Earlier, Iraq's main Sunni political coalition chose lawmaker Salim al-Jabouri on Saturday night as its nominee for parliament speaker, a senior Sunni politician said.
"We have agreed on Salim Jabouri for the post of parliament speaker," said lamwaker Dhafer Al-Ani, a leading member of the new Sunni political coalition, called the Patriotic Alliance, which includes the major Sunni groups in parliament.
Jabouri is a moderate Sunni Islamist.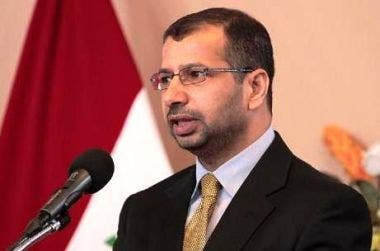 The appointment of the speaker in Sunday's parliament session would be the first step towards naming a government more than three months after national elections, as Baghdad tries to tackle a Sunni insurgency that has seized large sections of northern and western Iraq.
The national parliament elected in April met for the first time on July 1 but failed to agree on nominations for the top three government posts.

The U.N. special envoy to Iraq, Nickolay Mladenov, said the country could plunge into chaos if parliament fails to move forward on a government in the next session now set for Sunday.