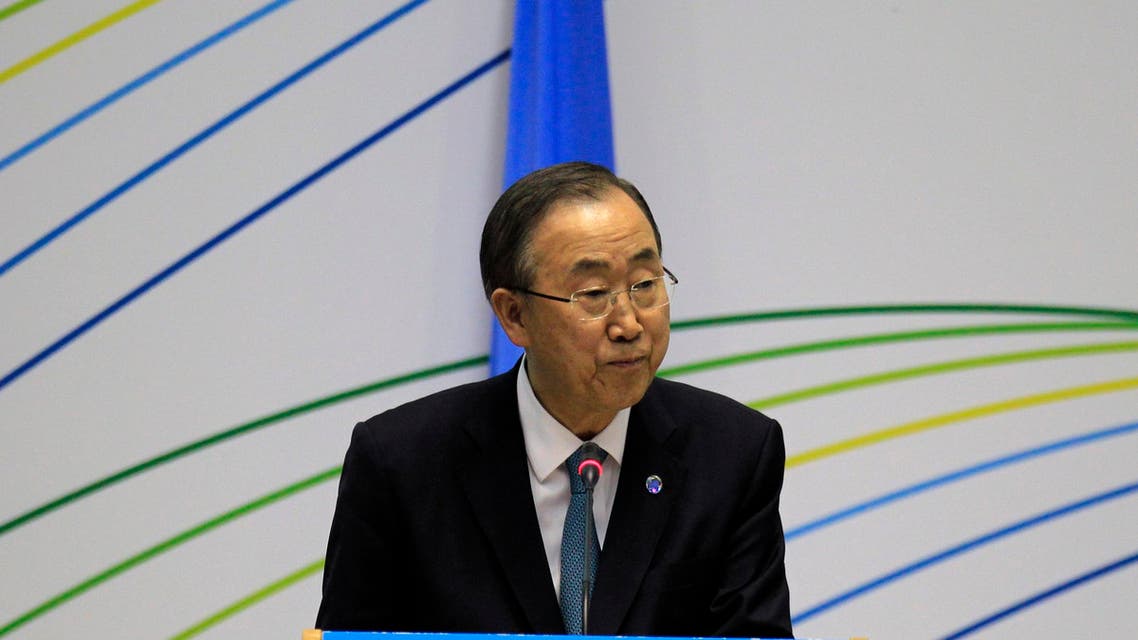 U.N. chief to travel to Middle East in bid to end fighting
Ban Ki-moon will travel to the region 'to express solidarity with Israelis and Palestinians'
U.N. Secretary-General Ban Ki-moon will travel to the Middle East on Saturday in a bid to end the fighting between Israel and Palestinians, alarmed at a serious escalation that includes a ground offensive by Israel, said a senior U.N. official.
Israel intensified its offensive in Gaza with artillery, tanks and gunboats on Friday and warned it could "significantly widen" an operation Palestinian officials said was killing ever greater numbers of civilians.
"Israel has legitimate security concerns, and we condemn the indiscriminate rocket fire from Gaza into Israel that ended yesterday's temporary ceasefire. But we are alarmed by Israel's heavy response," U.N. political affairs chief Jeffrey Feltman told the U.N. Security Council on Friday.
The Israeli land advance into the enclave of 1.8 million Palestinians followed 10 days of barrages against Gaza from air and sea, hundreds of rockets fired by Islamist Hamas militants into Israel and failed attempts by Egypt - a mediator in previous Israeli-Palestinian flare-ups - to secure a truce.
Ban will travel to the region "to express solidarity with Israelis and Palestinians and to help them, in coordination with regional and international actors, end the violence and find a way forward," Feltman said.
U.S. Secretary of State John Kerry and French Foreign Minister Laurent Fabius are also due to be in the Middle East at the weekend to try and bring an end to the conflict.
Feltman said Palestinian President Mahmoud Abbas had written to Ban to ask that Palestinians "be placed under an international protection system administered by the United Nations." He said Ban was studying the request. U.N. diplomats, however, have said it was unclear exactly what Abbas wanted.
Ban has urged Israel to do more to stop civilian casualties. Feltman said some 250 Palestinians, mostly civilians and including more than 50 children, and two Israelis, one of them a civilian, have been killed since hostilities flared on July 8.
Clear strategy
"Hamas uses Palestinian casualties to fuel its own propaganda machine," Israel's U.N. Ambassador Ron Prosor told the council. "Hamas's strategy is clear. It perpetuates the killing of its own people in the hope that the international community will place pressure on Israel to grant its demands."
Prosor said Israel had done everything in its power to avoid launching a ground offensive in Gaza.
U.S. Ambassador to the United Nations, Samantha Power, reiterated President Barack Obama's remarks made earlier on Friday that the United States supports Israel's right to defend itself, but was concerned about "risks of further escalation" and additional loss of innocent lives.
Palestinian U.N. Ambassador Riyad Mansour demanded that the Security Council "uphold the law to end these crimes and violations against our people and ensure their protection."
"Should our peaceful, diplomatic and political efforts in this regard fail, we will have no recourse but to turn to the judicial bodies of the United Nations and the international system," Mansour told the council.
The Palestinians could eventually join the International Criminal Court and lodge complaints against Israel for its occupation of lands seized in the 1967 war.
They are able to do so after the U.N. General Assembly upgraded the Palestinians' status at the United Nations in 2012 from "observer entity" to "non-member state," a move widely seen as de facto recognition of an independent Palestinian state.