Abbas calls for 'urgent' Security Council session
'The situation is intolerable,' the Palestinian President said in a televised speech from Qatar, describing the Israeli attacks as 'crimes against humanity.'
In a televised speech broadcasted from the Qatari capital of Doha on Sunday, Palestinian Mahmoud Abbas called Sunday for an immediate session of the U.N. Security Council, as the Palestinian toll on the 13th day of Israel's Gaza offensive rose to 438.
"I am calling for an urgent session tonight of the UN Security Council," he said in a televised speech from the Qatari capital Doha, according to Agence France-Presse.
"The situation is intolerable," he said, describing the Israeli attacks as "crimes against humanity."
U.N. chief Ban Ki-moon headed to Qatar on Sunday as part of renewed ceasefire efforts after Hamas rejected last week an Egyptian call to both sides to halt hostilities.
The U.N. Secretary-General will gather with Abbas in Doha during a meeting that will be headed by the Gulf state's emir, Sheikh Tamim bin Hamad al-Thani, who has been acting as a "channel of communication" between Hamas and the international community, a senior source familiar with the matter said according to Reuters news agency.
"Qatar has presented Hamas' requests to the international community, the list has been presented to France and to the U.N., the talks tomorrow will be to further negotiate these conditions," the source said.
"Qatar will not put any pressure on Hamas to bring down or reduce or change their demands, Qatar is only acting as a communication channel," it said.
But Qatar also expressed its own concerns in the Gaza conflict, with its foreign minister condemning the deaths of dozens of Palestinians in the Gaza Strip on Sunday as a "massacre" and called for a ceasefire that would ensure the lifting of a blockade on the coastal region.
U.N. Secretary-General Ban Ki-moon, speaking at a joint news conference with the minister, Khaled al-Attiya, described Israeli-Palestinian fighting in Gaza as an "open wound and we must stop the bleeding now."
Western diplomatic sources see Qatar as a strategic player in reaching an effective ceasefire deal as the wealthy Gulf state plays host to a large number of exiled Islamists from across the Middle East, including Hamas leader Khaled Meshaal.
Earlier this week, Hamas rejected an Egyptian proposal for a truce saying that it had not been consulted and demanded a full settlement before it ceased firing.
Israel had accepted the ceasefire proposal.

A U.N. statement said that Ban will be traveling to the Middle East over the weekend "to express solidarity with Israelis and Palestinians and to help them, in coordination with regional and international actors, to end the violence and find a way forward".

It added that he will be traveling to Doha, Kuwait City, Cairo, Jerusalem, Ramallah and Amman and that other stops might be added.
Hamas chief meets Kuwait emir
Before the kick start of the meeting in Doha, Meshaal discussed efforts for a truce in Gaza with the ruler of Kuwait, current chair of the Arab League, on Sunday, state media and a diplomatic source said.

The official KUNA news agency gave no details of the talks with Emir Sheikh Sabah al-Ahmad Al-Sabah.

But a diplomatic source told AFP that they focused on the situation in Gaza and ways to end the 13-day Israeli assault.

Meshaal arrived in the early hours of Sunday from Qatar where he is based.

He was due to return to Doha later to discuss the truce efforts with Abbas.
Egyptian efforts
Meanwhile, Hamas, the main power in Gaza, said Sunday it had received a new "invitation" for talks in Cairo on an Egyptian-proposed ceasefire with Israel, after nearly two weeks of conflict, Agence France-Presse reported.

World leaders are pushing for a truce to end the bloodiest conflict in the besieged territory since 2009, which has killed more than 340 Palestinians and five Israelis in 13 days.
Infographic: Israel-Palestinian conflict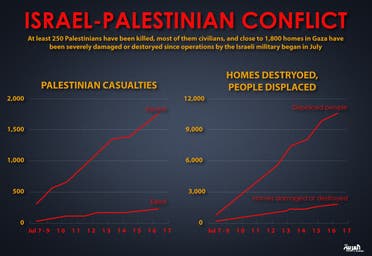 Hamas "received an invitation, through mediators, for a delegation headed by (chief-in-exile) Khaled Meshaal to visit Cairo and discuss the Egyptian initiative," the Islamist group said in a statement.

The Islamist movement's "response was that its position on the initiative is known, but it is at the same time ready to cooperate with a move by any party that will achieve the specific Palestinian demands."

An Egyptian foreign ministry official said he could not confirm or deny the new invitation, according to AFP.

Hamas relations with Egypt have hit a low since Cairo's military took power last year after ousting Hamas ally, Mohammad Mursi.

Hamas had "given the demands of the resistance to all the parties concerned, including Qatar, Turkey and the Arab League and [Palestinian president] Mahmoud Abbas," Fawzi Barhum, a spokesperson for Hamas said.

Hamas's demands include an end of the "war on the Gaza Strip," a complete lift of the siege on it, opening the Rafah crossing with Egypt, freedom of movement in the border areas, cancelling the buffer zone and expanding the freedom to fish 12 nautical miles from shore.

The movement also demanded the release of its members who had been freed in a 2011 deal and recently re-arrested in an Israeli crackdown on the West Bank.

A senior official in the Palestine Liberation Organisation, which is dominated by Abbas's Fatah party, said in an interview on Palestinian television that the West Bank-based leadership recognised Hamas's demands.

"These are also our demands," Yasser Abed Rabbo said. "If Gaza is broken, all Palestinians will be broken."