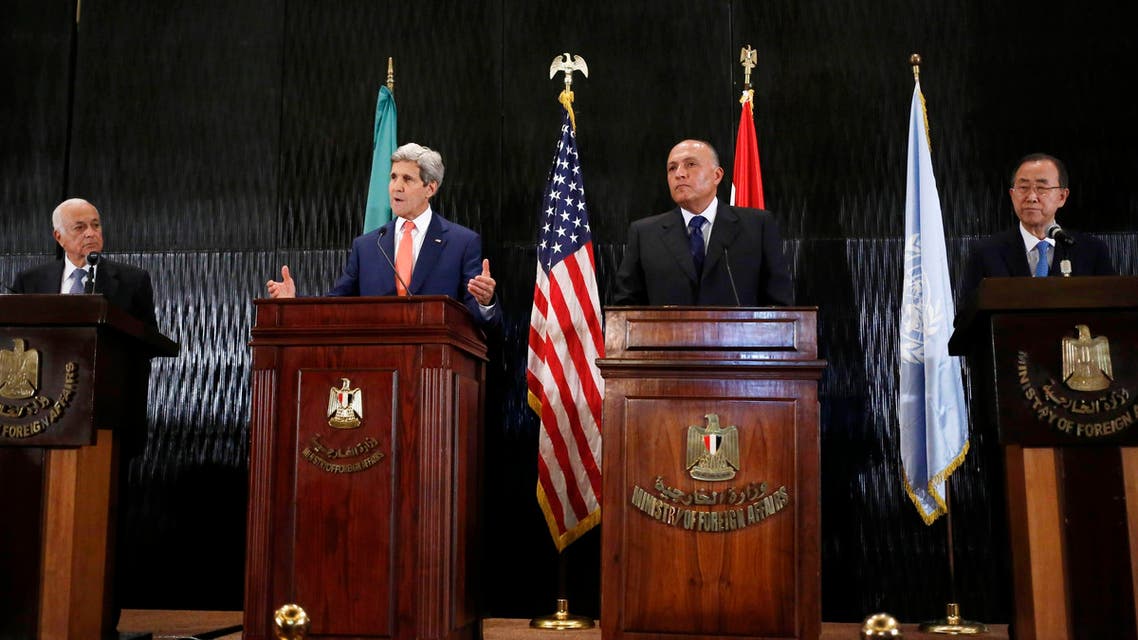 Israel, Hamas agree on 12-hour ceasefire Saturday
Washington's top diplomat said meanwhile in a press conference that no ceasefire had been reached yet
Israeli Prime Minister Benjamin Netanyahu told the U.S. Secretary of State John Kerry that Israel agrees to a 12-hour Gaza ceasefire starting at 7am Israeli time (4:00am GMT) on Saturday, an Israeli official said Friday evening.
The official, who spoke to reporters on condition of anonymity, made the comment in a response when asked about Kerry's earlier statement on a goodwill gesture by Netanyahu at a press conference in Cairo.
"Prime Minister Netanyahu has indicated his willingness to do that as a good face down payment and to move forward," Kerry had in a press conference held in Cairo on Friday.
Shortly after the ceasefire was declared by Israel, an official announced that Hamas also agrees to implement the 12-hour ceasefire.
The top U.S. official, who has been leading international efforts to reach a truce to the 18-day violence on Gaza, said that both sides "still have some terminology" to agree to on a ceasefire, but added they had "fundamental framework" on a truce, Agence France-Presse reported.
He added that he had not submitted any formal truce proposal to the Israeli government.
"They may have rejected some language in the proposal within the framework ... but there was no formal proposal submitted from me."
U.N. Secretary-General Ban Ki-moon meanwhile called for a seven-day humanitarian truce with an extendable 12-hour pause.
Egypt's Foreign Minister Sameh Shoukri said "both sides have not shown till now enough willingness to negotiate."
Shoukri also called for a seven day humanitarian truce in Gaza
Paris meeting
The U.S., Britain, Germany, Italy, the European Union, Turkey and Qatar will attend talks on Saturday in Paris aimed at converging "all efforts" for a ceasefire in Gaza, a French diplomatic source said on Friday.
During the press conference on Saturday, Kerry said no ceasefire had been reached yet in the deadly conflict in Gaza as he and U.N. chief Ban Ki-moon urged a seven-day halt in fighting.
Washington's top diplomat also added that he believes there are ways of moving forward on issues of opening Rafah, Erez crossings into the Gaza strip.
(With Reuters and AFP)