Kurdish forces, ISIS clash near Arbil
Kurdish forces, which have re-established cooperation with Baghdad, have changed tactics to being more offensive against ISIS
Kurdish forces and Islamic State of Iraq and Syria (ISIS) fighters are clashing in a town only 40 kilometers (25 miles) southwest of the Kurdish regional capital of Arbil in northern Iraq, a senior Kurdish official told Reuters on Wednesday.
Jabbar Yawar, secretary-general of the ministry of the Kurdish peshmerga fighters, also said military cooperation had been re-established with Baghdad in a bid to hit back against the Sunni militants who staged another dramatic push through the north over the weekend.

"We have changed our tactics from being defensive to being offensive. Now we are clashing with ISIS in Makhmur," Yawar said.

Ties had been strained between the Kurdish leadership and the Shiite-led government of Prime Minister Nouri al-Maliki over oil, budgets and land.

But a dramatic weekend offensive in the north by the Sunni militants prompted them to bury differences and work together against the biggest threat to Iraq's security since the fall of Saddam Hussein in 2003.
Minorities threatened
Yawar said 50,000 members of Iraq's Yazidi ethnic minority who fled the offensive and are hiding on a mountain near the town of Sinjar risked starving to death if they are not rescued in 24 hours.
"Many have already died," he said without elaborating.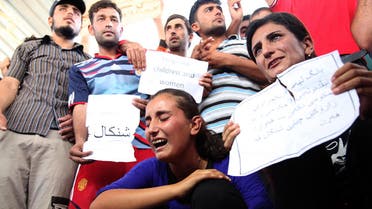 Iraq's Chaldean patriarch and witnesses also told Agence France-Presse on Wednesday that ISIS jihadists have launched fresh attacks on Christian areas in the north of the country, sparking a new wave of displacement.
Infographic: Thousands displaced by ISIS insurgency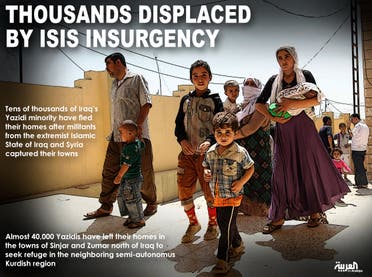 Towns shelled in the past few days by ISIS militants include Tal Kayf, Bartella and Qaraqosh, according to Christian sources.
Kurds coordinating counter-offensive
Meanwhile, another Senior Iraqi Kurdish official Hallo Penjweny said peshmerga forces are coordinating a counter-offensive against ISIS around the Iraqi city of Mosul with Kurdish fighters from Syria and Turkey.
Penjweny acknowledged that fighters from the Turkish PKK group and the Syrian PYD were leading operations against the Islamic State in the Sinjar area, while Iraqi peshmerga were trying to secure areas north and east of Mosul.
Kurdish troops in Sinjar will also need days to open a safe passage for civilians stranded in nearby mountains, a top Kurdish Iraqi official said Wednesday.

"The PKK is working to open a safe passage for the displaced, it is not easy and it will require days," Harem Kamal Agha, the senior Patriotic Union of Kurdistan official for the Dohuk region, told AFP.

U.N. condemns ISIS attacks
On Tuesday, the U.N. Security Council condemned ISIS attacks, warning those responsible for the bloodshed they would face trial for crimes against humanity.
This marks the 15-member Council's second strong condemnation of the ISIS in the past two weeks, following an offensive that successfully put the main northern city of Mosul under the extremist group's control on June 10.
The council warned that ISIS posed a threat not only to Iraq and Syria but to "regional peace, security and stability."
"Widespread or systematic attacks directed against any civilian populations because of their ethnic background, religion or belief may constitute a crime against humanity, for which those responsible must be held accountable," said the statement read by British Ambassador Mark Lyall Grant.
The ambassador singled out the Yazidi minority, a community whose faith is rooted in Zoroastrianism, and who have been targeted by jihadists as "devil worshippers."
The Yazidis and other minorities have "lived for hundreds of years in Sinjar and elsewhere in Nenewa province," he said, adding that the Council condemned "in the strongest terms" the systematic persecution of these communities.
"Many of these Iraqis have been displaced or forced to flee and seek refuge, while many others have been executed and kidnapped," said the Council statement.
Iraqi helicopters dropped supplies Tuesday to thousands of people hiding from jihadists in deserted mountains, many of them from the Yazidi minority which officials warned risked being massacred or starved into extinction.
The Council urged Iraqi politicians to come together to form a government to address the threat posed by ISIS, which is under U.N. sanctions as an al-Qaeda affiliate.
On Sunday, fighters from the Islamic State in Iraq and Syria jihadist group, who already control large areas of northwestern Iraq, took over Sinjar, which had been under the control of Kurdish Peshmerga troops.
The Yazidi minority, which dwells in the Sinjair region, lost 40 children following a jihadist attack in the Sinjar region, the United Nations Children's Fund said Tuesday.
"According to official reports received by UNICEF, the children died as a direct consequence of violence, displacement and dehydration over the past two days," a statement said.
Sinjar was also a temporary home for thousands of displaced people from other minorities, such as Shiite Turkmen who had fled the nearby city of Tal Afar when ISIS launched its offensive on June 9.
(With Reuters and AFP)