Calls for Gaza truce as Israel resumes air strikes
France, Britain and Germany call on Israel and Hamas to agree on an immediate ceasefire in Gaza
France, Britain and Germany on Saturday called on Israel and Hamas to agree on an immediate ceasefire in Gaza, as new Israeli air raids on teh Gaza Strip claimed at least seven Palestinians.
"We call upon all parties immediately to return to a cease-fire. We fully support the ongoing efforts by Egypt to this end," said the statement from foreign ministers Laurent Fabius of France, Philip Hammond of Britain and Frank-Walter Steinmeier of Germany.

"All parties should take immediate practical steps to address the urgent humanitarian needs including to facilitate full humanitarian access. To be sustainable, a ceasefire must envisage steps to address both Israeli security concerns and Palestinian requirements regarding the lifting of restrictions on Gaza.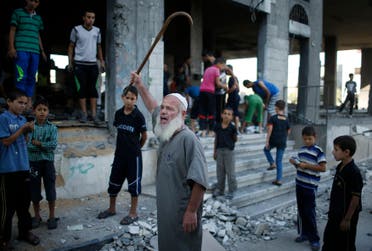 "The final objective must be to see a return to talks on a negotiated two-state solution, which remains the only way to resolve the conflict and end the human suffering it causes once and for all."

A 72-hour truce in Gaza ended on Friday.
On Saturday, Israel launched more than 30 air attacks in Gaza, killing seven Palestinians, and militants fired rockets at Israel as the conflict entered a second month, Reuters news agency reported.
The violence seemed to delay any progress in talks brokered by Egypt aimed at securing a permanent truce. Israel had no plans to send negotiators back to Cairo "as long as the shooting goes on", an Israeli official said on condition of anonymity.
Medical officials in Gaza said two Palestinians were killed when their motorcycle was bombed and the bodies of three others were found beneath the rubble of one of three bombed mosques.
Two Palestinians were killed in an air strike on a car in the southern town of Rafah, Gaza medics said. An Israeli military spokeswoman said the men targeted were Hamas militants.
Another attack reduced a security complex belonging to Gaza's dominant Hamas faction to a huge cloud of smoke, but there were no casualties. Elsewhere, three houses were bombed, and fighter planes strafed open areas, officials said.
The Israeli military said that since midnight it had struck more than 30 sites in the coastal enclave, without specifying the targets. Gaza militants fired 28 rockets into southern Israel on Saturday setting off sirens but causing no damage or injuries, the military said.
Since the end of a 72-hour truce on Friday, Gaza militants have fired more than 65 rockets at Israel, military officials said. Two Israelis were hurt by a mortar attack on Friday.
Israeli air strikes killed five Palestinians on Friday, among them a 10-year-old boy near a mosque in Gaza City.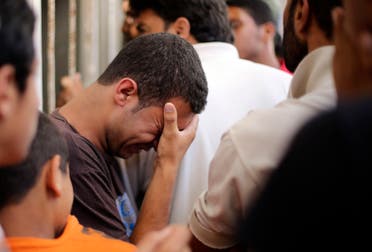 Clashes in West Bank
In related violence, a Palestinian man died a day after being shot by Israeli troops confronting a protest in Hebron.
Israeli gunfire had killed another Palestinian protester in the occupied West Bank on Friday, medical officials said.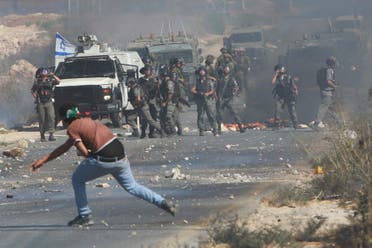 Lack of progress on ceasefire
Egypt, backed by American and European mediators, has made no visible progress toward restoring the ceasefire that had halted fighting for three days.
Egypt was expected to pursue its diplomacy on Saturday, meeting Palestinian officials in Cairo, but it wasn't clear how much progress could be made if Israeli representatives didn't show up. Both sides remain apart on terms for renewing the ceasefire, with each blaming the other for not extending it.
A diplomatic source familiar with the talks told Reuters it could take at least two days to see if it was possible to work out another truce.
A sticking point was Israel's demand for guarantees that any reconstruction supplies sent to Gaza would not be used by Hamas to construct more tunnels of the sort that Palestinian fighters have used to infiltrate Israel.
"We are at a crossroads and within two or three days we will see whether we are heading left toward an agreement, or right, toward escalation," Israeli Intelligence Minister Yuval Steinitz, told Channel Ten.
Egypt is meeting separately with each party. Israel and Hamas deny each other's legitimacy, with Hamas rejecting Israel's right to exist and Israel rejecting Hamas as a terrorist organization.
Meanwhile, a U.N. official in Gaza called for an end to a seven-year blockade on the Strip.
"Huge swathes of Gaza have been leveled. We cannot rebuild it with our hands tied behind our backs," said Chris Gunness, spokesman for the UN agency for Palestinian refugees (UNRWA).
"The blockade must end. We are beyond the realm of humanitarian action alone. All those directly and indirectly responsible for the carnage and destruction must engage," he said.
The lifting of Israel's land and sea blockade, imposed in 2006 after Hamas captured an Israeli soldier, has been a key demand of Hamas and the Palestinian Authority at stalled truce talks in Cairo.
At least 65,000 people have seen their homes destroyed in a month of fighting between Israel and Hamas and a "man-made homelessness crisis on an epic scale is unfolding", Gunness warned.
U.N. agencies and the Palestinian Authority are now working on a reconstruction plan which includes rebuilding water, sewerage facilities and electricity supplies.

(With AFP and Reuters)