Erdogan wins Turkish presidency
After a decade in power as prime minister, Erdogan becomes Turkey's first directly elected head of state
Turkish Prime Minister Recep Tayyip Erdogan called for a period of social reconciliation on Sunday in his first speech as president-elect, after winning just over half the votes in the country's first popular election for head of state.

"I say this from the heart. Let's start a new social reconciliation period today and let's leave the old discussions in the old Turkey," Erdogan told thousands of supporters in a victory speech from the balcony of his AK Party headquarters.
"It is not only Recep Tayyip Erdogan who won today. Today, national will has won once again. Today, democracy has won once again," said Erdogan, according to Agence France-Presse.
"We may have different political views, different lifestyles, sects, values, ethnic roots... but we are all sons of this country... each of us are the owner of this state."
He is set to be Turkey's next president after local media credited the longstanding premier with more than half the vote in a near-complete count and allies said Erdogan had won.
Shortly after the annoucement, Erdogan said that the nation had shown its will, and would make a statement later.
The main opposition candidate in Turkey's first presidential election congratulated Erdogan on Sunday after results broadcast by Turkish media showed Erdogan had won.

"I congratulate Mr Prime Minister and wish him success," Ekmeleddin Ihsanoglu said in a brief statement to reporters in Istanbul.

After the election that his opponents say may create an increasingly authoritarian state, broadcasters said Erdogan had 52.0 percent of the vote, 13 points more than his closest rival.
Such a result would rule out a runoff round and seal Erdogan's place in history as Turkey's first directly elected head of state, a role expected to enhance his power.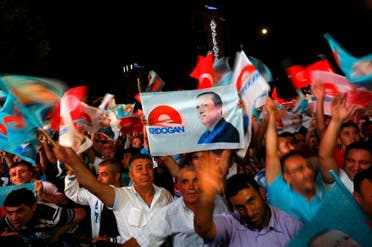 In a Twitter message confirmed by his office, Justice Minister Bekir Bozdag said: "Erdogan has become the first president elected by the people." The deputy chairman of his ruling AK party said Erdogan won with just over 52 percent.

Erdogan himself said "the people have shown their will" but stopped short of declaring victory in comments to supporters in Istanbul. He said he would speak later at party headquarters in the capital Ankara once the count was complete.

Turkey has emerged as a regional economic force under Erdogan, who, as prime minister for more than a decade, has ridden a wave of religiously conservative support to transform the secular republic founded by Mustafa Kemal Ataturk in 1923.

But his critics warn that a President Erdogan, with his roots in political Islam and intolerance of dissent, would lead the NATO member and European Union candidate further away from Ataturk's secular ideals.

The main opposition candidate, Ekmeleddin Ihsanoglu, was on 38.8 percent with 90 percent of votes counted while Selahattin Demirtas of the pro-Kurdish, left-wing People's Democratic Party was on 9.2 percent, said television stations CNN Turk and NTV.

Turkey's electoral authorities are not officially due to announce their first results until Monday, with final figures due later in the week, but Erdogan, 60, is expected to make a victory address later on Sunday.

In a tea house in the working-class Istanbul district of Tophane, men watching election coverage on television praised Erdogan as a pious man of the people who had boosted Turkey's status both economically and on the international stage.

"Erdogan is on the side of the underdog. He is the defender against injustice. While the Arab world was silent, he spoke out against Israel on Gaza," said Murat, 42, a jeweller, who declined to give his family name.

"This country was ruined by the old politicians. They lied to us. They caused economic crises, the PKK violence," he said.
Erdogan has opened a peace process with Kurdish PKK militants to end a conflict which has killed 40,000 people in 30 years.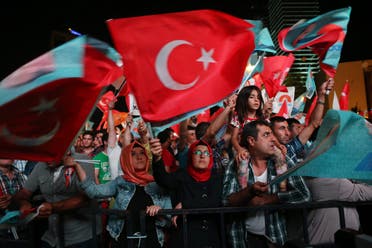 The voting turnout, which exceeded 89 percent in March local elections, appeared to be low, OSCE Parliamentary Assembly observer George Tsereteli told reporters.

Opinion polls had put Erdogan, 60, far ahead of two rivals competing for a five-year term as president.
Parliament has in the past chosen the head of state but this was changed under a law pushed through by Erdogan's government.

He has set his sights on serving two presidential terms, keeping him in power past 2023, the 100th anniversary of the secular republic. For a leader who refers frequently to Ottoman history in his speeches, the date has special significance.

A rapturous crowd cheered and chanted "Turkey is proud of you" and "President Erdogan" as he emerged from a school where he voted with his wife and children on the Asian side of Istanbul. He waved and shook people's hands.

"The (voters') decision will be crucial as an elected president and government will hand-in-hand carry our Turkey decisively towards 2023," he told reporters.

In his final campaign speech in the conservative stronghold of Konya on Saturday, he said the election would herald a "new Turkey" and "a strong Turkey is rising again from the ashes."

"Let's leave the old Turkey behind. The politics of polarization, divisiveness and fear has passed its expiry date," he told a crowd of thousands.

His vision of a new Turkey left voters cold at one polling station in the capital Ankara, where many complained of deep polarization under Erdogan and said only his AK Party loyalists had benefited from changes in the past decade.

"The freedom that he says has increased is for his own supporters. You can only be free if you support him. He has polarized this country in a way nobody has before," said Yucel Duranoglu, 45, who works for a private company.
'One-man rule'
The prime minister has promised to exercise the full powers granted to him by current laws, unlike his predecessors who have played a mainly ceremonial role. But he also plans to change the constitution to establish a fully executive presidency.

The current constitution, written under military rule after a 1980 coup, would enable him to chair cabinet meetings and appoint the premier and members of top judicial bodies including the constitutional court and supreme council of judges.

Ihsanoglu voted in a wealthy district of Istanbul near the Bosphorus strait while Demirtas cast his vote in Diyarbakir, the largest city in the mainly Kurdish southeast. Erdogan was set to vote in Istanbul in the afternoon.

Erdogan's AK Party scored a clear victory in local elections in March and a triumph on Sunday would emphatically put an end to the toughest year of his time in power.

He was shaken by nationwide anti-government protests last summer, and months later, Erdogan and his inner circle were targeted by a corruption investigation and a power struggle with his former ally, U.S.-based cleric Fethullah Gulen.

He accuses Gulen of seeking to overthrow him and has pledged as president to continue purging institutions such as the police and judiciary where Gulen is believed to wield influence.

Despite the challenges Erdogan has faced, there was an air of resignation among many voters who oppose him.

"I am almost depressed. I worry for my country because I increasingly feel like an alien here. The prime minister is talking about a Turkey that I don't recognize," said Erkan Sonmez, 43, who works in an import-export business.

"I can no longer speak to my neighbors who vote for the AK Party, does that sound like a peaceful community to you?"
(With Reuters and AFP)