Entrenched Maliki rejects new Iraqi PM
Maliki rejects the appointment of Haider al-Abadi as his replacement
Entrenched Iraqi Prime Minister Nouri al-Maliki rejected on Monday the appointment of Haider al-Abadi as his replacement, calling it "unconstitutional," in a move that is likely to aggravate further political tension as the country faces a growing Sunni insurgency.
Speaking in an defiant televised address broadcast later on Monday, Maliki - seen flanked by his supporters - said that "we will fix [the] mistake" after the "unconstitutional" nomination of Abadi.
Maliki accused Washington of involvement, saying the U.S. "stood (on) the side of violating the constitution."
He told the army and security forces they were engaged in a sacred battle against Islamic State of Iraq and Syria (ISIS) Sunni militants, who have again swept through the north.
Earlier in the day, Khalaf Abdul-Samad, a member of Maliki's Dawa Party, reading a statement on state television said the new prime minister-designate al-Abadi "only represents himself," as a grim-faced Maliki stood beside him.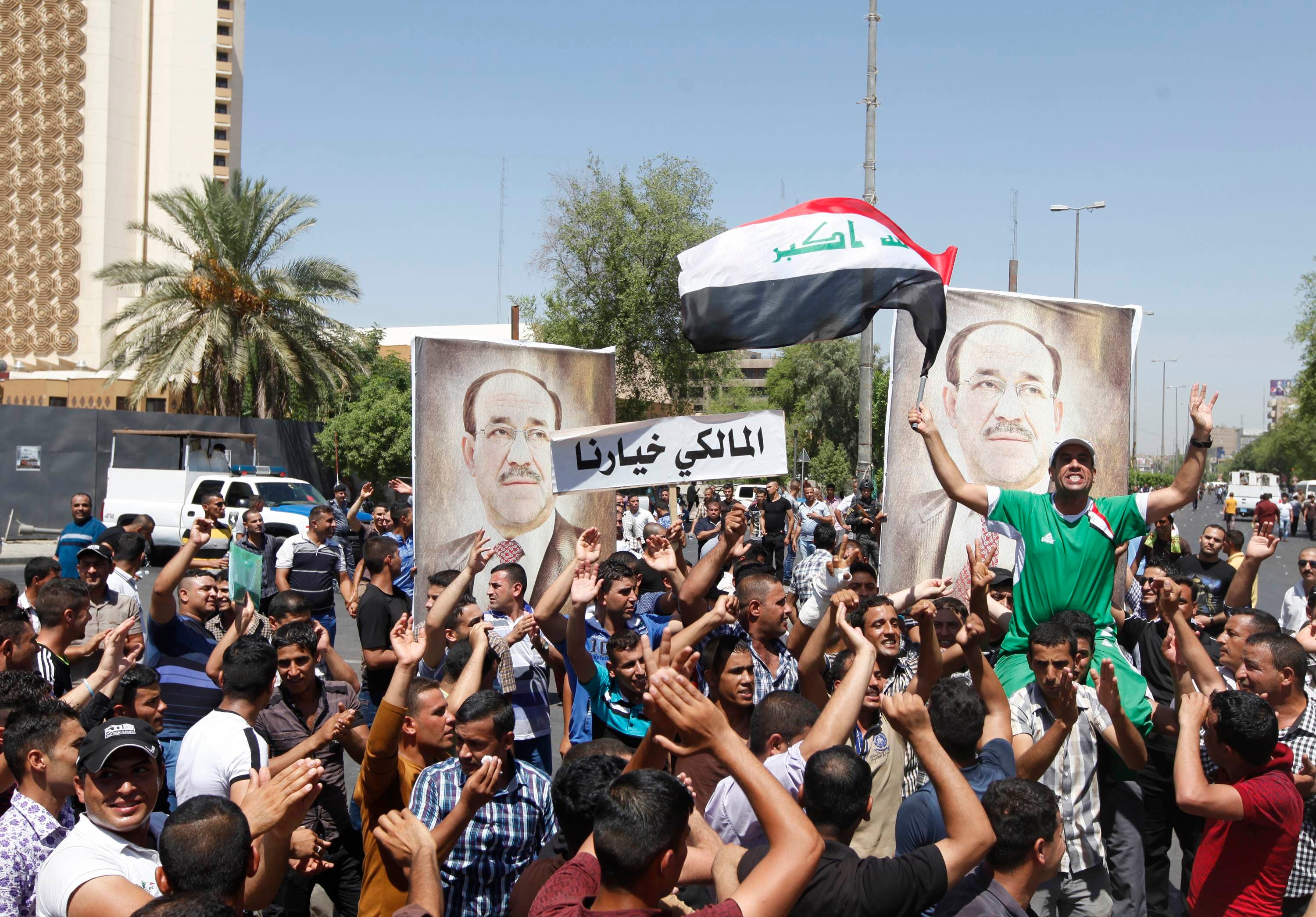 Maliki has refused to go after deploying militias and special forces on the streets, Reuters reported on Monday, creating a dangerous political showdown in Baghdad.
Ali Khedery, a former American official who advised five U.S. ambassadors to Iraq, said on Twitter that Maliki had sealed off the Green Zone in Iraq, an area containing embassies and government institutions, including the prime minister's office.
Maliki's Dawa Party declared his replacement illegal, and Maliki's son-in-law said he would overturn it in court. Washington delivered a stern warning to Maliki not to "stir the waters" by using force to cling to power.
A Shiite Muslim Islamist, Maliki is blamed by his erstwhile allies in Washington and Tehran for driving the alienated Sunni minority into a revolt that threatens to destroy the country. Leaders of Iraq's Sunni and Kurdish communities have demanded he leave office, and many fellow Shiites have turned against him.
Maliki's apparent ouster from power on Monday stems from the loss of confidence from all political groups, said Ghassan al-Attiyah, director of the Baghdad and London-based Iraqi Foundation for Development and Democracy.
"Those who rebelled against him were from his own party, the [Islamic] Dawa," said Attiyah.
Abadi, the new prime minister-designate, is also a member of Maliki's Dawa Party.
Maliki's refusal to stand down only further damages his credibility, he added.
"Sticking to this position adds insult to injury. This is bringing the demise not only of his party but the demise of the Islamists in general in Iraq," said Attiyeh, adding that most of the international community and Iran had lost faith after eight years of Maliki's rule.
"For the first time, we have the United States, the West, and even the Iranians in agreement about the need for a change," he said.
Michael Flanagan, a U.S.-based former congressman who previously served in the U.S. State Department advising the post-Saddam Hussein Iraqi government on rule-of-law issues, said Maliki was hanging onto power with hopes to secure a pardon for him and his allies.
"Power is a seductive thing, apart from the [just] wealth that comes from it ... He [Maliki] has to come to terms with the fact that this may be his time," Flanagan told Al Arabiya News.

(With Reuters)