ISIS beheads, crucifies in push for Syria's east
The group, an al-Qaeda offshoot, has fought the Syrian army, Kurdish militias and Sunni Muslim tribal forces.
ISIS militants have stormed towns in eastern Syria, crucifying two people and executing 23 others in the past five days, Reuters News Agency reported, quoting a Syrian monitoring group.

The Syrian Observatory for Human Rights, a Britain-based monitoring organization, and residents in Eastern Syria said that fighters from the al-Sheitaat tribe in eastern Deir al-Zor had tried to resist ISIS' advance but their resistance was crushed.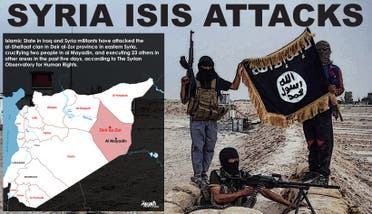 In al-Shaafa, a town on the banks of the Euphrates river, Islamic State beheaded two men from the al-Sheitaat clan on Sunday, the Observatory said, and gave residents a 12-hour deadline on Monday to hand over members of the tribe.
In other parts of Deir al-Zor province, the militants crucified two men for the crime of "dealing with apostates" in the city of Mayadin, and two others for blasphemy in the nearby town of al-Bulel, the Observatory said.
The Observatory said a further 19 men from the al-Sheitaat tribe were executed on Thursday, 18 shot dead and one beheaded, on the outskirts of Deir al-Zor city. It said the executed men worked at an oil installation.

Tribal sources say the conflict between Islamic State and the al-Sheitaat tribe, who number about 70,000, flared after Islamic State took over of two oil fields in July.

One of those, al-Omar, is the biggest oil and gas field in Deir al-Zor and has been a lucrative source of funds for rebel groups.

The head of the al-Sheitaat tribe, Sheikh Rafaa Aakla al-Raju, called in a video message for other tribes to join the fight against Islamic State.
"We appeal to the other tribes to stand by us because it will be their turn next ... If (Islamic State) are done with us the other tribes will targeted after al-Sheitaat. They are the next target," he said in the video, posted on YouTube on Sunday.