Iraqi president nominates Haider Abadi as new PM
Entrenched Prime Minister Nouri al-Maliki is expected to make an address shortly
Iraqi President Fuad Masum charged the new Prime Minister-designate Haider al-Abadi with forming a new government, according to Al Arabiya News Channel, before entrenched Prime Minister Nouri al-Maliki's allies claimed that Abadi had no legitimacy.
"The country is now in your hands," Masum told Abadi on his nomination.
Abadi, a member of Maliki's Dawa party who is viewed as close to the two-term premier, was communications minister in the interim government following the overthrow of Saddam Hussein, after spending much of the dictator's rule in exile.
The decision came shortly after Abadi was nominated by Iraqi National Alliance as prime minister.
When Masum accepted the National Alliance Shiite bloc's nomination of Abadi later Monday, Maliki supporters had gathered on a central square in Baghdad to protest, AFP reported.
Meanwhile, Maliki's State of Law bloc insisted only he could be premier.
Reading a statement on state television, Khalaf Abdul-Samad, a member of Maliki's Dawa Party, said new prime minister Haider al-Abadi "only represents himself," as a grim-faced Maliki stood beside him.
U.N. warning
Shortly after his appointment, as the situation of succession from Maliki appeared unclear, the United Nations urged the Iraqi army to stay out of the political process in Baghdad.
However, a member of Maliki's political bloc said "we will not stay silent" over Abadi's nomination.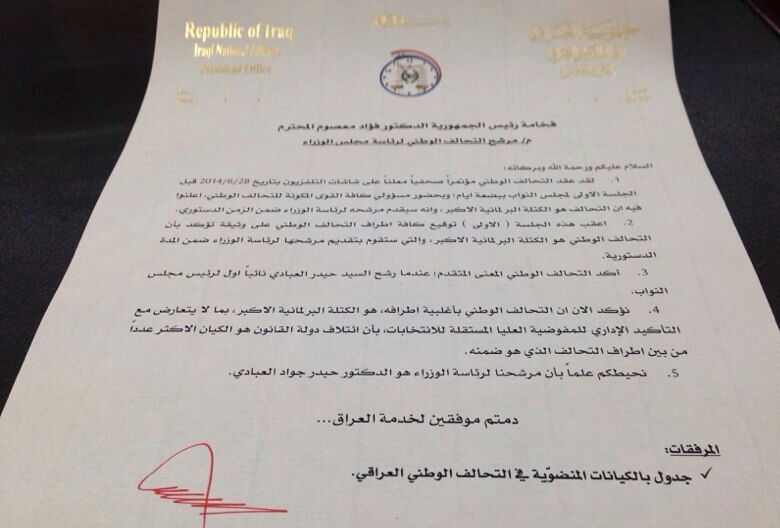 The move is likely to deepen political tensions at a time when the country needs a united front against a raging Sunni insurgency.
In a message on Monday, Abadi said all Iraqis must cooperate against "barbaric" campaign by ISIS militants.
"We all have to cooperate to stand against this terrorist campaign launched on Iraq and to stop all terrorist groups," he said in remarks broadcast on state television just after the president asked him to form a government.
U.N. Secretary-General Ban Ki-moon on Monday welcomed what he described as "the forward movement toward government formation in Iraq" and praised the Iraqi president's decision to ask Abadi to form a new cabinet, the United Nations said.
Shortly after Abadi's nomination, a senior U.S. diplomat with responsibility for Iraq on Monday congratulated the new PM-designate on being tasked by President Fuad Masum to form a new government as prime minister.
In a short televised statement on Monday, U.S. President Barack Obama praised the nomination of Abadi, adding that he had had urged the Iraqi official in a phone call to swiftly form an inclusive government.
Obama added that the new Iraqi leadership had an "important task" in regaining the Iraqi people's trust.
French President Francois Hollande on Monday called on Abadi to quickly form a government of national unity.
The decision to appoint Abadi came hours after U.S. Secretary of State John Kerry warned Iraqi Maliki not to cause trouble as Washington threw its weight behind Masum.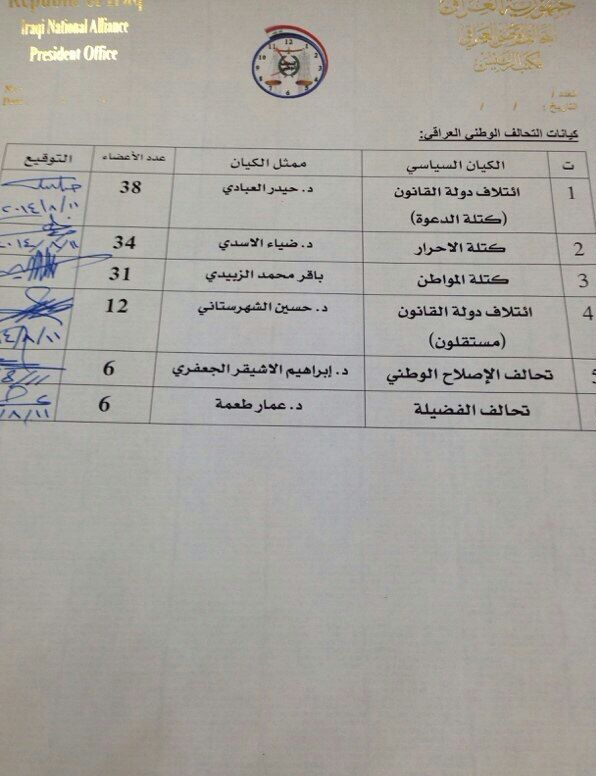 "We stand absolutely squarely behind President Masum (who) has the responsibility for upholding the constitution of Iraq," he said in Sydney.

"Our hope is that Mr. Maliki will not stir those waters," Kerry said.
Kerry also said that the formation of an Iraqi government was critical for stability.
"The government formation process is critical in terms of sustaining stability and calm in Iraq, and our hope is that Mr Maliki will not stir those waters," Kerry told reporters in Sydney ahead of an annual Australia-United States Ministerial Consultations (AUSMIN).
"One thing all Iraqis need to know, that there will be little international support of any kind whatsoever for anything that deviates from the legitimate constitution process that is in place and being worked on now."
U.S. support for Masum
Kerry's comments followed the U.S. announcement that it was supporting Iraqi President Fuad Masum after Maliki announced on state television he would be filing a complaint against Masum, Agence France Presse reported.
"The United States fully supports President Fuad Masum in his role as guarantor of the Iraqi Constitution," Marie Harf, the State Department spokeswoman, said in a statement, echoing an earlier comment made on Twitter by Deputy Assistant Secretary of State for Near Eastern Affairs Brett McGurk.
"We reaffirm our support for a process to select a prime minister who can represent the aspirations of the Iraqi people by building a national consensus and governing in an inclusive manner," Harf said.
On Sunday, Maliki, who has been under pressure to give up his bid for a third term, announced his intentions to file a complaint in a surprise address at midnight (2100 GMT Sunday).
He alleged newly elected Masum had violated the constitution twice, including by failing to task a prime minister-designate with forming a new government.
Many Iraqis see Maliki as partly responsible for the recent conflict in northern Iraq, for having institutionalized sectarianism.