Syrian warplanes hammer ISIS targets in Raqqa
The intensity of Sunday's air raids appeared unusually high, with at least 19 strikes hitting the group's stronghold of Raqqa in northeastern Syria
Syrian regime warplanes pounded an Islamic State of Iraq and Syria (ISIS) stronghold as well as other towns controlled by the militants Sunday, conducting more than a dozen airstrikes and killing at least 31 militants, activists said.

For more than a year, President Bashar al-Assad's air force rarely targeted territory controlled by ISIS in northern Syria, instead focusing on mainstream rebel groups. But government jets have begun hitting the extremists more regularly since the militants overran much of neighboring northern and western Iraq in June.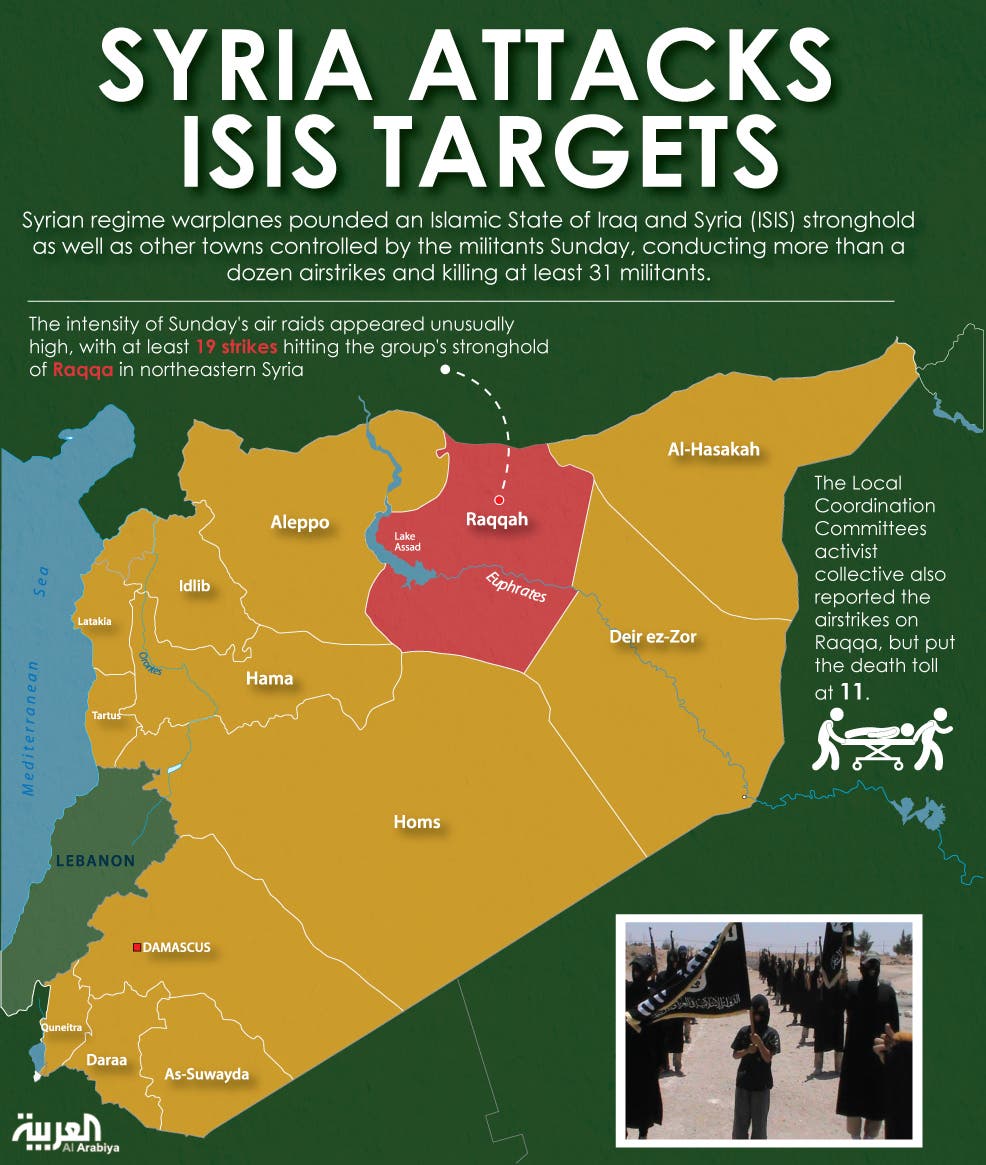 Even in that context, the intensity of Sunday's air raids appeared unusually high, with at least 19 strikes hitting the group's stronghold of Raqqa in northeastern Syria, the Britain-based Syrian Observatory for Human Rights said.

The Local Coordination Committees activist collective also reported the airstrikes on Raqqa, but put the death toll at 11.
Both activist groups also reported government airstrikes on Islamic State-controlled areas in Aleppo province as well, including the towns of Akhtarin and Dabiq.
Within striking distance
The Western-backed Syrian opposition called on Saturday for U.S. airstrikes against ISIS as the militants captured three northern villages, putting them within striking distance of a mainstream rebel stronghol
ISIS fighters have overrun nearly a dozen towns and villages in Aleppo province this week, crushing what little resistance they have encountered. Those gains threaten rival factions' supply lines to neighboring Turkey and squeeze the mainstream armed opposition's position in the country's largest city, Aleppo, which is also under assault by President Bashar Assad's forces.

With the mainstream rebels' foothold in Aleppo becoming increasingly precarious, the Syrian National Coalition urged the international community to "quickly support the Free Syrian Army with weapons and ammunition" so it could "defend its people."

"We call on the international community to use the American air force, or those of any other country to support the Free Syrian Army," the Coalition said in a statement on Saturday, referring to the group's military wing.

The Coalition has long appealed for more robust military support from the West to help in its fight to oust Assad, and more recently to counter the rise of Islamic extremists.

But the group's appeal Saturday appeared aimed at capitalizing on the recent U.S. aerial intervention in neighboring Iraq, where American military aircraft have targeted ISIS as the militants advanced on the largely autonomous Kurdish region and threatened Christians and other religious minorities.

But U.S. President Barack Obama has long refused demands for similar action in Syria, fearing it could draw the U.S. into an increasingly complex and bloody civil war.
ISIS, which moved aggressively into Syria in early 2013, has carved out a self-styled "caliphate" in the territory it has seized in northeastern Syria as well as northern and western Iraq.
On Saturday, activists said ISIS had executed 700 members of a tribe it has been battling in eastern Syria during the past two weeks, the majority of them civilians.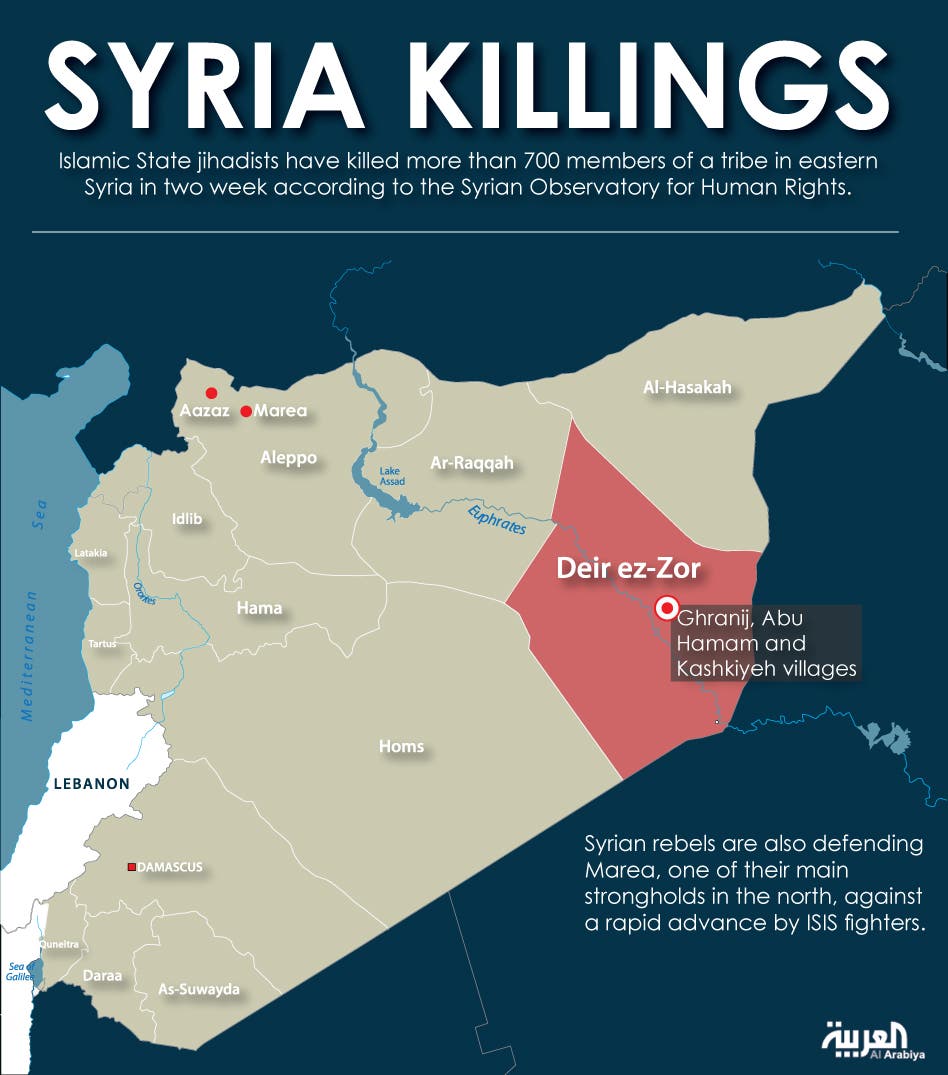 Reuters quoted The Syrian Observatory for Human Rights, which has tracked violence on all sides of the three-year-old conflict, as saying reliable sources had reported beheadings were used to execute many of the al-Sheitaat tribe, which is from Deir al-Zor province.
The conflict between ISIS and the Al-Sheitaat tribe, who number about 70,000, flared after the militants took over two oil fields in July.
"Those who were executed are all al-Sheitaat," Observatory director Rami Abdelrahman told Reuters by telephone from Britain. "Some were arrested, judged and killed."
Reuters cannot independently verify reports from Syria due to security conditions and reporting restrictions.
The group has added to the territory under its control, taking over the village of Maled near the town of Marea in Aleppo province late Friday, the Britain-based Syrian Observatory for Human Rights said.
Ultimate goal
An activist in the area who goes by the name of Fayez Abu Quteibah said the group also captured two other villages near Marea - Hamidiyeh and Sonbol.

Those gains come days after the extremists overran several other villages and two towns in Aleppo province. The extremist group's ultimate goal appears to be Marea itself, a stronghold of the once-powerful Islamic Front rebel group, which has been fighting the militants since January.

"If Marea falls, this will open the road for them [ISIS] to march toward all parts of northern Aleppo," Abu Quteibah said via Skype.

The Observatory said ISIS fighters shelled Marea on Saturday with mortar rounds.

The Syrian government, meanwhile, carried out airstrikes on two of the localities the militants overran this week, hitting Akhtarin and Dabiq, the Observatory said. There was no immediate word on casualties or what was targeted.

On Friday, the U.N. Security Council imposed sanctions on six men for recruiting or financing foreign fighters in Iraq and Syria, and threatened additional sanctions against anyone supporting terrorist groups.

The Security Council also demanded in a unanimously adopted resolution that ISIS and Al-Qaeda-linked groups disarm and disband immediately.
(With Reuters and AFP)