Iraqi Kurds retake main dam from ISIS
Kurdish forces were backed by the U.S. military to secure Iraq's largest dam from Islamist militants
Iraqi Kurdish forces backed by U.S. air strikes on Sunday retook the country's largest dam from ISIS militants who seized it the previous week, Agence France-Presse reported.

A peshmerga officer and two political party officials told AFP that Kurdish forces had retaken Mosul Dam, which provides electricity and irrigation water for farming to much of the surrounding region in Iraq's northern Nineveh province.
Meanwhile, the White House said on Sunday that President Barack Obama had informed Congress he authorized U.S. air strikes in Iraq to help retake control of the Mosul Dam, which it said was consistent with his goal of protecting U.S. citizens in the country.

"The failure of the Mosul Dam could threaten the lives of large numbers of civilians, threaten U.S. personnel and facilities - including the U.S. Embassy in Baghdad - and prevent the Iraqi government from providing critical services to the Iraqi populace," the White House said in a statement.

"These operations are limited in their nature, duration, and scope and are being undertaken in coordination with and at the request of the government of Iraq."

The U.S. military confirmed earlier that it conducted nine airstrikes near Erbil and the dam in mosul in an effort to help Kurdish forces retake it from violent extremists.

U.S. Central Command (CENTCOM) said fighter jets and drones had destroyed or damaged four armored personnel carriers, seven armed vehicles, two Humvees and an armored vehicle.
Infographic: U.S. airstrikes in Iraq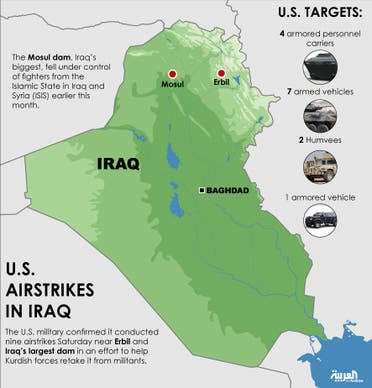 CENTCOM "conducted these strikes under authority to support humanitarian efforts in Iraq, as well as to protect U.S. personnel and facilities," it added.

"All aircraft exited the strike areas safely."
The Mosul dam, Iraq's biggest, fell under control of fighters from the Islamic State in Iraq and Syria (ISIS) earlier this month.
Control of the dam could give the Sunni militants the ability to flood cities and cut off vital water and electricity supplies.
Kurdish forces
The recapture of the dam marks the biggest major prize won back from the Islamic State jihadists since they launched their sweeping offensive in northern Iraq in early June.

The offensive swept federal security forces aside, clearing the way for Kurdish troops to take control of disputed northern territory they want to incorporate into their three-province autonomous region.

The jihadists launched a renewed drive in northern Iraq earlier this month, pushing back the Kurdish forces and taking control of Mosul Dam on August 7.

But the peshmerga have begun to claw back some ground with support from US warplanes and drones.
(with AFP and Reuters)