Israeli airstrike kills three Hamas commanders
Palestinian Police said an Israeli strike destroyed a four-story structure in Rafah, killing at least six people
The Palestinians Hamas group announced Thursday that three of its senior commanders were killed in a pre-dawn Israeli air strike in Rafah in the southern Gaza Strip, days after renewal of hostilities between the rivals following the collapse of Egyptian-mediated truce talks.
The Ezzedine Al-Qassam Brigades, in a statement, identified the leaders as Mohammed Abu Shamala, Raed al-Atar and Mohammed Barhum.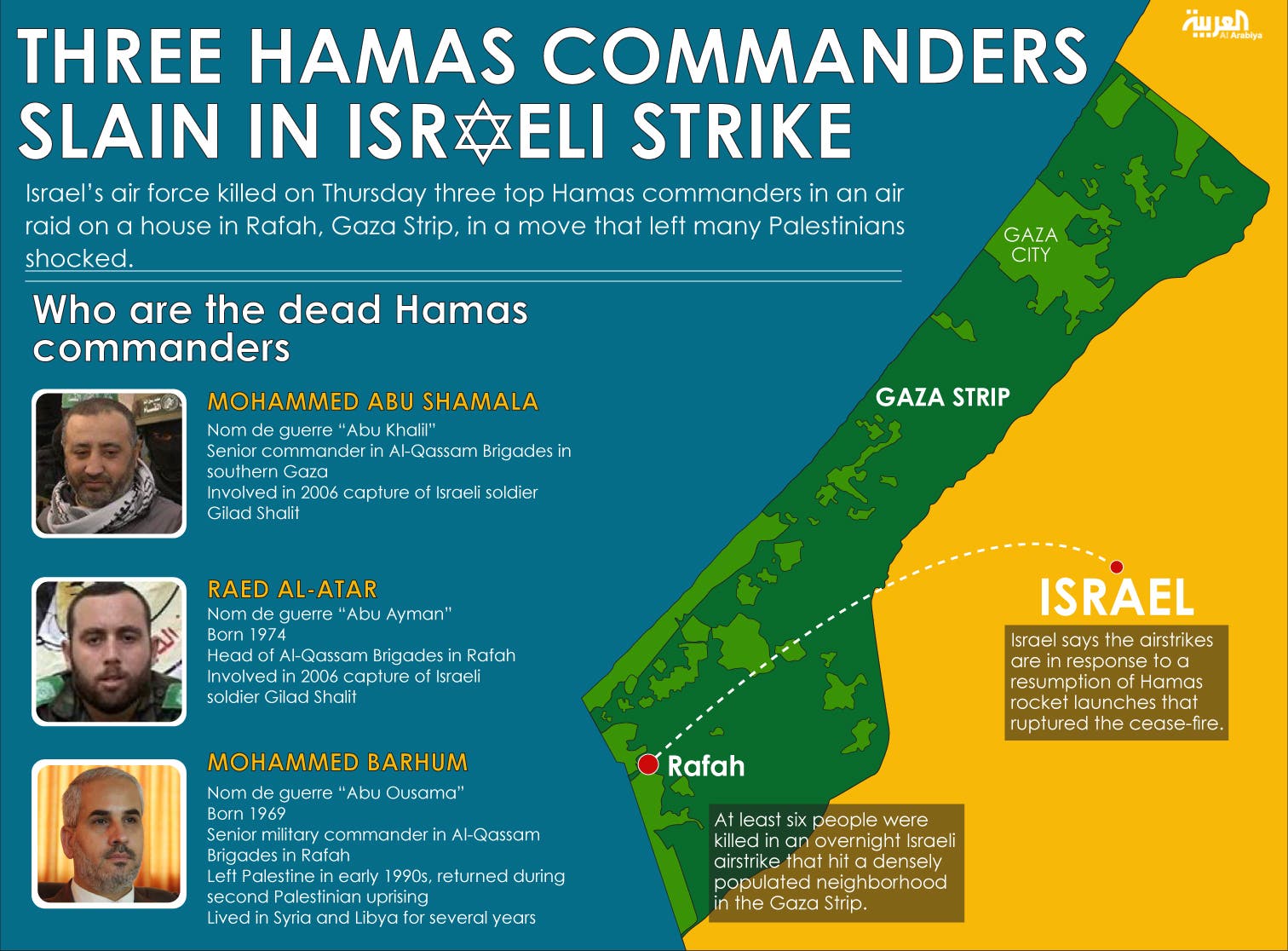 Israel's June 8 offensive against the Gaza Strip was triggered by the abduction and death of three Israeli teenagers, which a Hamas official from the West Bank appeared to confirm on Thursday, supporting Israeli allegations that Hamas had indeed abducted the Israeli teenagers.
A senior Hamas leader says the group was behind the kidnapping and killing of three Israeli teens in the West Bank in June - the first time anyone from the Islamic militant group has said it was behind an attack that helped spark the current war in the Gaza Strip.
Salah Arouri told a conference in Turkey on Wednesday that Hamas carried out the kidnapping with the broader goal of sparking a new Palestinian uprising. "It was an operation by your brothers from the al-Qassam Brigades," he said, referring to Hamas' military wing.
The three slain Hamas commanders

Hamas and Israel both confirmed that Abu Shamaleh was as one of the three commanders killed in the airstrike. He was involved in planning and carrying out at least four major attacks on Israeli soldiers since the 1990s, according to statement from the Israeli army.
Attar, another fatality of the air strike, was in charge of weapons smuggling into Gaza, the construction of tunnels and played a role in the capture of Israeli soldier, Gilad Schalit, in 2006, the Israeli statement said. He was responsible for orchestrating a series of complex attacks on Israeli targets, including through the Sinai Peninsula in Egypt, the statement added.
The statement identified Barhoum as a senior Hamas operative in Rafah.
Mohammad Deif, an associate of Shamaleh, was also reportedly targeted in the attack.
More casualties
Separately, emergency services spokesman Ashraf al-Qudra said eight Palestinians were killed in the strike. Witnesses said the four-story family home was completely destroyed in a series of air strikes.
Earlier, Palestinian police told the Associated Press that at least six people were killed in an overnight Israeli airstrike that hit a densely populated neighborhood in the Gaza Strip.
Police said the strike, early on Thursday, destroyed a four-story structure in the town of Rafah in southern Gaza, and that rescue workers were still searching for people trapped in the rubble.
The strike was one of 20 the Israeli military says were carried out since midnight on Wednesday.
It followed the breakdown of Egyptian-mediated talks aimed at producing a long term truce after more than a month of fighting that has killed more than 2,000 Palestinians, mostly civilians. Israel lost 67 people, all but three of them soldiers.
Israel says the airstrikes are in response to a resumption of Hamas rocket launches that ruptured the cease-fire Tuesday.
Following the collapse of the ceasefire, the U.N. Security Council called Wednesday on Israel and the Palestinians to resume talks to quickly agree on a lasting truce.
In a statement unanimously adopted, the 15-member council "offered full support to the Egyptian initiative and called upon the parties to resume negotiations to urgently reach a sustainable and lasting ceasefire."

Tel Aviv flights working normally
Meanwhile, a spokesman for the Ezzedine al-Qassam Brigades on Wednesday warned foreign airlines against flying into Tel Aviv from 6 am (0300 GMT) in a bid to disrupt air traffic.
But Ofer Lefler, spokesman for the Israel Airports Authority (IAA), told AFP Thursday that flights had been disrupted for a brief 10 minute pause but aside from that, everything was operating normally.
"There has been no change to take offs or landings. Flights were interrupted for 10 minutes for security reasons but I cannot give any details on that," he said.
U.S. accuses Israel of targeting Palestinians

In a related story, the United States on Wednesday charged Israel of targeting members of a Palestinian family whose teenaged son was kidnapped and killed in July along with two cousins, who are U.S. citizens.
The death of the Palestinian teen, thought likely in retaliation for the abduction and killing of three Israeli Students in late June, sparked rioting and helped unleash the conflict under way in Gaza between Israel and Hamas.
Tensions between Palestinians and Israelis in annexed east Jerusalem plunged to a new low on July 2 when 16-year-old Mohammed Abu Khder was snatched from an east Jerusalem street and later found burned alive.
Israeli police arrested six alleged Jewish extremists as suspects and on July 17 charged three, freeing the others.
Three days after his death, on July 5, the United States slammed Israel's arrest of his 15-year-old cousin, Tarek Abu Khder, 15, a U.S. citizen. He was beaten in detention and has since been freed and returned to Florida.
On July 28, another cousin of Abu Khder, also American, was arrested in Israel as well, the State Department said Wednesday.
Deputy Spokeswoman Marie Harf identified him as "Mohammed Abou Khdeir," his name being the same as his murdered cousin's.
"We can confirm that Mohammed Abu Khdeir, a U.S. citizen, was arrested on July 28. The U.S. consulate general in Jerusalem is providing consular assistance. A consular official visited him on August 14th. The consulate is also in contact with Mr. Khdeir's family and his lawyer," Harf said.
"We are also concerned about the fact that members of the Khdeir family appeared to be singled out for arrest by the Israeli authorities," she added.

(With AFP and Associated Press)