U.S. strikes targets in northern Iraq near Erbil, Mosul dam
Iraq is struggling to regain significant parts of the country after a lightning militant offensive led by the ISIS jihadist group
The United States on Sunday used aircraft and drones to strike targets in northern Iraq to try to rein in militants belonging to the Islamic State of Iraq and Syria (ISIS).
"U.S. military forces continued to attack ISIS terrorists in support of Iraqi security force operations, using attack and remotely piloted aircraft to conduct two airstrikes in the vicinity of Erbil and Mosul dam," a statement from Florida-based Centcom said.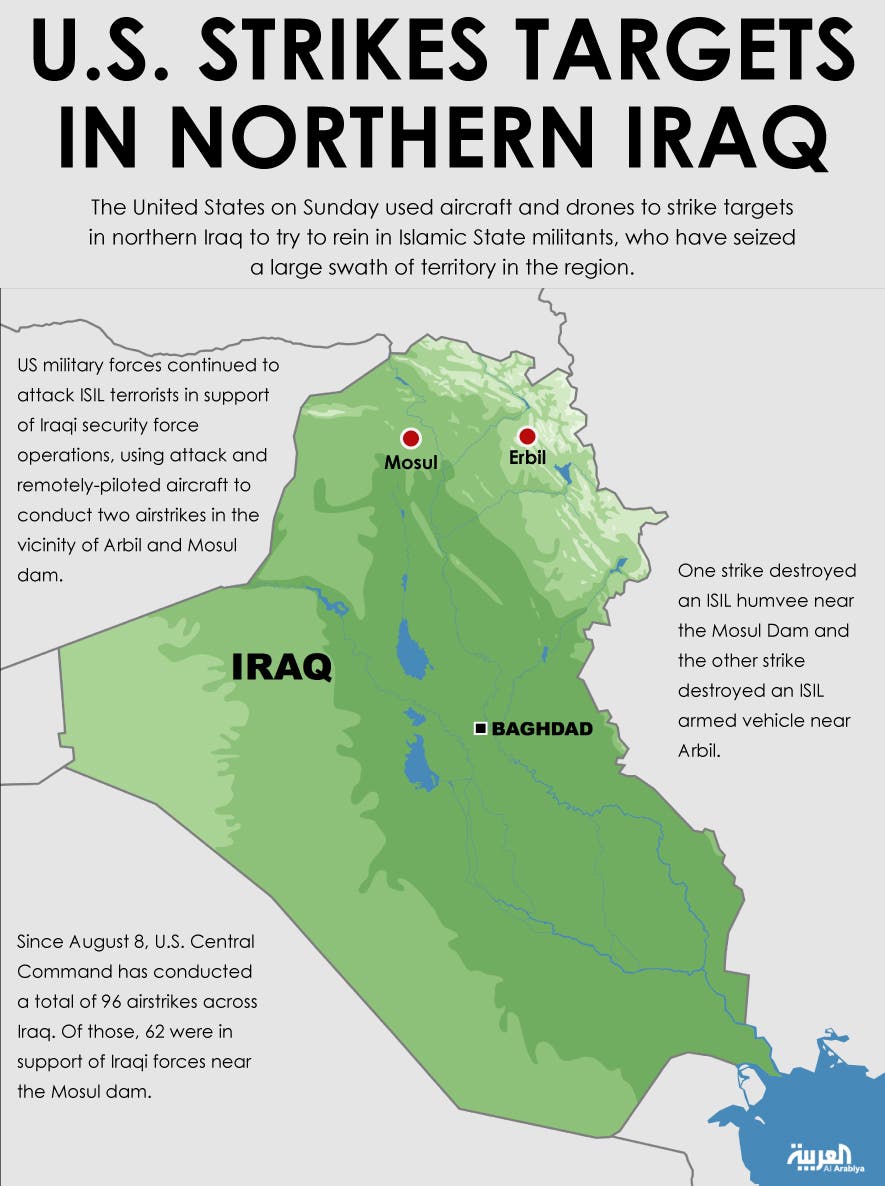 "One strike destroyed an [ISIS] humvee near the Mosul Dam and the other strike destroyed an [ISIS] armed vehicle near Erbil. All aircraft exited the strike area safely," it said.
U.S. forces acted "under authority to support Iraqi security force and Kurdish defense force operations, as well as to protect critical infrastructure, U.S. personnel and facilities, and support humanitarian efforts," it added.
Iraq is struggling to regain significant parts of the country after a lightning militant offensive led by the ISIS militant group seized Iraq's second city of Mosul in June and swept through the country's Sunni heartland, as security forces fled.
The fighters have been bombarded since Aug, 8 by U.S. air strikes in northern Iraq, allowing Kurdish Peshmerga security forces to claw back a limited amount of lost territory, including the Qaraj area, which they retook on Sunday.
Iraqi security forces also on Sunday repelled a renewed militant assault on the Baiji oil refinery, the country's largest, a police officer and witnesses said.
Since Aug. 8, U.S. Central Command has conducted a total of 96 airstrikes across Iraq. Of those, 62 were in support of Iraqi forces near the Mosul Dam, Centcom said.