Video: Sotloff's mother appeals to ISIS leader
Mother of Steven Sotloff addresses her appeal to ISIS leader Abu Bakr al-Baghdadi
The mother of Steven J. Sotloff, an American hostage being held by the Islamic State of Iraq and Syria (ISIS) has released a video on Wednesday appealing for her son's release.
Shirley Sotloff called on ISIS chief Abu Bakr al-Baghdadi, the self-declared Muslim Caliph, to "grant amnesty" to her 31-year-old son and freelance journalist.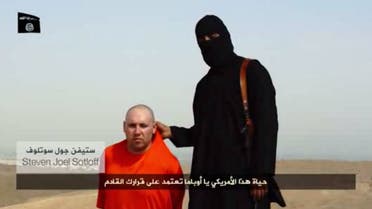 "I am sending this message to you, Abu Bakr al-Baghdadi al-Quraishi al-Hussaini, the caliph of the Islamic State. I am Shirley Sotloff. My son Steven is in your hands," she begins.
"You, the caliph, can grant amnesty. I ask you please to release my child," she continues. "I ask you to use your authority to spare his life."
Baghdadi - whose real name is Ibrahim Awwad Ibrahim Ali al-Badri al-Samarrai - was previously held at Camp Bucca, a U.S. detention facility in Iraq.
Upon his release in 2009, Baghdadi reportedly told his captors: "I'll see you guys in New York."
Baghdadi's militant group, which beheaded this month American journalist James Foley, vowed to also execute Sotloff unless U.S. President Barack Obama suspends an ongoing U.S. military campaign against the militant group.
The United States is currently operating surveillance flights on Syria in what is seen as preparations to targeting ISIS facilities in the war-torn country.
Sotloff's mother tells Baghdadi in her appeal video that her son "has no control over the actions of the U.S. government. He is an innocent journalist."
"Since Steven's capture, I have learned a lot about Islam. I've learned that Islam teaches that no individual should be held responsible for the sins of others," she said.
"As a mother, I ask your justice to be merciful and not punish my son for matters he has no control over. I ask you to use your authority to spare his life, and to follow the example set by the Prophet Mohammad, who protected People of the Book," she continued.
"I want what every mother wants--to live to see her children's children. I plead with you to grant me this."