ISIS militants 'behead Kurdish man' in Iraq
The video, entitled "A Message in Blood," was released with the hashtag #2ndAmessagetoAmerica
The Islamic State of Iraq and Syria (ISIS) has released a video purportedly showing the beheading of a Kurdish man in the Iraqi city of Mosul.
The video, entitled "A Message in Blood," also shows a group of men in orange jumpsuits said to be captured Kurdish fighters from the Peshmerga force. It was released with the hashtag #2ndAmessagetoAmerica, according to the Daily Mail.
The first warning, "A Message to America," showed the decapitation of American journalist James Foley last week.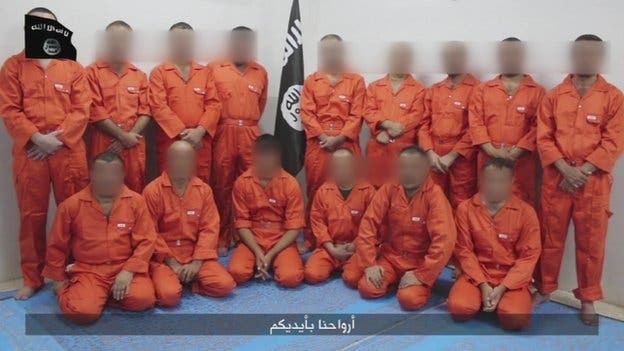 The video shows the victim kneeling near a mosque in ISIS-held Mosul before he is executed.
Peshmerga forces from the Kurdistan region of northern Iraq have been battling against ISIS in recent days, trying to counter their advance.
Meanwhile in Syria, ISIS fighters said they had executed "dozens" of Syrian soldiers on Thursday. They said the soldiers were captured during ISIS' storming of a key northern air base this week.
The militants boasted on Twitter that they had killed 200 defeated troops and posted video of what they said was the garrison in headlong flight.
"Dozens of Syrian soldiers captured while fleeing ... after the IS[IS] overran Tabqa airbase were executed by the jihadists during the night," said Rami Abdel Rahman, head of the Syrian Observatory for Human Rights.