Iraqi forces break ISIS siege of Amerli
Iraqi security forces, Shiite militiamen and Kurdish peshmerga fighters all took part in the operation, officials say
Iraqi forces entered on Sunday the northern town of Amerli, which had been besieged by the Islamic State of Iraq and Syria militants for around two months, Reuters news agency reported officials as saying.

The mayor of Amerli and army officers said troops backed by militias defeated ISIS fighters to the east of the town. Fighting continued to the north of Amerli.
"Our forces entered Amerli and broke the siege," security spokesman Lieutenant General Qassem Atta told Agence France-Presse.

Talib al-Bayati, an official responsible for a nearby area, also said that the siege of the Turkmen Shiite-majority town has been broken, as did Nihad al-Bayati, who had been fighting to defend the town against the jihadists.

Iraqi security forces, Shiite militiamen and Kurdish peshmerga fighters all took part in the operation, according to AFP.
The incident is considered the biggest military success for Baghdad since ISIS overran large parts of the country in June, sweeping security forces aside.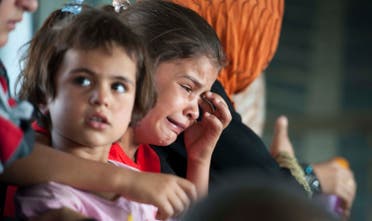 Iraqi forces later managed to stem the militant onslaught, but had since struggled to regain ground.
ISIS fighters regard Amerli residents, which resemble a majority Shiite Turkmen population, as apostates.
More than 15,000 people were trapped inside the town.
Residents of Amerli faced major shortages of food and water, and were in danger both because of their Shiite faith, which jihadists consider heresy, and their resistance to the militants, which has drawn harsh retribution elsewhere.
The United States authorized airstrikes on Saturday against ISIS positions near Amerli and dropped humanitarian aid to civilians besieged by the militant group.
President Barack Obama authorized renewed strikes, widening U.S. operations in Iraq in the midst of an international outcry over the threat to Amerli's mostly ethnic Turkmen population.
Aid was delivered by U.S. aircraft as well as planes from Britain, France and Australia, signaling headway in Obama's efforts to draw allies into the fight against ISIS.
37 killed in Ramadi
Meanwhile, at least 37 people were killed when two suicide bombers detonated explosives-rigged vehicles near positions of security forces in Ramadi on Sunday, according to two police officers and a medical official.
Iraqi forces have struggled to regain control of Ramadi, the capital of Anbar province, from ISIS militants who have held shifting areas of the city since early this year.
One blast hit an under-construction building manned by Iraqi special forces in the city west of Baghdad, while the second struck a joint special forces-police checkpoint, the sources said.
Fallujah, a city east of Ramadi, has been completely out of government hands since January, while militants also seized other parts of Anbar during a sweeping militants-led offensive launched in June, when they overran chunks of five provinces.
(with AFP and Reuters)