Anbar's governor hurt after Iraqi troops retake town
Anbar's governor Ahmed al-Dulaimi was severely wounded in the town of Barwana shortly after it was retaken from ISIS militants
After the United States launched its first air strikes in Iraq's Sunni Arab heartland against Islamic State of Iraq and Syria militants, a mortar round seriously wounded Anbar province's governor Ahmed al-Dulaimi, Agence France-Presse reported.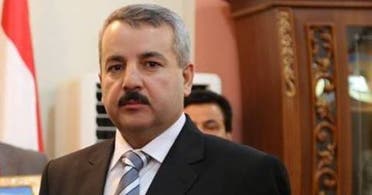 Al-Dulaimi was wounded in the town of Barwana shortly after it was retaken from ISIS militants on Sunday, an AFP journalist said.
Shrapnel from the round struck Dulaimi in the head and also wounded seven soldiers, the journalist said.

Several senior Iraqi officers have previously been killed, wounded or narrowly escaped attacks while leading from the front in dangerous areas.
U.S. airstrikes hit Haditha Dam
Meanwhile, the United States bombed militants near a key dam on the Euphrates River, the U.S. military said on Sunday.
"At the request of the government of Iraq, U.S. military forces attacked ISIS terrorists near Haditha in Anbar province in support of Iraqi security forces and Sunni tribes protecting the Haditha dam," the U.S. Central Command said in a statement.
"We conducted these strikes to prevent terrorists from further threatening the security of the dam, which remains under control of Iraqi Security Forces, with support from Sunni tribes," Pentagon spokesman Rear Admiral John Kirby said in a statement.
"The potential loss of control of the dam or a catastrophic failure of the dam -- and the flooding that might result -- would have threatened U.S. personnel and facilities in and around Baghdad, as well as thousands of Iraqi citizens," he added.
It was the first time that Washington had carried out air strikes in support of Sunni Arab tribal militia since it launched its air campaign in Iraq on Aug. 8.
Previous strikes had been mainly in support of Kurdish forces in the north, although late last month it gave limited air support to the army and Shiite militia further south in breaking an ISIS siege of the Shiite Turkmen town of Amerli.
Dams have been a key target for the militants. There has been major fighting around Iraq's largest dam on the Tigris River north of militant-held second city Mosul which has been a major focus of the U.S. air campaign.
There have been repeated attempts by ISIS to take Haditha Dam.
(With AFP)