Egypt minister denies Pyramid at risk during restoration
Critics say slammed the minister for re-hiring a company they said was responsible for previous damages to the pyramid
Egypt's minister of antiquities has denied claims that the Pyramid of Djoser was at risk of damage during its restoration, accusing the Muslim Brotherhood of spreading "rumors" to damage the reputation of his ministry.
Last week, online activists criticized Mamdouh al-Damati for re-hiring a company which they claim has caused damage and major deterioration to the structure of the Pyramid while trying to repair it.
"The [renovation] company and officials of the Supreme Council of Antiquities committed a full-fledged crime," Amir Gallal, one activist was quoted as saying by the Cairo-based daily al Masry al-Youm.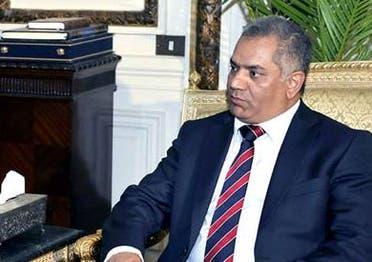 Damati told Al Arabiya News on Wednesday that the critics, which mainly include the so-called Archeologists against the Coup, are pro Muslim Brotherhood and ousted Islamist President Mohammad Mursi.
"They are against the current regime; they are trying to create chaos in the country," the minister said. "They spread this rumor that took much more space than it should have had."
"This Pyramid has been here for more than 4,000 years and will be there for 4,000 years more," he added.
He defended the restoration company, known as Shurbagy, as well as the group of archeologists and specialists in charge of the restoration.
Mustapha al Ghamrawi, the supervisor of the interior renovation of the Pyramid, told Al Arabiya News: "Experts from the UNESCO have previously written a positive report on the conditions and safety of the restoration process of the Pyramid of Djoser."
He said the restoration process has been slowed down recently due to the shortage of funds.
"We can't know how long exactly the whole process will take as it depends on the funds accumulated from tourism," Ghamrawy said, adding that an accentuated drop in tourism revenues affected the process.
Tourism revenues fell by 24.7 percent to around $3 billion in the first half of 2014, the Ministry of Tourism said in August. In 2013 the revenues dropped by 41 percent to $5.9 billion, according to Al Ahram Online.
The Pyramid of Djoser, also known as the step Pyramid, was built during the 27th century BC and is the oldest pyramid in the world.
It was constructed from limestone for Pharaoh Djoser, who ruled from 2686–2613 BC.
The monument has undergone many restoration projects following an earthquake in 1992 that left a dome-shaped hole in the roof.