Egypt activist Alaa Abdel Fattah freed on bail
An Egyptian court has freed leading secular activist Alaa Abdel Aattah on bail and referred the case to another court
Leading Egyptian secular activist Alaa Abdel Fattah, charged with violating an anti-protest law, was freed on bail on Monday and will have his case transferred to another court.
Abdel Fattah was being retried after he was sentenced to 15 years in jail in an earlier trial on charges of assaulting a policeman during an illegal protest. Alaa Abdel Fattah was a leading secular figure in the 2011 revolt that toppled former president Hosni Mubarak.
The lawyer representing Abdel-Fattah said he was released on 5,000 Egyptian pounds ($714) bail along with two other activists. Attorney Mohammed Abdel-Aziz said the three should leave prison on Tuesday once their paperwork is completed.

He added that the judge presiding over the retrial has stepped down at the request of defense lawyers. "The judge said in his reasons for stepping down that it was prompted by a show of disrespect to the court," Abdel-Aziz said. The retrial will begin once a new judge is assigned to the case.

Last week, during the latest court session, Egyptian prosecutors presented a personal home video of Abdel-Fattah's wife dancing as evidence against him, prompting an outcry from his lawyers that the material was irrelevant and defamatory.

The judge allowed the video to be shown at the time, but on Monday he ordered the country's top prosecutor to investigate the use of the video, according to a judicial official. The judge called the video irrelevant to the case and said playing it in public violated the constitutional right to privacy, according to the official, who spoke on condition of anonymity because he was not authorized to speak to the media.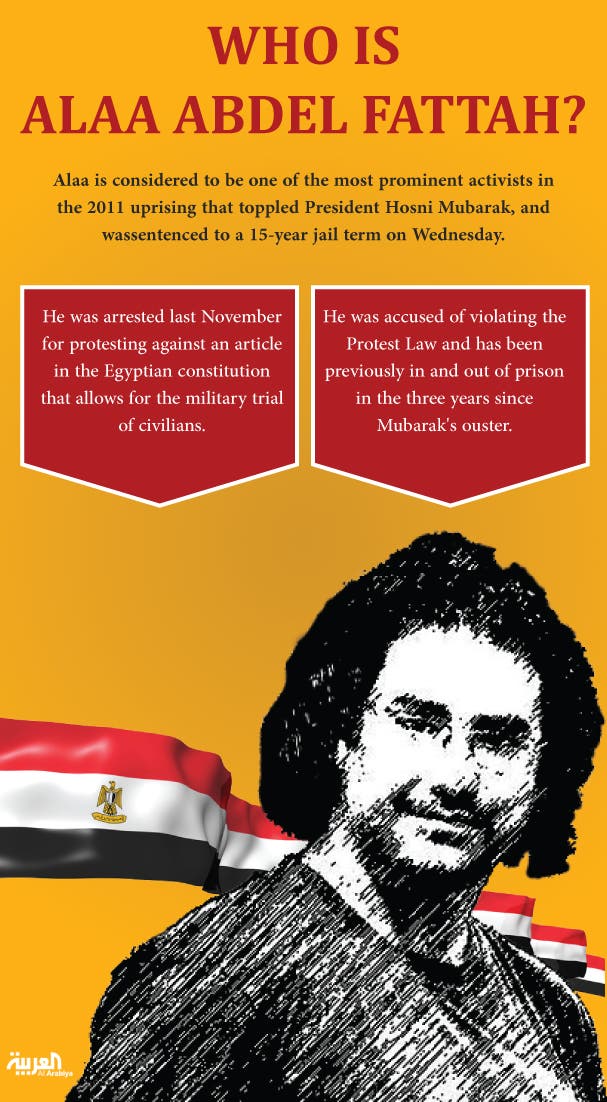 The rest of the evidence presented during the session consisted of video clips from private TV stations showing various protests and police chasing unidentified civilians. No scenes or footage of Abdel-Fattah or any other defendant in the case were shown.

Egyptian dailies linked the surprise release to an emotional letter written by Abdel-Fattah that was widely circulated by activist groups.

In his letter, Abdel-Fattah asked to be released and demanded the judge step down, saying he did not believe he would be given a fair trial.

"I have lost all confidence," he wrote. "I am fearful over my freedom, my future, and my family. Fearful of injustice."

"I ask you (the judge) to step aside and to give me a chance to stand before a different court, in which I would be reassured, and to start the court proceedings again without fear or enmity."

Abdel-Fattah's sentence was the harshest given to secular activists amid an ongoing government crackdown that has mainly targeted Islamist supporters of President Mohammed Mursi, who was overthrown by the military in July 2013 amid massive protests demanding his resignation.

The subsequent crackdown on Mursi supporters saw thousands jailed and hundreds killed in street clashes as police dispersed demonstrations and sit-ins. Mursi and many senior members of his Muslim Brotherhood movement have been jailed since last summer.

Last autumn the government passed a law criminalizing any unauthorized protest, and police have arrested both Islamist and non-Islamist activists who violate it.

Abdel-Fattah was granted a retrial last month on charges of organizing an unauthorized protest, beating a police officer and stealing his walkie-talkie last November.

Last month dozens of non-Islamist activists and journalists started a hunger strike to protest the prolonged detention of activists, under a campaign called "We have had enough." On Monday, some 100 protesters took to the steps of the Press Syndicate in downtown Cairo to chant against the protest law.
"We don't know what to do for those imprisoned ... this is the last thing we can do," said 27-year-old Doaa Bassouni, who said she had started a 48-hour hunger strike in support of the detainees.

The release of Abdel-Fattah was welcomed as a small victory by the young activists, many of whom had taken part in the massive Arab Spring demonstrations that toppled Mubarak.

"A small but wonderful victory for brave activist community still working to keep the Jan 25th dream alive," novelist Ahdaf Soueif, Abdel-Fattah's aunt, wrote on Twitter, referring to the start of the anti-Mubarak protests.

Abdel-Fattah has been arrested several times, including under Mubarak, the military authorities who ruled after his ouster and Mursi.
He comes from one of Egypt's most prominent activist families, and his sister Sanaa is also in jail for violating the protest law. His father Ahmed Seif was a longtime human rights activist who was repeatedly jailed under Mubarak and who passed away in late August.

[With Associated Press]